Flying first class was something I had always dreamed about doing, but it seemed far out of reach. I imagined that someday if I made it to my 60s and could still travel, I would try it, but I decided to spend my (relative) youth in budget seats so I could see more of the world.
So it was with complete shock that I accepted my first-class ticket on ITA Airways from Marcus on my way back from Italy last year. Tired and slightly hungover, he upgraded our tickets at the counter and claimed the final two spots in first class. The counter agent handed me my ticket, and with shock and utter glee, I opened the envelope: Robin Rosenquist. Row 1 Seat 4. 
Friends. What unfolded over the next ten hours was life-changing. I am RUINED. RUINED, I TELL YOU. Because it was perfection. I didn't know that you could actually look forward to the long-ass flight part of traveling. And now I have tasted and seen, and I never want to go back.
It was amazing. Everything about it was amazing. Let me break it down for you.
First Class Lounge
First of all, you get access to the lounge. Not only do you get a quiet, comfortable place to relax without being surrounded by a million people on their phones or chasing their kids, there is also free food and booze! And showers! (Although they weren't open when we were there).
After filling a plate of food (soup, fruits, veggies, etc.), I decided I needed to change clothes. We had been out late the night before and up early taking covid tests in the hotel before we got to the airport, so I was feeling pretty rumpled. If I was going to fly first class, I needed to look first class. I fixed my hair and put on a dress. It was go-time!
Early Boarding
The next fantastic perk is that you get to board first; no lining up with everyone. You get on the plane, and you go left while everyone else goes right. As soon as I sat down, a flight attendant handed me a glass of champagne. Marcus and I stared at each other across the aisle, bug-eyed with disbelief.
The Seats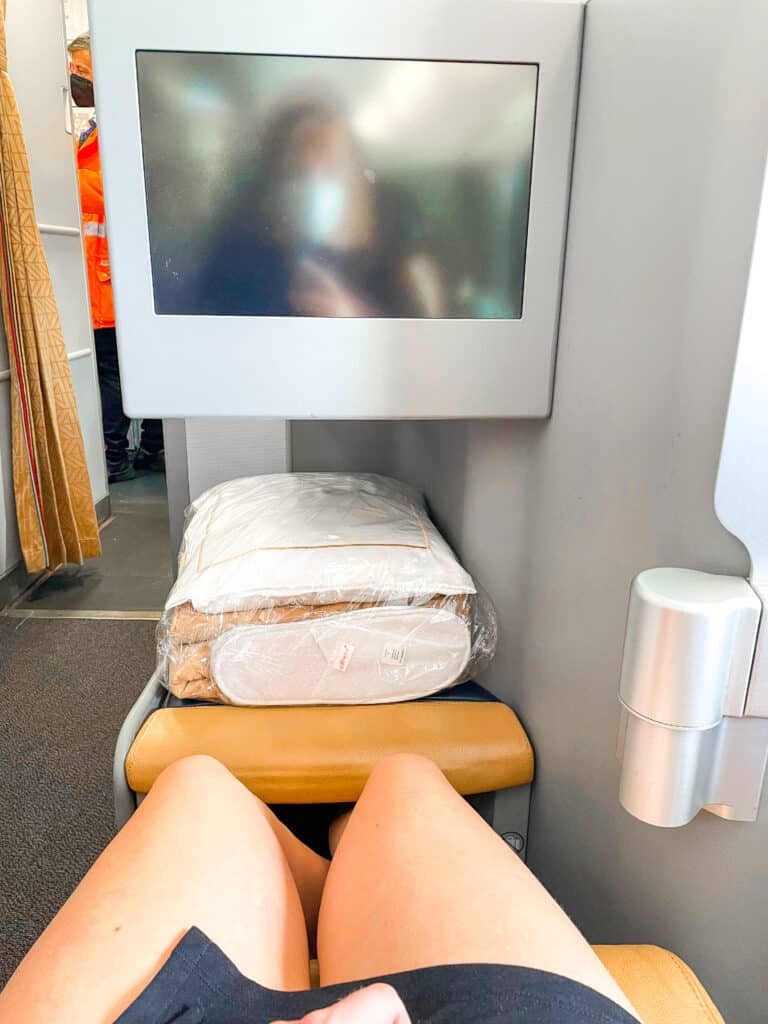 Each seat was like its only little apartment. I hung up my new Italian leather jacket on the hook and stowed my purse on the floor next to me where there was a convenient spot right under the window; if I needed anything, I could just reach down and grab it instead of having to move everything off my tray table, contort myself sideways, and wrestle my backpack out from under the seat in front of me.
Little Surprises
As we took off and Rome disappeared from view, I swore I would stay awake the entire flight so I wouldn't miss anything. I took the blanket out of its plastic bag, put on my complimentary socks, and snuggled up for the ride. The next exciting thing was a little zippered pouch of toiletry goodies: socks, toothpaste, face wash, etc.
All the Perks of Flying First Class
For the next 8 hours, as Marcus sawed logs and slept the entire flight, I experienced a multitude of tiny delightful things. Like breakfast. And more champagne. Free movies, free wifi. A multi-course meal. I read the menu cover to cover, and that was an event in itself. I fought hard to stay awake through the final course, but I just couldn't do it. Besides, I had never had a fully reclining seat before. This was something I needed to take advantage of.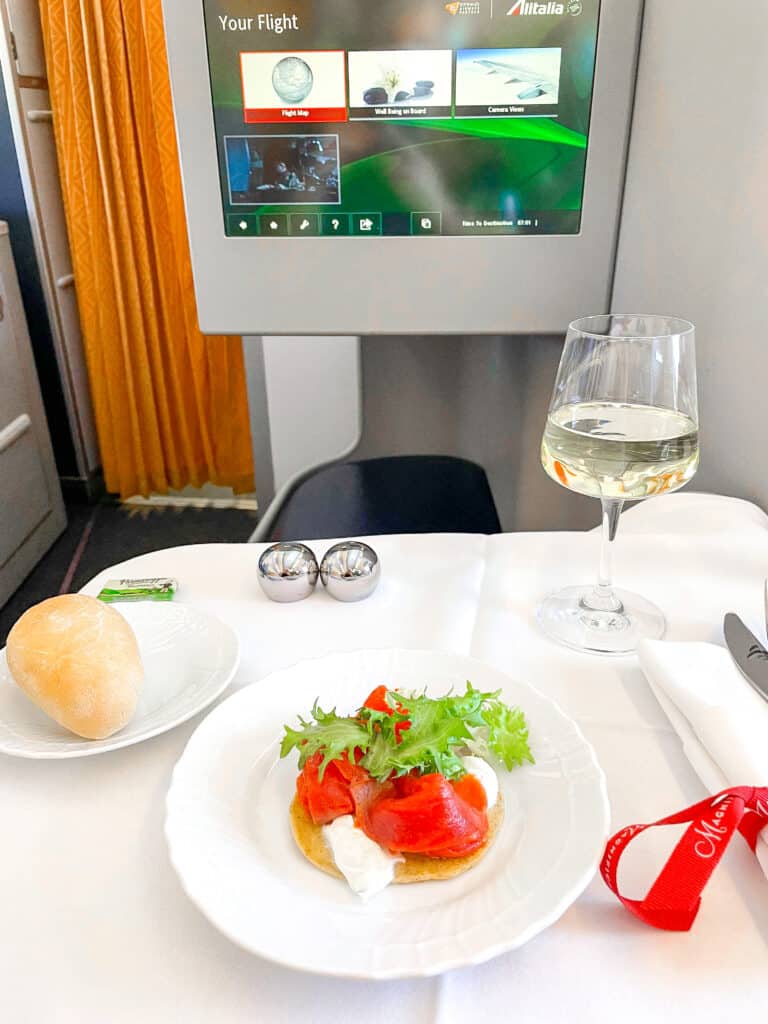 Nap Time
With these fancy seats, you can choose between all the angles: fully reclined, partially, or sitting up. Believe me, I tried all of them multiple times. I felt like a kid pushing all the buttons. I would sit up and read, watch a show, then decide I needed to nap; thank you very much. Back down I went. To sleep and really sleep on a flight is DIVINE.
The entire experience was the fastest 8-hours of my life.
Coming Down
I didn't know I could get to the end of a flight and not want to get off the plane. But I didn't, especially to take our flight from NY to Atlanta, which was about 2 hours, and then Atlanta to ABQ, which was another 3. Let me tell you; it was miserable in a very first-world-kind of way. 
For each flight, the closer we got to home, the smaller and worse the seats got. Our legroom was shrinking, and any refreshed feeling we might have had upon landing in New York had long since disappeared.
On the way to your destination, you are full of adrenaline, excitement, and anticipation of the trip stretching out in front of you. On the way back, the fun is over, and all that is left is the long journey just to return to work.
What Now
Anyways, I am now ruined for life. I shall always pine for the recline and must work hard to not feel too resentful for those on the other side of the curtain. I am SO grateful I got to experience first class, and I may now be more inclined to chase a business class upgrade.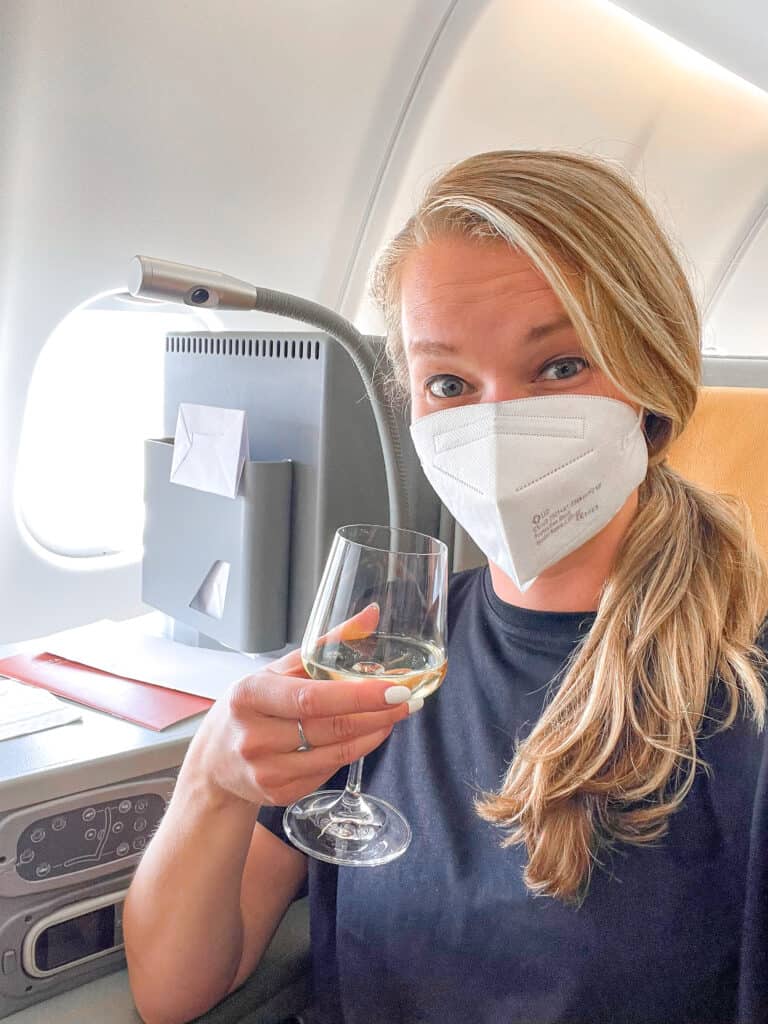 How to Justify Flying First Class
By the time you factor in the lounge with its food and drinks, plus the food, drinks, and free wifi on the plane, the plane ticket felt comparable to a concert ticket. But instead of a 3.5-hour concert, it's 8 hours, there is no music, but you have great seats? Maybe the better comparison is a very long spa experience without the massage? I"m still working on the right metaphor.
In Conclusion
Yes, it was expensive (although slightly cheaper than average since we were two hours from departure, and they still needed to sell the seats.) But it was also an insanely memorable experience, much like a concert or a good massage. 
This was just my experience on ITA Airways, which apparently doesn't even rank that high for its first-class service. Peep this article to look at some of the amazing suites available on many long-haul international flights. One can dream…
Anyways, I have tasted and seen, and IT IS GOOD. Thank you, Marcus.
Going forward, I want to see how I can sneak this upgrade into my life; coach on the way there, or at least the bulkhead, and first class on the way home as a treat?
Off to research some upgrade hacks.
Want more?