If you find yourself in SE New Mexico, I highly recommend spending an afternoon in Roswell; the perfect place to kill a few hours if you want to experience all that is alien-related.
What to Do: International UFO Museum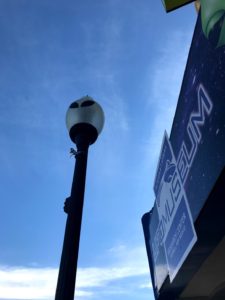 Obviously if you are in Roswell, you are there for the aliens, and there is no shortage of UFO-related activity. First stop is the International UFO Museum on Main Street. Multiple sworn yet contradicting affidavits and newspaper articles adorn the walls. The story of foreign metals and alien bodies discovered outside of Roswell is depicted by photos, documents and a few heinous dummies. Adding to the controversy is the alleged government cover-up of the incident. If you allowed yourself to get caught up in the excitement, it was all almost enough to be convincing.
Kid Friendly Aliens?
The museum prides itself on being kid friendly, which is somewhat debatable. You can view several films throughout the day, but many are not for young eyes. This explains the piercing scream that came from the central theater, startling many visitors. Curious, I peeked in, just in time to see an Oscar-worthy performance of some nose-less, wrinkled aliens shrink-wrapping a poor earthling. They proceeded to jam several metal objects into places in his head that metal objects really should not go (thus the screaming). I observed just long enough to see a young family come out. The dad looked at me, shook his head, and stated "That got weird…" as his two kids and wife trailed out somewhat bug-eyed.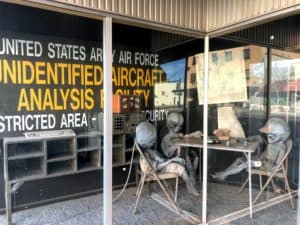 The other amazing thing about an alien museum is the uncertainty that you can see in the kids' eyes when the life size display (complete with flying saucer) starts to light up and smoke. You could tell that some of the kids were really wrestling with the reality of the entire thing. Most of them seemed to enjoy it, and looked only somewhat apprehensive. But, one child, upon entry to the museum, covered his ears and eyes and yelled through tears "I don't want to be here anymore!!!" (That may have been more related to a long day in the car too though…) As much as the kids may like the large displays, they are few and far between, as most of the museum has an awful lot of dense reading. I recommend Area 51/Alien Zone to be a much better use of your money for your kids.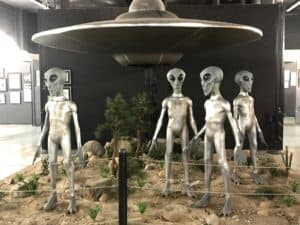 This display lights up about every 15 minutes
Area 51/Alien Zone
A few blocks down, you can complete your Roswell afternoon by visiting Alien Zone/Area 51, a storefront devoted to what is essentially a massive photo booth with aliens in all sorts of settings. For a small fee, kids and adults alike will enjoy posing with the various extraterrestrials, whether they are emerging from a spacecraft or just sitting down for a drink in a diner.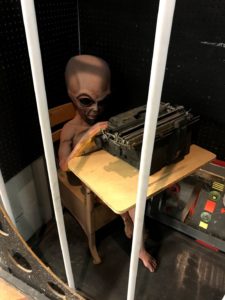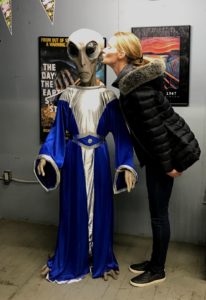 Where to Eat: Big D's Downtown Dive
After your out-of-this-world experience, you will be more than ready for lunch. Head to Big D's Downtown Dive for some down to earth delicious burgers. I had the Tomahawk Burger: an open-faced take on a burger, piled black beans, red chile sauce, green chiles, onion and shredded lettuce on a flying saucer of Native American fry bread. It was unique and delicious and I highly recommend it, along with the sweet potato fries. Jeff was equally pleased with the Holy Guacamole burger, a more traditional burger loaded with tasty guac.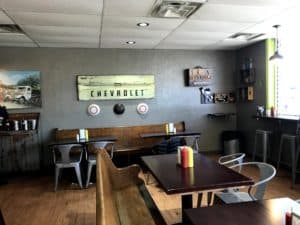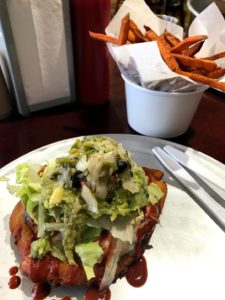 Shopping and Dining
Close out your afternoon in Roswell with some alien souvenir shopping on Main Street, and a coffee at Stellar Coffee Co. Should you choose to stay longer, catch the sunset over the desert hills, and then have dinner at Farley's Food Fun and Pub. Good for the single scene, young couples, or families with kids (they have a separate dining area from the bar), Farley's has a variety of decent food and 29 beers on tap.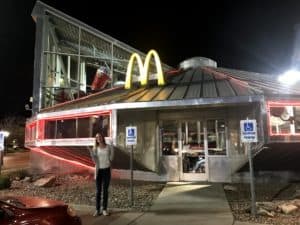 Where to Stay
Hotels abound, but if you want an ideal stay, get the personal touch from a Roswell local. We stayed with Sarah and her dog Harry, and coffee with her in the morning far and away was the highlight of the day. She is an artist specializing in ceramics, and even fires her own hand-painted and thrown pottery in a kiln in her garage. We had civil discussions about politics, being Airbnb hosts, and I even helped her set up an Instagram accounts for her dog. Before I knew it, we had talked the morning away. Her space was comfortable, homey, and close to Main Street, and we thoroughly enjoyed staying with her.
Next Time
We only had one afternoon in Roswell, but should we ever find ourselves in that neck of the woods, the Art Museum and a trip to the Bottomless Lakes is on our list.
If you are looking for a truly unique way to spend a few hours of your afternoon, Roswell is definitely worth a pit stop.