Upon my arrival to Banff, Canada, I didn't even know I should be prepared for the delight that is an adorable mountain teahouse. But lo and behold, they are quite common in Banff National Park, and this is something the Canadians have absolutely nailed. Hiking with snacks that aren't crushed in your bag? Absolutely yes, count me in. If you want a nice workout with stunning views and halftime at a cozy teahouse, than the Lake Agnes Tea House Hike is the perfect hike for you.
Parking
Park at the Lake Louise parking lot. Get to the parking lot early since it fills up quickly. This blog post has lots of information on parking, just make sure it is current! Our trip was in late June 2022. We got to the parking lot around 9:45am on a Wednesday, and even with this semi-late start, we were still able to find parking.
However, I have heard stories from others that say finding parking is very difficult to do, especially late in the summer. My advice would be to check the parking lot, even if the sign says it is full. Otherwise, you can reserve a shuttle. Please note: you must book tickets in advance! Like the day before probably. Walk up seating is not available on the shuttle.
Hit the trail to the Lake Agnes Tea House
From the parking lot, it is just a short walk to sparkling Lake Louise. Even at 10am, the shores were beginning to fill with tourists eager to snap a pic. With low hanging clouds, we did our best to catch glimpses of the mountains lurking behind them. The glacial water seemed like it was from a different world.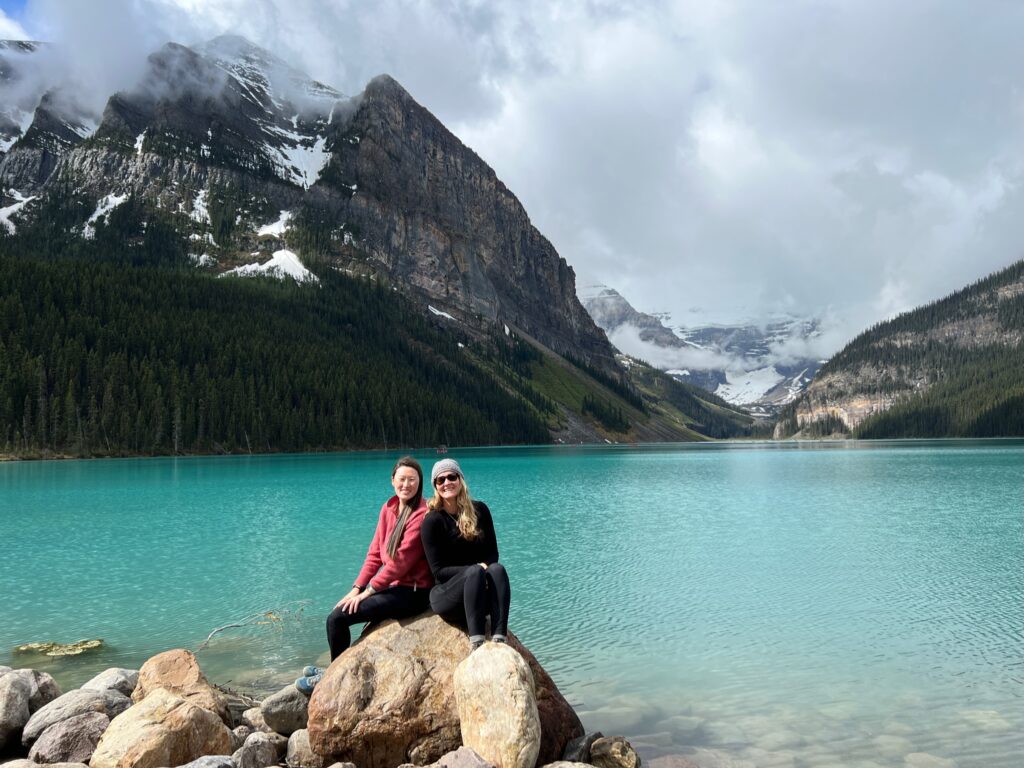 Head into the forest.
After stopping for our own photo op on the lake, we followed the trail along the shore briefly. Soon, it branched off into the forest, beginning the climb up to Lake Agnes. This hike covers 4.6 miles roundtrip, and is a pretty solid uphill climb. Additionally, by the time you reach the tea house, you are at about 7,000 feet of elevation, so be prepared for a nice bit of cardio. Dress in layers since it can be chilly out, but you work up a sweat. The trail angles through the forest, giving occasional glimpses of the almost glowing Lake Louise between the trees. These viewpoints keep you going when the going gets tough.
Pause at Mirror Lake
After a solid uphill slog, we arrived at Mirror Lake. From this lake, you can see Big Beehive, another great hike if you feel like hiking for around 5 hours, which I did not.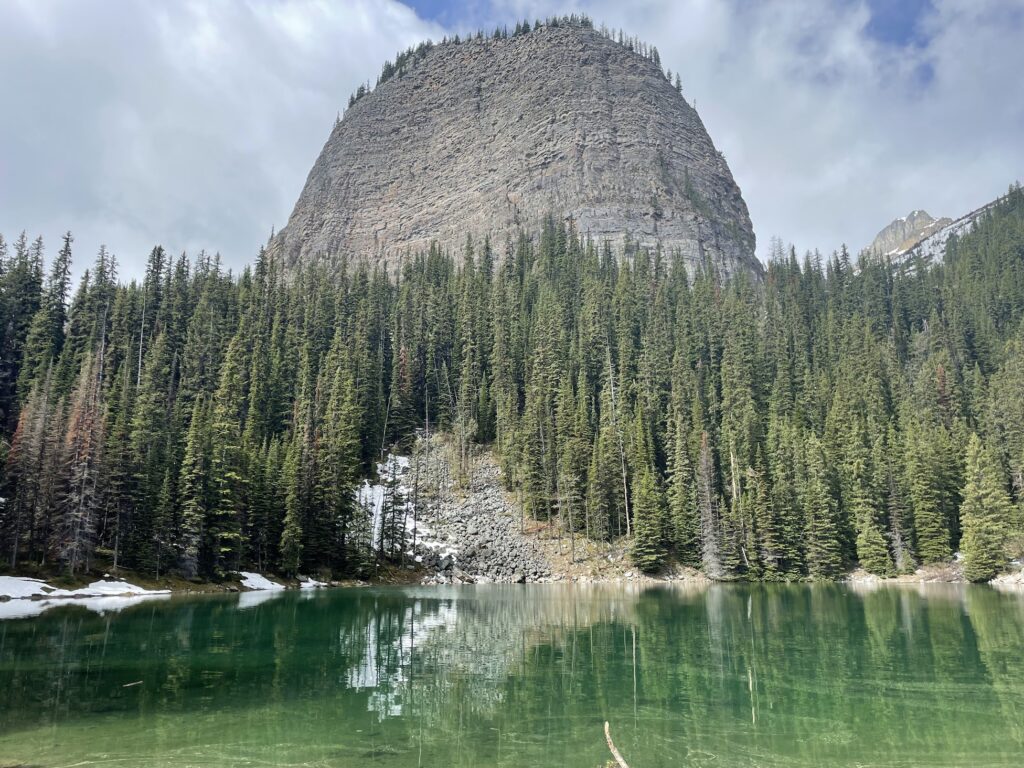 You know you are getting closer when you come upon this waterfall right next to a metal staircase. This staircase is all that stands between you and Lake Agnes! In fact, the waterfall flows from Lake Agnes. You've made it!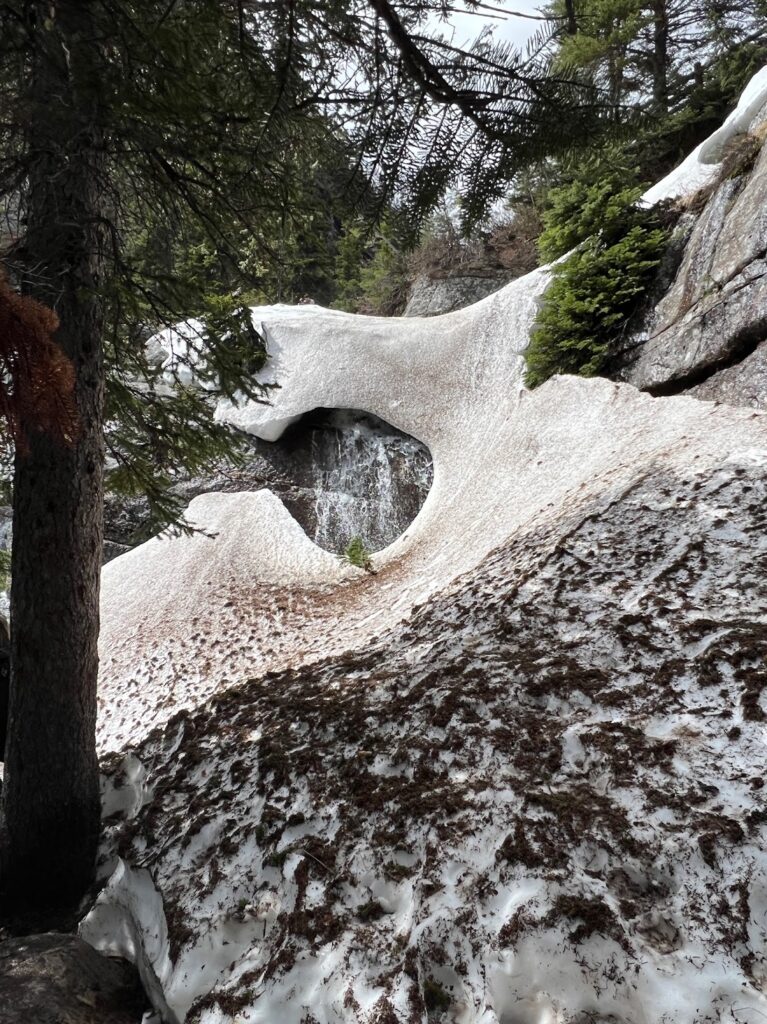 Marvel at Lake Agnes
Before jumping in line to wait for your tea, don't forget to enjoy the beauty of Lake Agnes. The teahouse is right on the shores of this lake.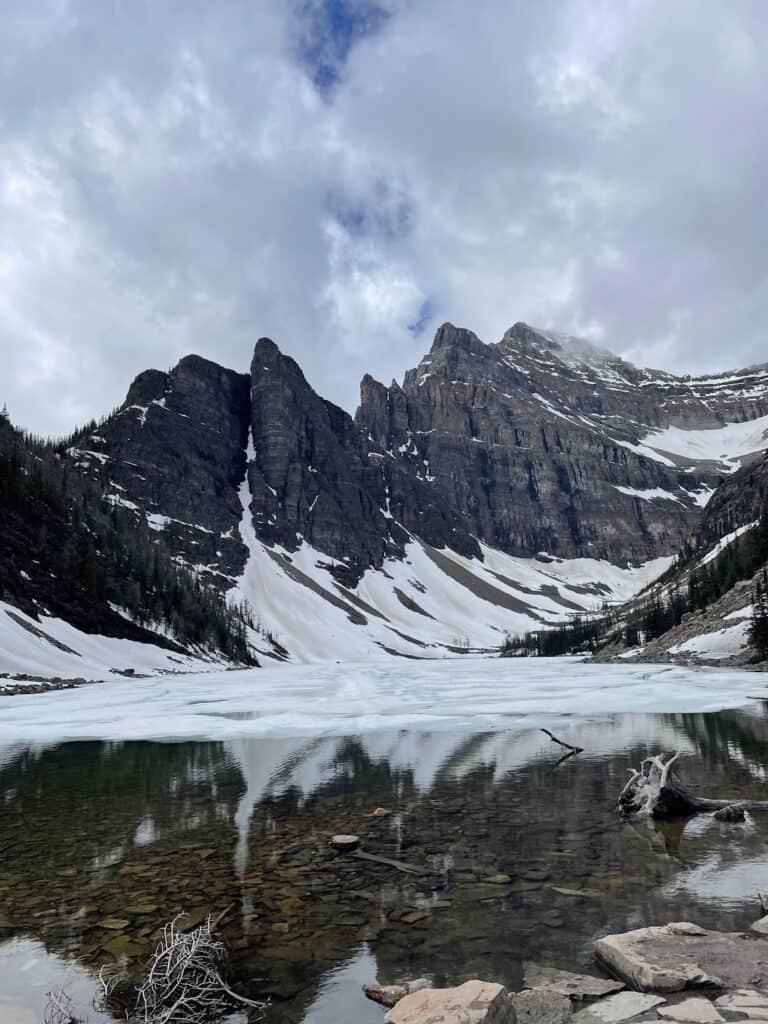 The Lake Agnes Tea House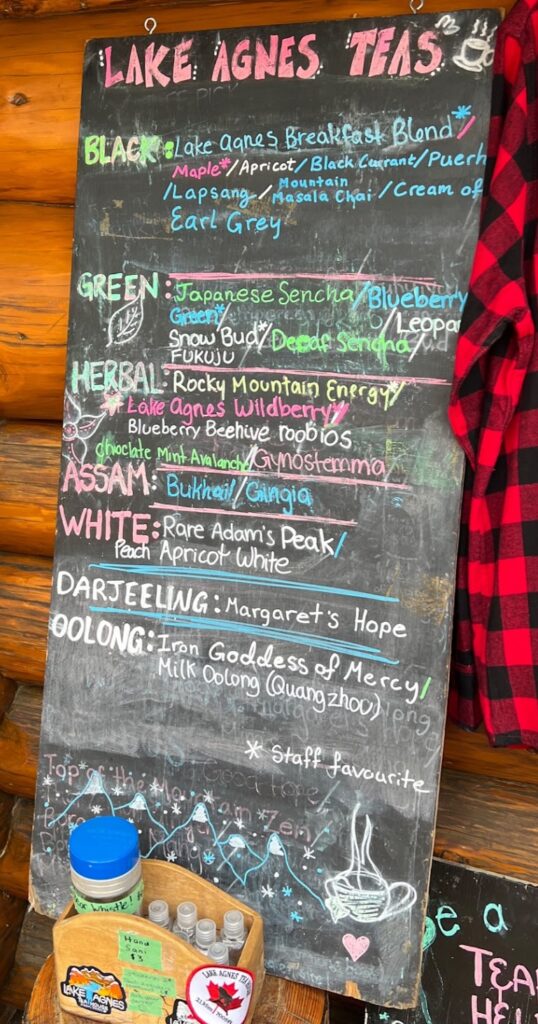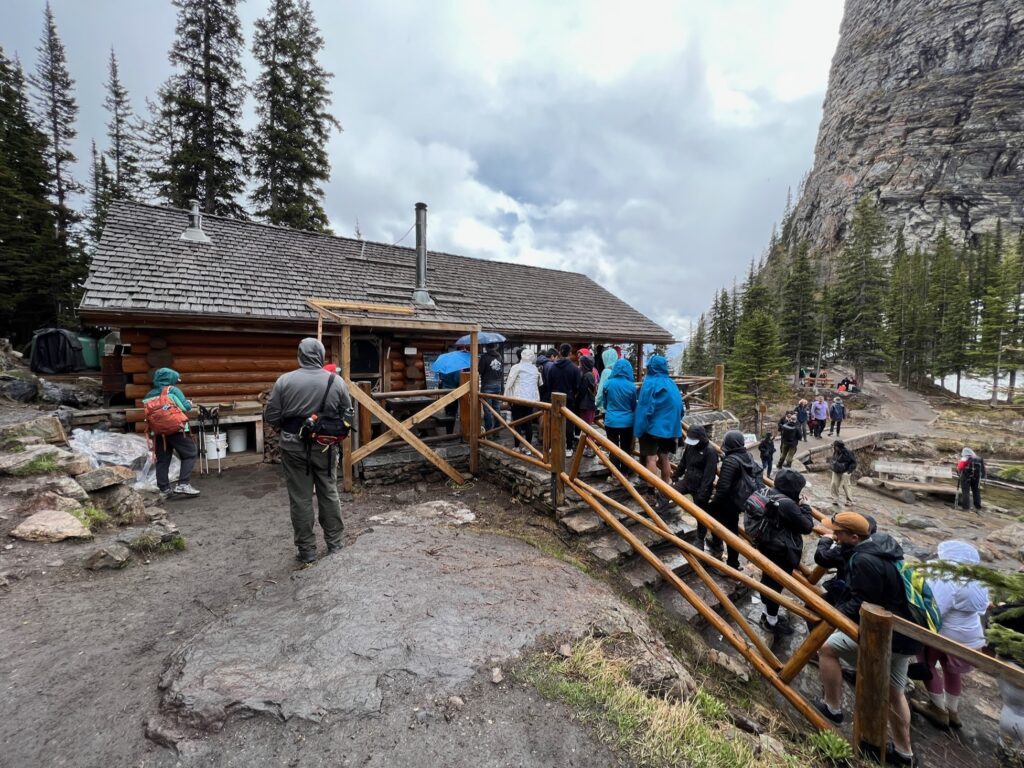 Finally, you've arrived at the Lake Agnes tea house! Time for tea! Because it was a chilly morning, we knew just what we wanted to order: vegetable soup (which was served with a hilariously flat little wooden spoon) the last order of fresh tea biscuits with jam, (which turned out to be the last order), a tuna sandwich, and of course, tea. I ordered the Lake Agnes Breakfast Blend and it was delicious. I always think food tastes better after you have worked a bit for it, and this food did not disappoint.
We were also lucky enough to share a table with another group of girls from the East Coast of the US. We had a great time laughing and chatting with them about their trip, the new Top Gun movie, if Iceman and Maverick were really in love in the original, and also, very randomly, Mormonism.
Fun Facts!
Originally built by the Canadian Pacific Railway in 1901 with the purpose of sheltering hikers, this quaint little log cabin now serves hikers tasty treats. Some supplies are brought up by helicopter (like flour and sugar), but mostly the employees have to pack in the fresh supplies on their backs! And then hike back down with the trash! No thanks. (They have a sign stating that any hikers who volunteer to hike down with a small bag of trash are much appreciated.) From what I saw, they were somewhat successful at eliciting this help. Click here for more history and the most up-to-date information.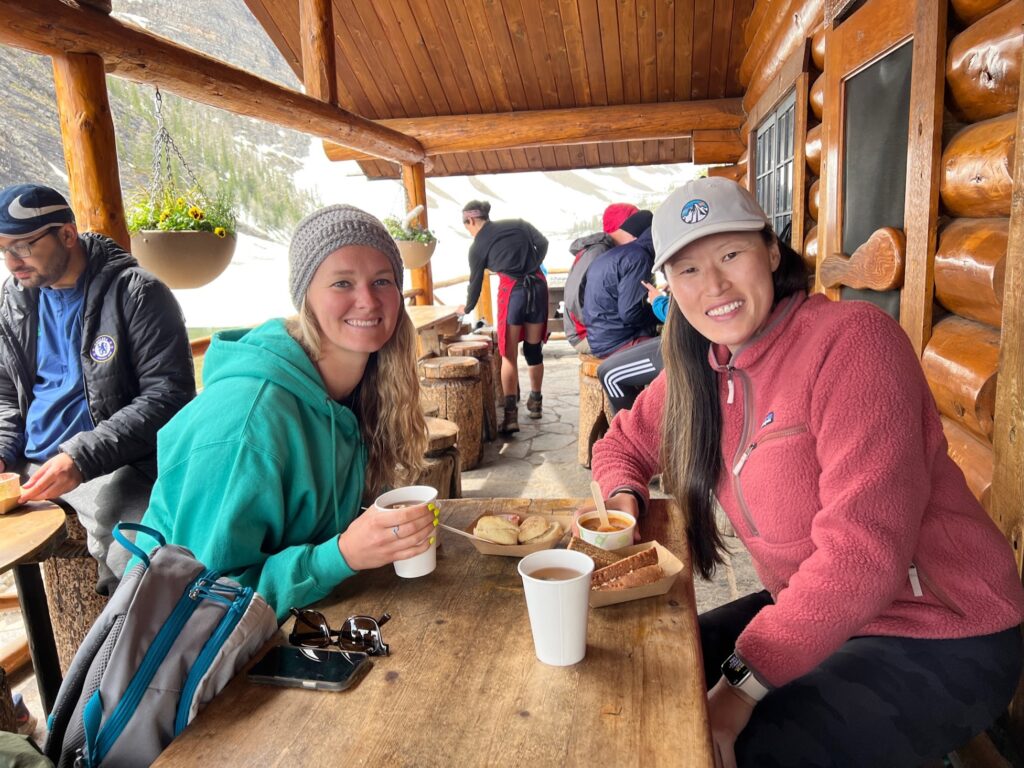 Continue on to the Little Beehive viewpoint.
After refueling and resting, we continued on to the Little Beehive viewpoint. Truthfully, I was NOT excited about this after tea time, but it was so worth it! In the words of our tea house server, the destination is nice, but it is really all about the views of Lake Louise along the way.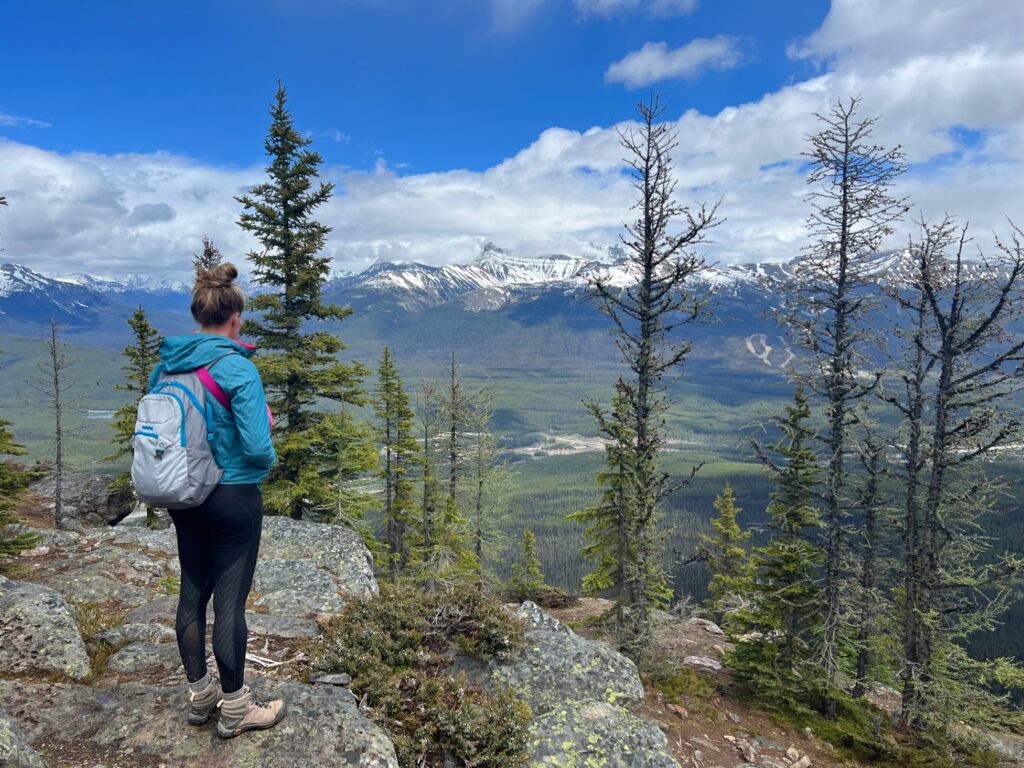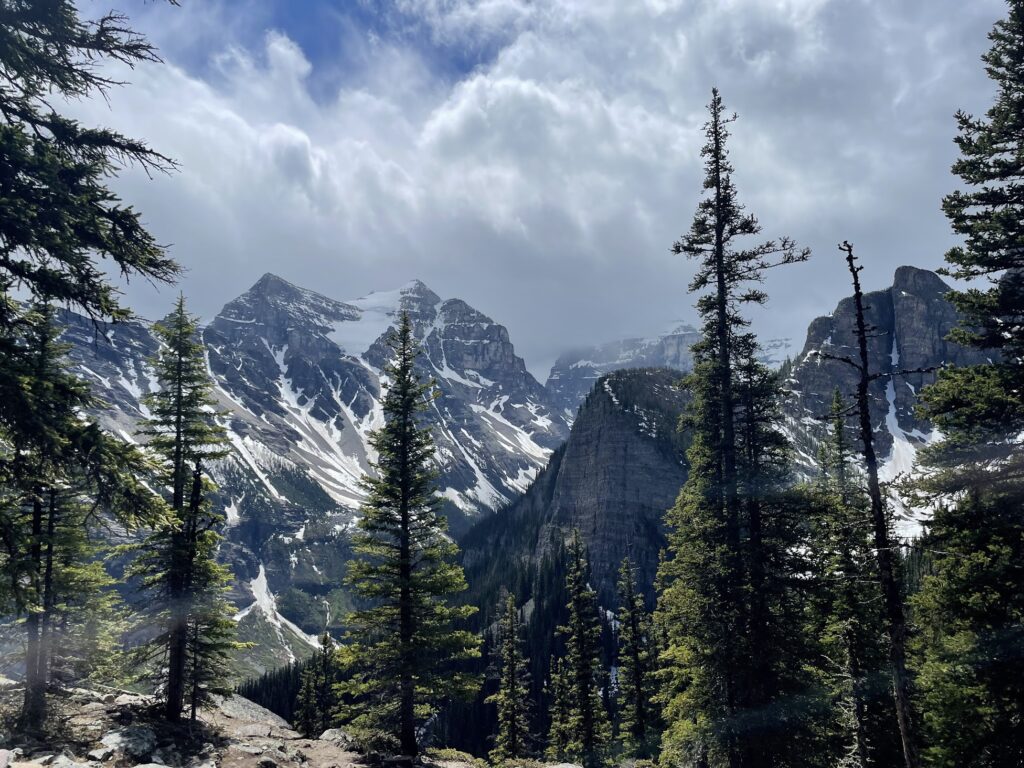 This trail was less crowded than the teahouse trail, and the reflection off of Lake Louise's glacier water was unreal. The lake looked like a huge gemstone nestled at the foot of the mountains.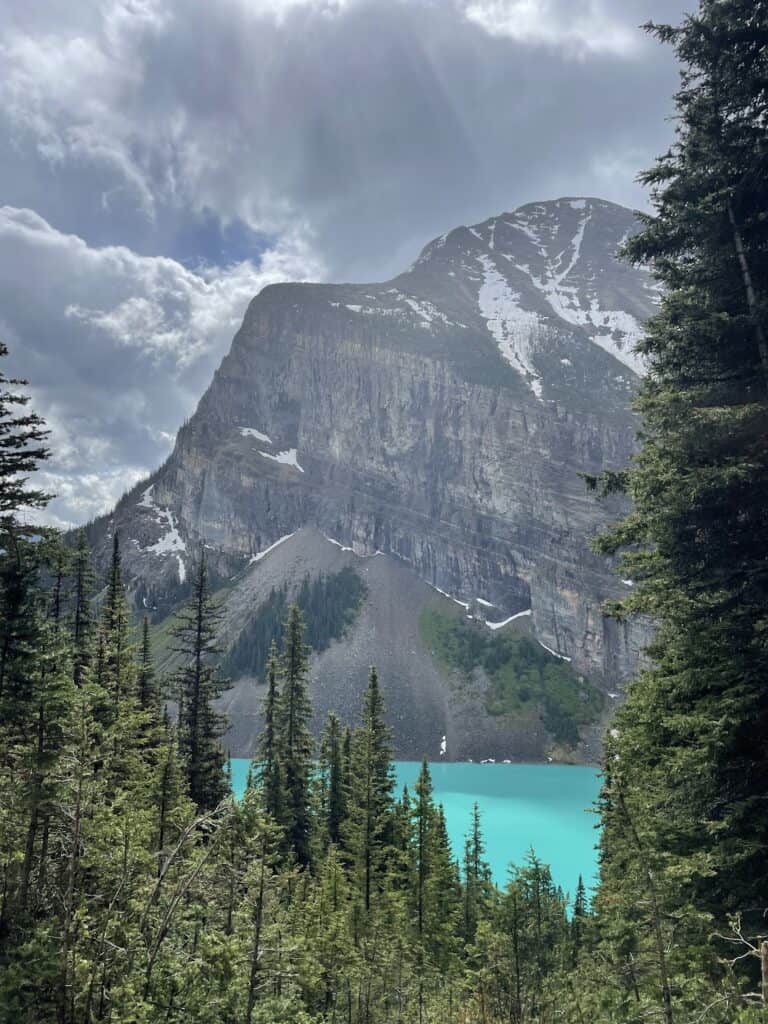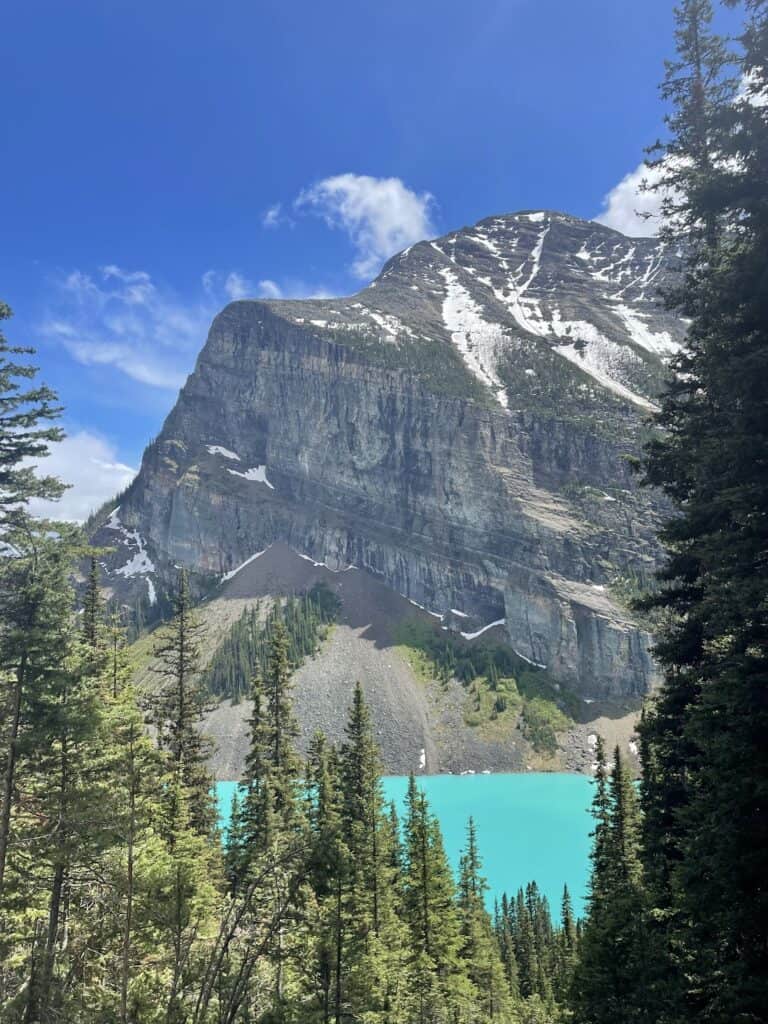 Soon, it was time to head back down, and the lake was lost from view for awhile as we hiked amongst the trees. The trail finally spit us out on the lake shores, where it was time for our next adventure: canoeing on the lake! More about that later.
In conclusion…
Friends, this is what I am saying. I loved this hike because we worked hard on a chilly day to climb up a mountain, and we got to reward ourselves with hot delicious food in an idyllic setting. This meal was a reminder of what I love most about travel; meeting new people in incredible places. It was really such an ordinary conversation we had with those girls at lunch. But I loved how much we were able to laugh with three complete strangers whilst waiting for our tea and biscuits at a teahouse perched on the side of a mountain in Banff, Canada. The memory is that much sweeter for the random and completely pleasant company we had. Also the views are completely stunning.
For all these reasons, the Lake Agnes tea house hike is a must-do for anyone spending time in Banff National Park.