New Mexico is home to hundreds of miles of sprawling desert and forest, and many hiking trips outside Albuquerque are just a short drive away. Here are 3 adventurous day trips from Albuquerque you can take if you feel like getting out of the urban setting and into some of the stunning nature New Mexico has to offer.
Sandia Peak
The first of our hiking day trips from Albuquerque takes us east to the Sandia Mountains to play in the snow. Located about a 40 minute drive from Old Town, the Sandia Ski Area is a great starting point for a hike along the ridgeline of the mountains to the Kiwanis Cabin. This 1.7 mile loop trail took us to the incredible panoramic views from the ridge, and along the snow-covered path beneath the ponderosa and pinon pine trees.
We had so much fun playing in the snow and catching the beautiful views from the top of the mountains. Make sure to dress warm, don't hike too late in the day, be careful near the edge, and wear clothes for hiking in deep snow if you have just gone after a storm. This is also a beautiful hike any time of the year.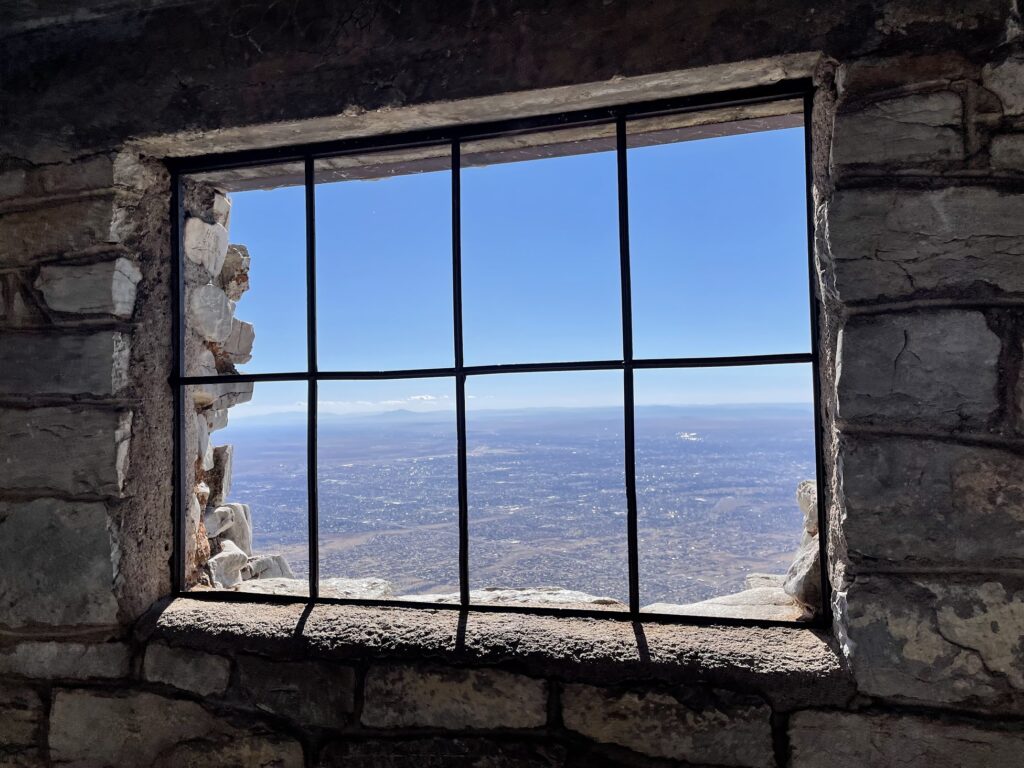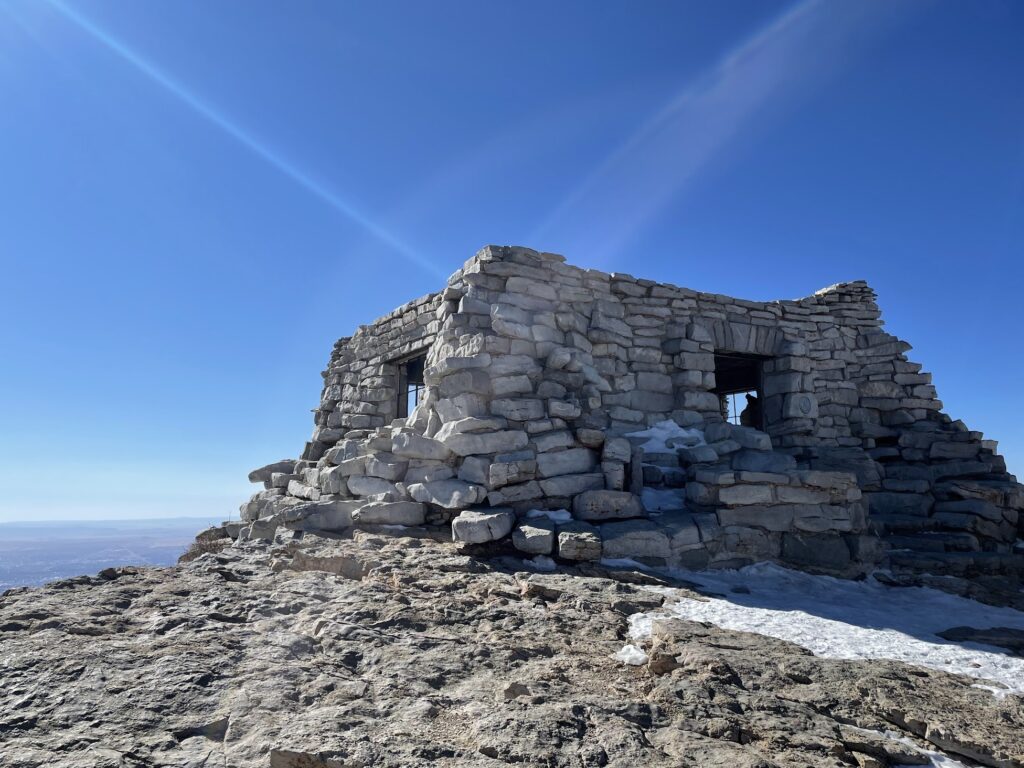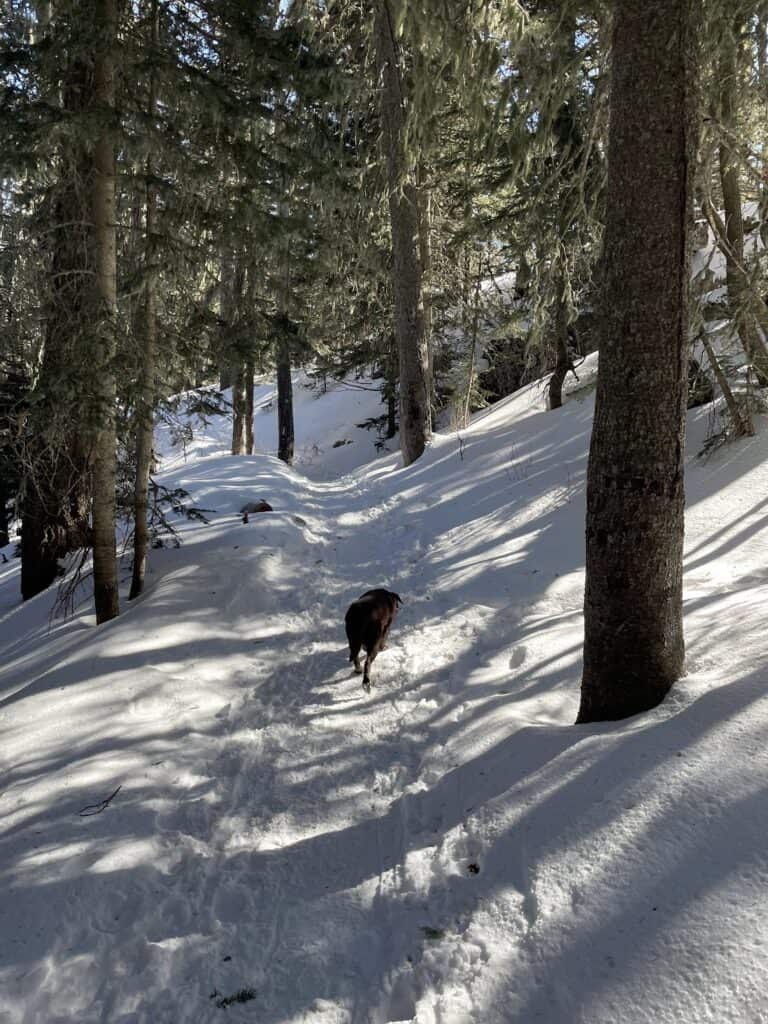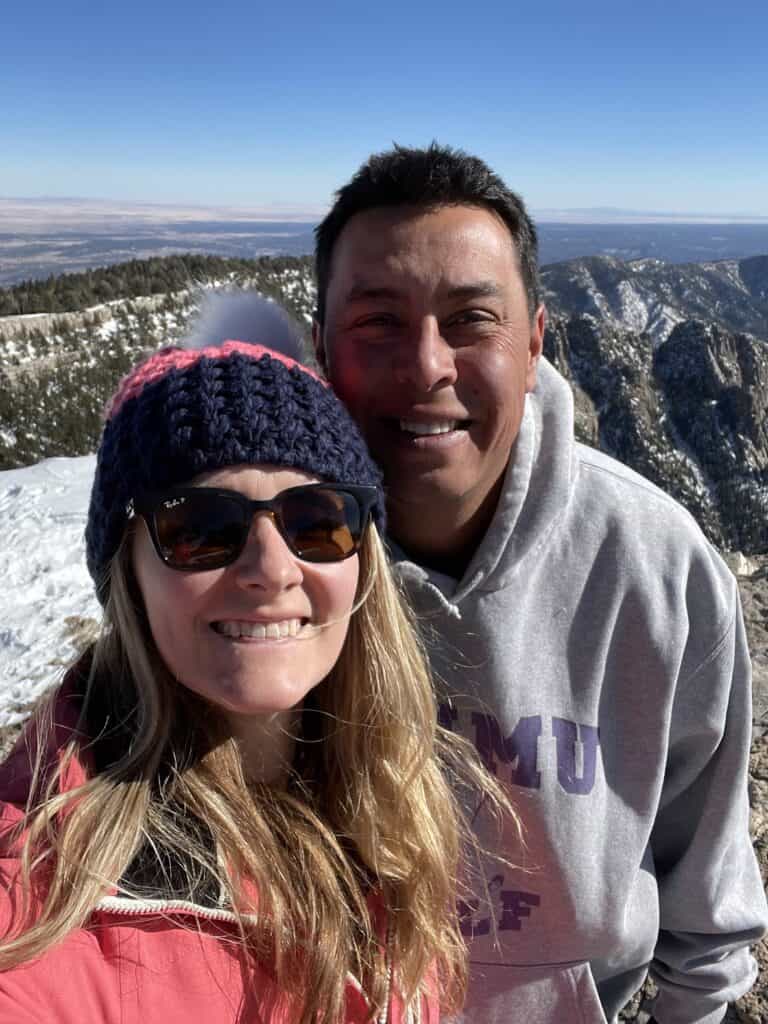 Tent Rocks
The second of the day trips from Albuquerque is about a 45 minute drive from Old Town, and is one of my favorite: Kasha-Katuwe Tent Rocks. Kasha-Katuwe stands for "white cliffs," in the language of the nearby Cochitit Pueblo Native Americans. Squeeze through slot canyons to get up close and personal with the rock layers, then ascend to the top of the mesa for stunning bird-eye views of these unique geological structures.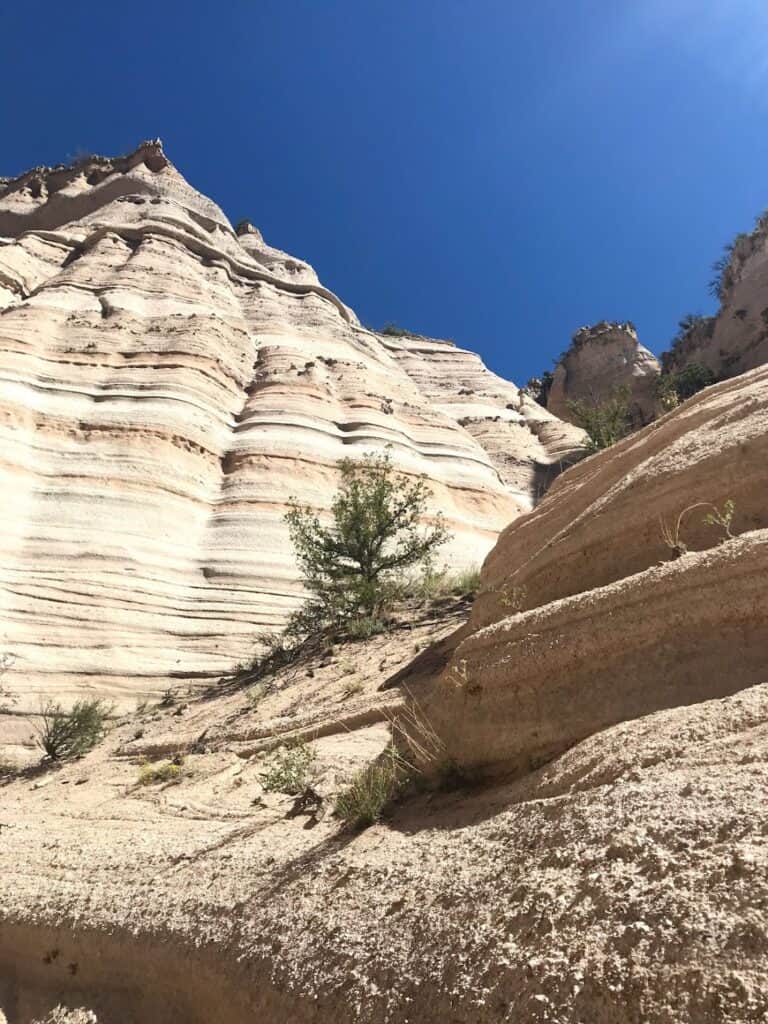 What gives these rocks their shape?
Volcanic eruptions millions of years ago left the ground covered with ash, soft pumice, and tuff, another porous rock formed from volcanic ash. Water and wind erosion gradually wore away at these soft rocks, forming these unique hoodoo shapes. Atop these hoodoos, or towers, sits a boulder cap, a harder gravel rock that protects the softer rock underneath from eroding. Over the years, many of the pinnacles have lost their hats, if you will, causing those towers to disintegrate faster and lose their shape.
Unfortunately, at the time of this posting, Tent Rocks remains closed since COVID-19 as the Bureau of Land Management, along with the Pueblo de Cochiti work together to balance resource protection along with visitation demand. Prior to its closure during the pandemic, Tent Rocks suffered from long wait times and over-visitation. Hopefully soon, they will be able to reach a solution that allows visitors to take in this geological wonder in a way that also preserves this area. You can check the monument's status at this link.
Jemez Springs
Soda Dam
Another day trip about an hour north of the city takes you to Jemez Springs, a small village rich in cultural and natural beauty. After driving through the quaint village of Jemez, stop at Soda Dam, a unique formation of travertine and calcium carbonate that stretches 300 ft in length across the highway. A bubbling hot spring, one of many in the Jemez area, created this formation through natural deposits. This is an easy stop off State Route 4; just be careful parking and walking along the highway.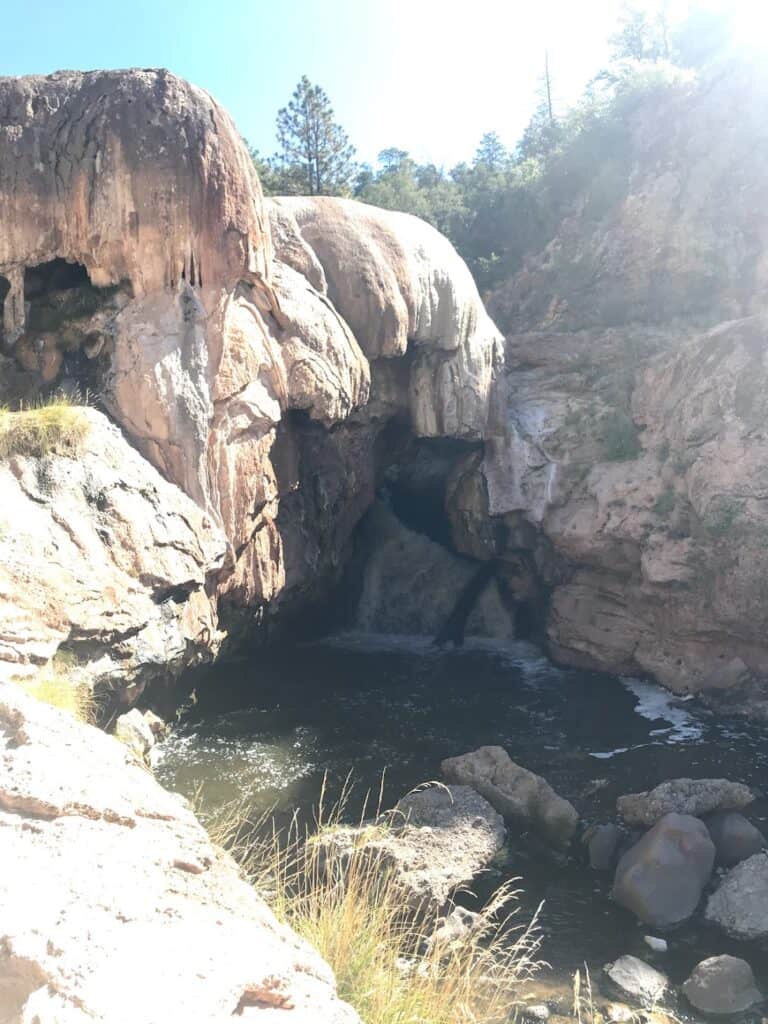 BattleShip Rock
Next, park at Battleship Rock to get to the trailhead for the McCauley Hot Springs. Battleship Rock is a popular picnic area, which is understandable since the sites are tucked right along the East fork of the Jemez River, and are extremely picturesque.
McCauley Hot Springs
The trail to McCauley Hot Springs follows the river for a bit before heading up towards the springs. This hike is marked as moderately challenging, and popular, so be prepared to encounter other hikers. But the hot springs at the end are worth the time and effort!
Upon reaching the top, I found at least three different thermal pools, and only two other people there. On the day that I went in September, I was lucky enough to have my own pool to myself. There is one large pool at the top, and then at least two other smaller ones down the hill, perfect for a private little dip.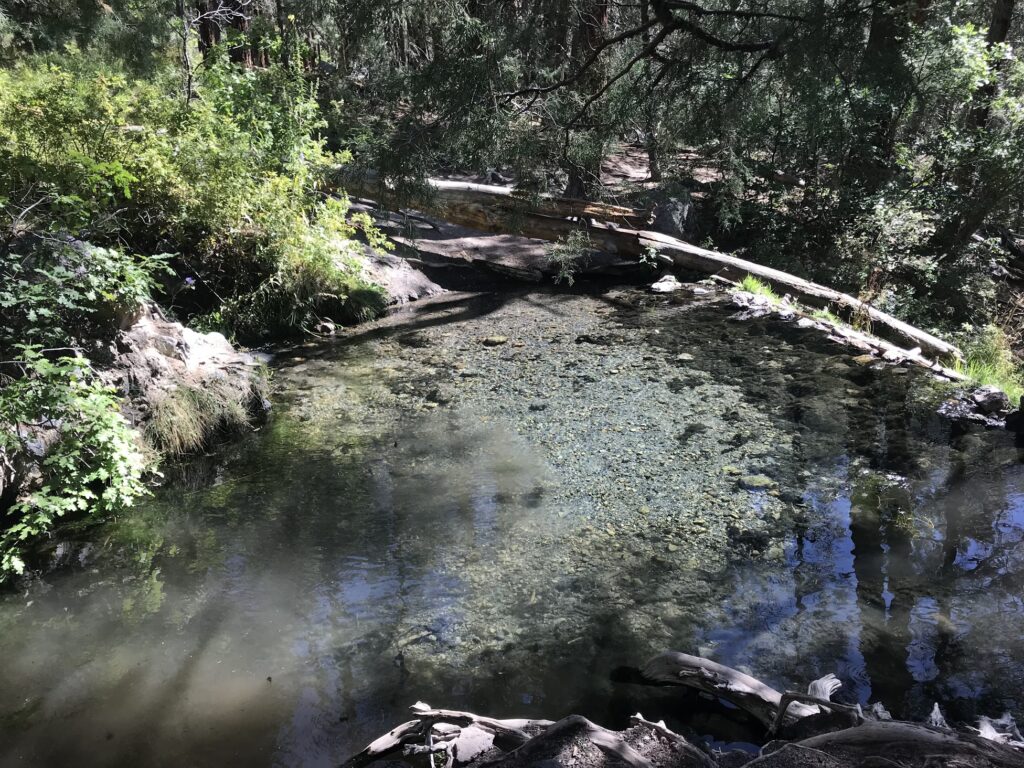 Story Time: Skinny Dipping Gone Bad
Maybe it was because the first person I stumbled across in the first pool was naked, or because it was a beautiful fall day and the nature was getting to me, but I decided this was a good opportunity to skinny dip too. Unfortunately, I forgot that my dog is a moron about people getting in water…
I tied her to a tree and stepped into the pool, sans clothing, which she apparently did not appreciate and let me know it! Soon the sound of barking and whining pierced the otherwise tranquil air. I, in turn, panicked at the sudden and unexpected uproar from my furry companion, and quickly tried to get up to shut my dog up. There I am, sopping wet, trying to be discreet, since I am, in fact, stark naked, doing that awkward flailing things that happens when you are trying to walk quickly over slippery, uneven underwater rocks, while my dog is trying to hurl herself into the knee-deep water to save me from drowning.
"Shut up!!!!!!!" I rage whispered at her as she jumped on me, scratching my bare legs. I attempted to put my clothes back on with one hand, despite being soaking wet and now muddy, while holding her down with the other. Both of us stood there panting when it was all said and done. I can only imagine how hilarious the entire spectacle was to behold for the people in the lower pool. This is why I would like to recommend possibly NOT taking your dog on this hike with you. Or just be a normal person and swim in a bathing suit.
Besides this ordeal, my overall experience at the McCauley Hot Springs was very enjoyable and I would love to go back someday. This is one of my favorite day trips from Albuquerque because, for a short drive, you feel like you have really escaped to somewhere remote and new.
Jemez Falls
The last stop for this day trip was to Jemez Falls. This 70 foot waterfall is an easy 1/4 mile walk from the parking lot at the Jemez Falls Group Area. You can walk down to the bottom of the falls, or stay at the top to take in the cascading water. This was a great way to end our Jemez excursion.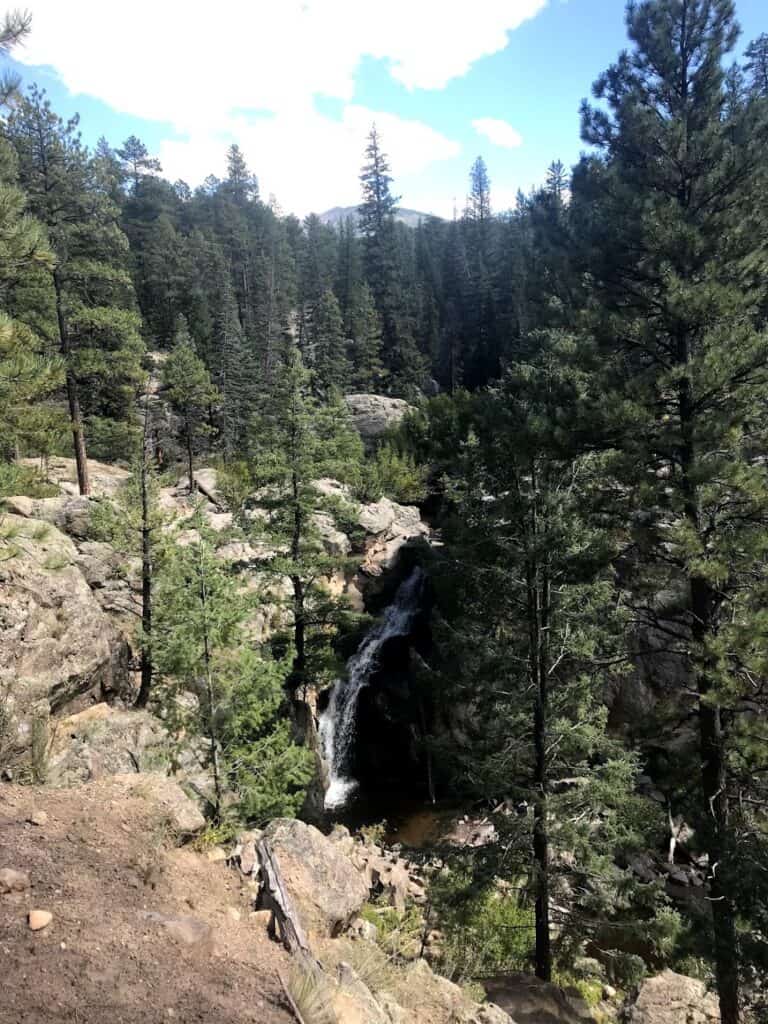 Whether you are hoping for a romp in the snow, or a warm soak in a thermal hot springs, these day trips from Albuquerque offer a variety of ways to get out into nature and to take in New Mexico's beautiful vistas and geological features.
Want more like this?
For more waterfalls, check out my post about Lower Calf Creek Falls in Utah or Johnston Canyon in Banff, Canada.
For more hoodoos and unique rock formations, check out Bryce Canyon, or Arches National Park in Moab, Utah.