One of my favorite things to do when traveling is to take a break from touring and indulge in a spa day. This always leads to unique experiences; some are hilarious and uncomfortable (but always a good story after), while others take you to new levels of luxury and relaxation. My four-hands massage in Essaouira, Morocco, was hands down the best massage experience I have ever had while traveling. But, in some sense, I had to go through hell to get there.
The Set-up
I was traveling solo on tour in Morocco and had made friends with Leanne, the other solo female traveler from Australia. We told our guide we were interested in massages, so he booked our appointments.
Upon arriving at the hammam, we were ushered into a room to change our robes and stow our belongings. Two massage beds took up the majority of the space in the room, which is when we realized what we were getting into. Turns out our guide had booked the equivalent of a couple's massage for us…
We had known each other for about a week at this point, so it felt a little premature for us to be naked around each other, but what other choice did we have? Not getting the massage was not an option. Chuckling, we shrugged our shoulders, stripped down, and donned our robes.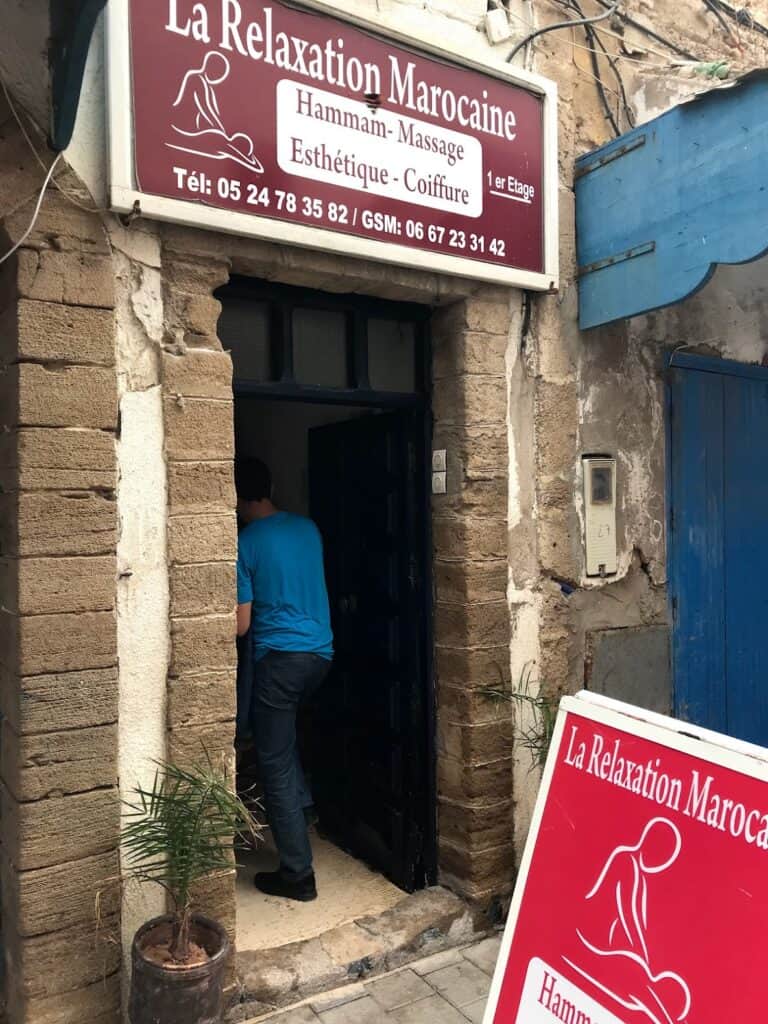 The unassuming entrance to the hammam (which has since permanently closed)
Getting Steamy
Next, two smiling women ushered us down the hall. She instructed us to remove our robes before entering an insanely hot, small steam room. Completely decorated with scalding hot red tile, the room had a hellish vibe.
Against the wall was a tiled bench, long enough for us to each stretch out on without touching. Fortunately, it was covered with rubber mats so we wouldn't burn our skin on the tile. A bucket of water rested in the room's opposite corner, and an oppressive wet heat hung in the air. Steam clouded the room making it hard to see.
Alternating between sitting and lying down, we steamed for a while and tried not to pass out in the intense, sweltering heat. It was nice at first, but it quickly became an exercise in tolerating the sizzling heat. A Moroccan woman would periodically come in, douse us with water and check that we were still conscious.
Scrub and Soap
As part of the spa package, we each had a scrub and wash while in the steam room. I sat on the bench while the woman washed me with black soap made from olives, designed to aid in removing dead skin. It was such an intense experience; I felt like we were being slowly cooked in an oven and then sanded down.
Next, she scraped at me with a rough rag as my skin peeled off in what looked like little eraser bits. Finally, the woman came to free us; the sweet relief of the cool air outside was almost inexplicable.
Massage Time
Next came the massage, which felt like a pretty standard, very relaxing massage. What stood out to me was the argan oil. We were doused in it as if we were going to be fried up like some Moroccan delicacy.
After the hour-long massage, I felt utterly saturated in argan. We dressed, somewhat sticky from the oil but completely relaxed.
"You are glowing!" commented a fellow traveler upon our return. And we were, from pure relaxation but also copious amounts of oil.
In fact, my massage felt so lovely that I booked another for the following day. This time, I decided to skip the steam room though; thank you very much. The day's experience was truly memorable, but the real treat waited for me the next day.
The Most Amazing Massage in Morocco
If you have never gotten a four-hands massage, put it on your bucket list! This is a massage with TWO MASSEUSES and it is utter bliss. But it's not just one working on your back while the other works on your feet until an hour is up. Working together, the two masseuses create the ultimate massage experience. that feels like a coordinated dance.
Starting at your head, they work down to your feet, then make their way back up. Four hands work as one unit, with a masseuse on each arm and leg. The pressure was perfect; the whole experience was almost a sensory overload. It is as heavenly as it sounds, and I left walking on a cloud.
I cannot recommend a Four Hands Massage enough, but at home in the US, a four-hands massage is top dollar. I recommend looking for this option abroad, where you can get massaged two days in a row without breaking the bank.
That is why Essaouira, Morocco, will always have a special place in my heart as a little slice of heaven on earth.
Like this post? Check out this one about Ojo Hot Springs Resort in New Mexico.
Interested in going to Morocco? I went on this tour with Intrepid Travel and loved it.