Lake Powell is home to stunning landscape, and sparkling blue waters, which makes it the perfect place to camp and relax. Its proximity to Page, Arizona gives you the perfect chance to relax lakeside during the day, then head into town for the evening.
Lake Lounging
Pack some snacks and park your umbrella lakeside at Wahweap Beach. The only downside for our beach time was the ¾ mile walk from the parking lot at Wahweap to the waterfront. Keep in mind we were there in early June of 2019, a time when the water level was very low, so this may not always be the case. It was no problem on the way down, but the uphill in the heat with all our beach gear was a bit of a struggle. I needed to go for a swim again after leaving the beach! Bring some sort of shade, since it is very sunny and you will roast without it.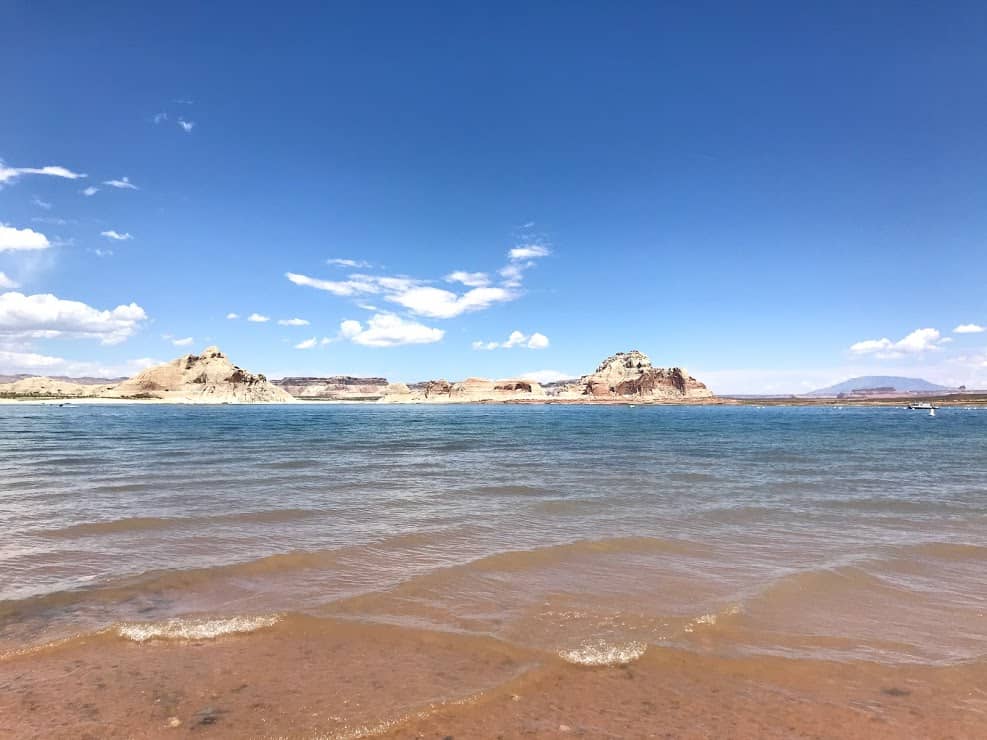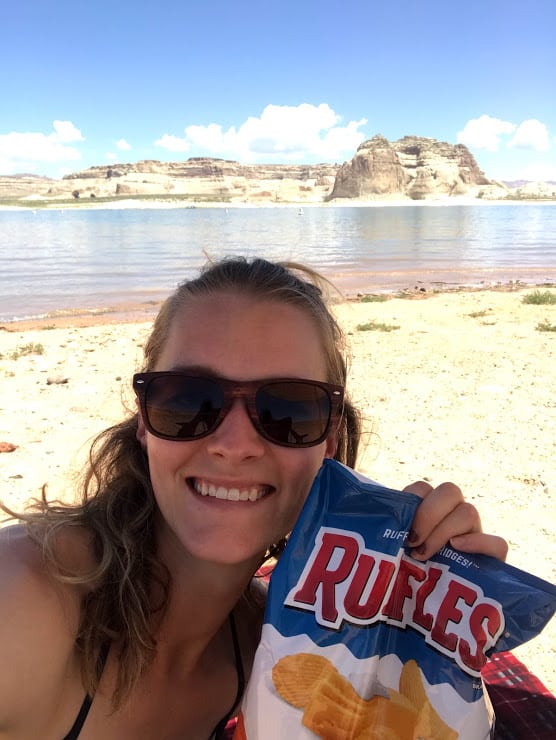 The views are stunning and the water felt amazingly cool and crisp, but it dropped off pretty severely right from shore which freaked me out. We opted not to rent paddleboards or kayaks, but the boathouse at the campground had several options available if we had wanted. Next time, I definitely want to rent some kayaks.
Grab a snack at the bar
After a perfect afternoon of chip eating, swimming, napping, and enjoying the view, we showered and headed off to explore Page (which we found quite underwhelming). We landed at the Dam Bar and Grille, which provided a welcome relief from being in the sun all day, and ice cold beer. There are no pictures because we were very disheveled and in need of shade and sustenance 🙂
Check out the Glen Canyon Dam
On the way home, we stopped at the Glen Canyon Dam for pictures and to walk the bridge, before heading back to the campsite for s'mores and star-gazing. Overall, very solid day which set the tone for the whole trip.