We (my dear friend Nikki and I) left Albuquerque early in the morning for Lake Powell, AZ, the first stop of my 3 week road trip through the Southwest. First up was a stop at Window Rock, en route to our final destination of Page, Arizona to visit the renowned Horseshoe Bend.
Window Rock
It was about 2.5 hours to Window Rock, where we stopped for a quick detour to appreciate a giant hole in the rock, the Navajo code talkers, and the seat of the Navajo Nation government. It was only 5 minutes off the road and totally worth a stop just to stretch your legs.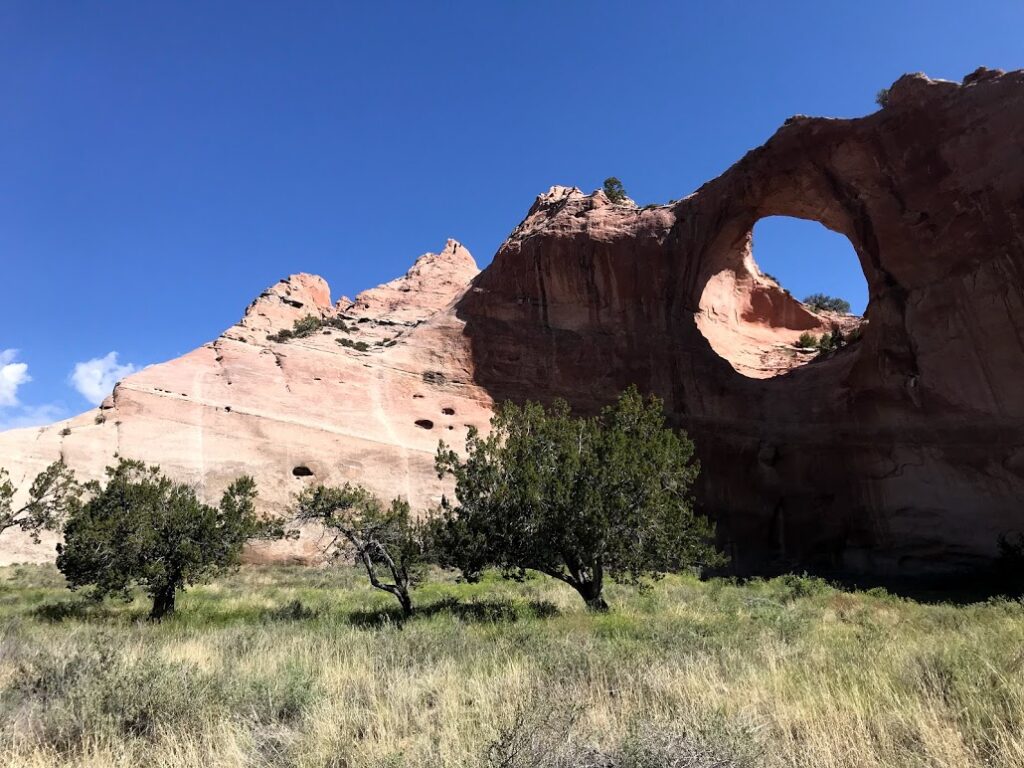 The Scenic Road to Page, Arizona
The drive to Page was absolutely beautiful and a total surprise. I expected to see barren stretches of nothingness, but we were amazed by the striated red and white cliffs in all shapes and sizes, whether flaky like potato chips, mounded like gigantic meringues, or jutting from the rock like a sea from the abyss (look at me, I didn't make a third food analogy). It was so so beautiful and it made the 6.5 hour drive fly by, as did the excellent conversation.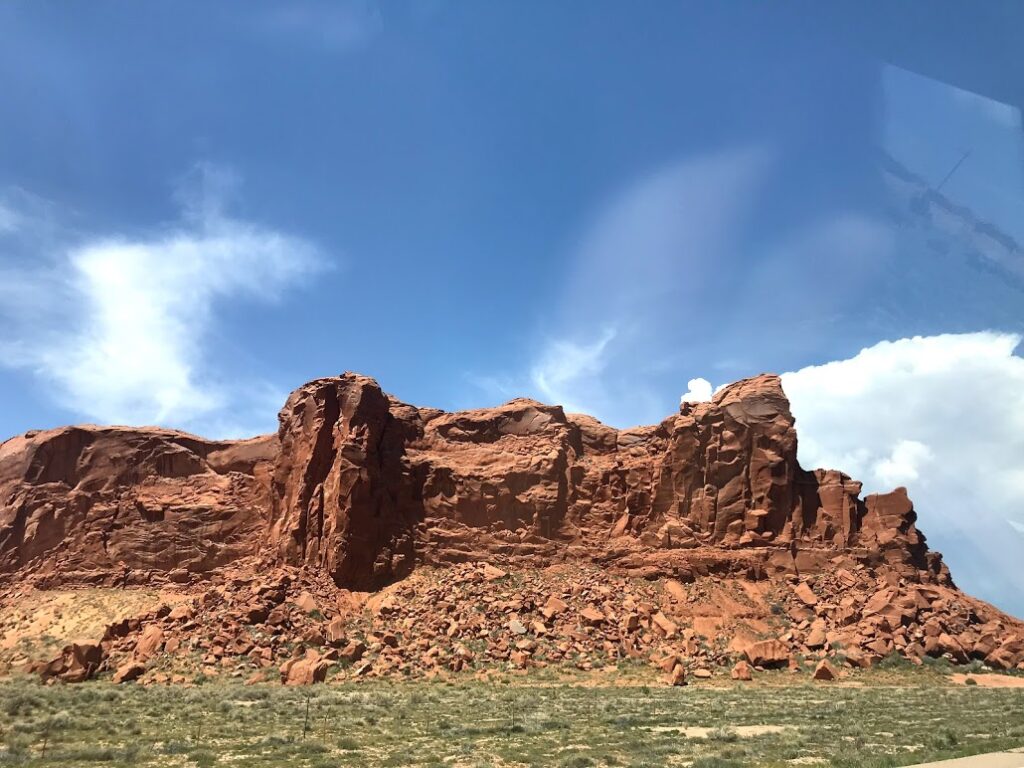 Be aware that rest stops are few and far between, so make sure to go when you can. The last place we were able to stop before Page was Chinle; not the greatest area but it had what we needed. After we set up camp, the activity of the day was Horseshoe Bend.
Horseshoe Bend
Horseshoe Bend is located just 5 minutes from Page, a straight shot on highway 89. Parking was easy; there is a large parking lot right off the highway and it is your only real option, and it costs $10 to park. (The Annual National Park Pass does not work here). We had no problem getting a spot, but we also went on a Tuesday evening in early June.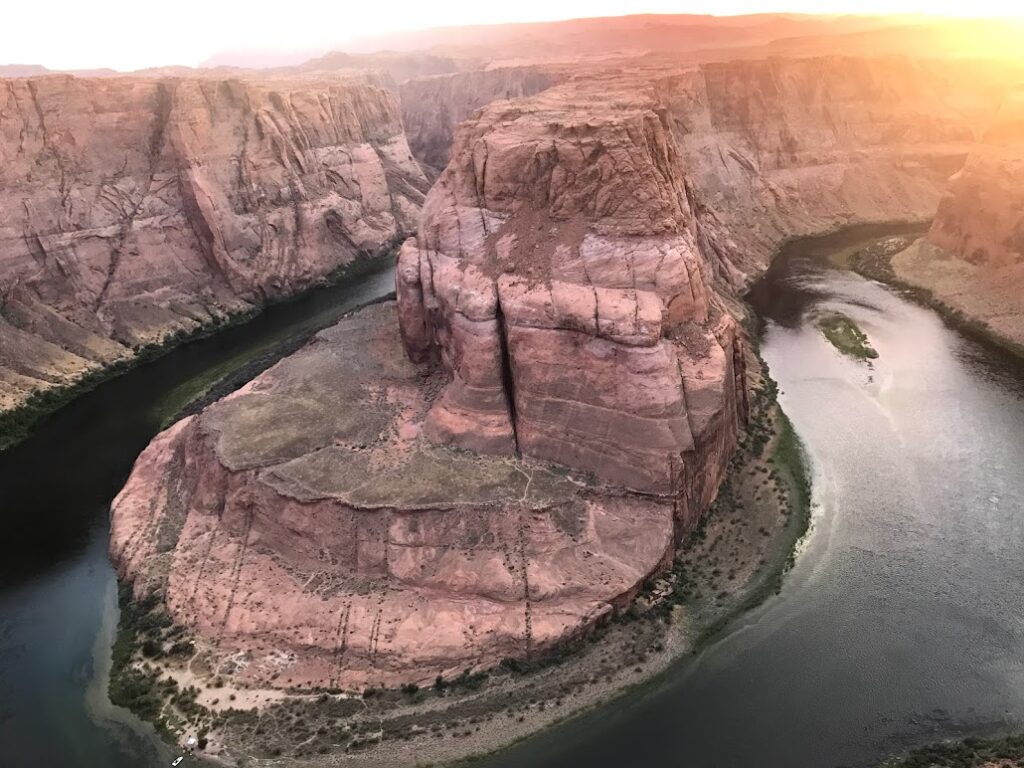 From the parking lot, there is a half mile hike to the lookout point which slopes gently downward, and is mostly sand and rock. For those that can't make it all the way down, there is a nice viewpoint with seats, but you can't see the horseshoe of the bend very well from this lookout. When you reach the viewpoint, there is a spot with railings that gives a great view, but you can also walk along the edge of the cliffs and see a spectacular view from any place along the edge. Just be careful not to go too close, or to perch on a section of sandstone that is actually suspended precariously above the canyon and could break off at any second.
We walked a ways to the right of the lookout to get away from the crowds, found a quiet spot, and parked ourselves there. I expected to find the place much more crowded at sunset, and was pleasantly surprised with how much room there was to spread out and observe this ancient marvel. I would give this attraction a minimum of half an hour; we spent about an hour and a half soaking it all up.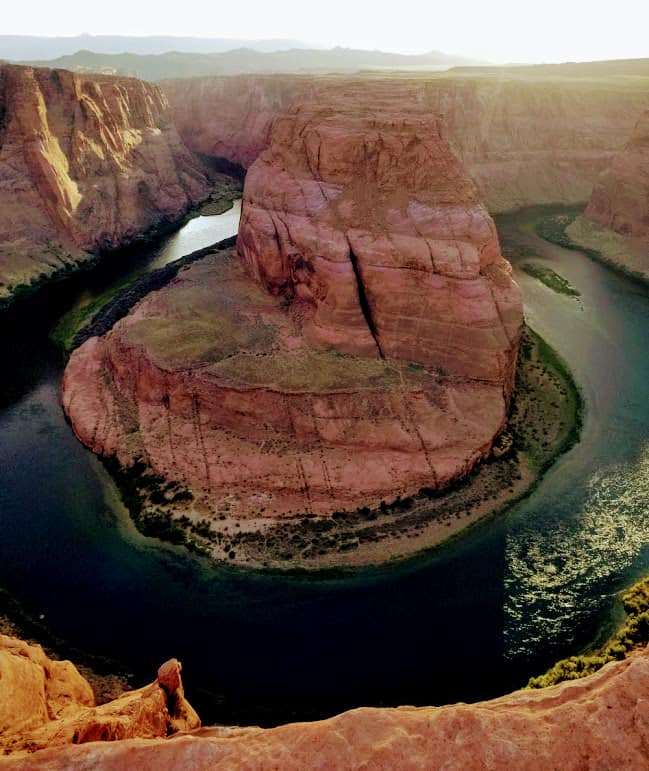 It was really hard to get good pictures before sunset, since the sun sets right behind the bend, but after it went down, we were not disappointed. The clouds were stunning and the sun lit up the stone so that it looked like it was glowing. Peering over the ledge for my first glimpse, it really took my breath away. I had seen pictures of this place and wanted to go for so long, and it was so moving to be standing there witnessing something so old, sturdy and beautiful. The clouds created a stunning backdrop while the wind teased up from the canyon, ruffling our hair and dusting us with sand. There were moments when the international chatter all around us would fade and we could catch a minute of pure silence, marred only by the rumble of distant thunder or the whisper of the wind along the canyon walls. It was achingly beautiful and peaceful and I loved every minute. Bucket list check.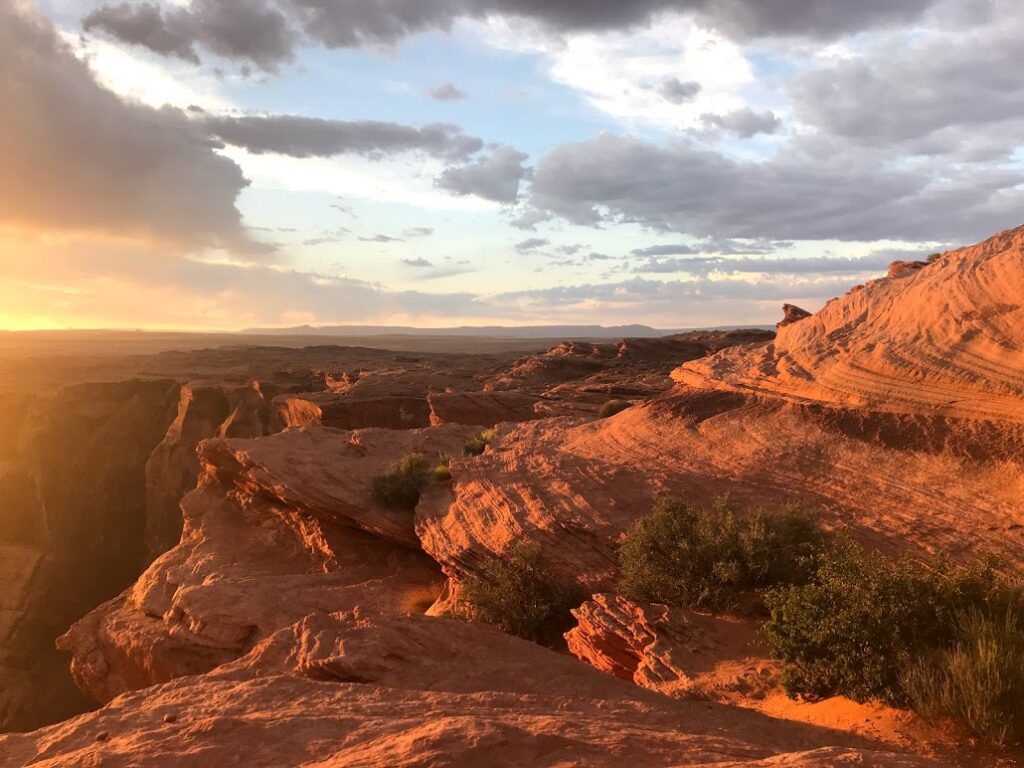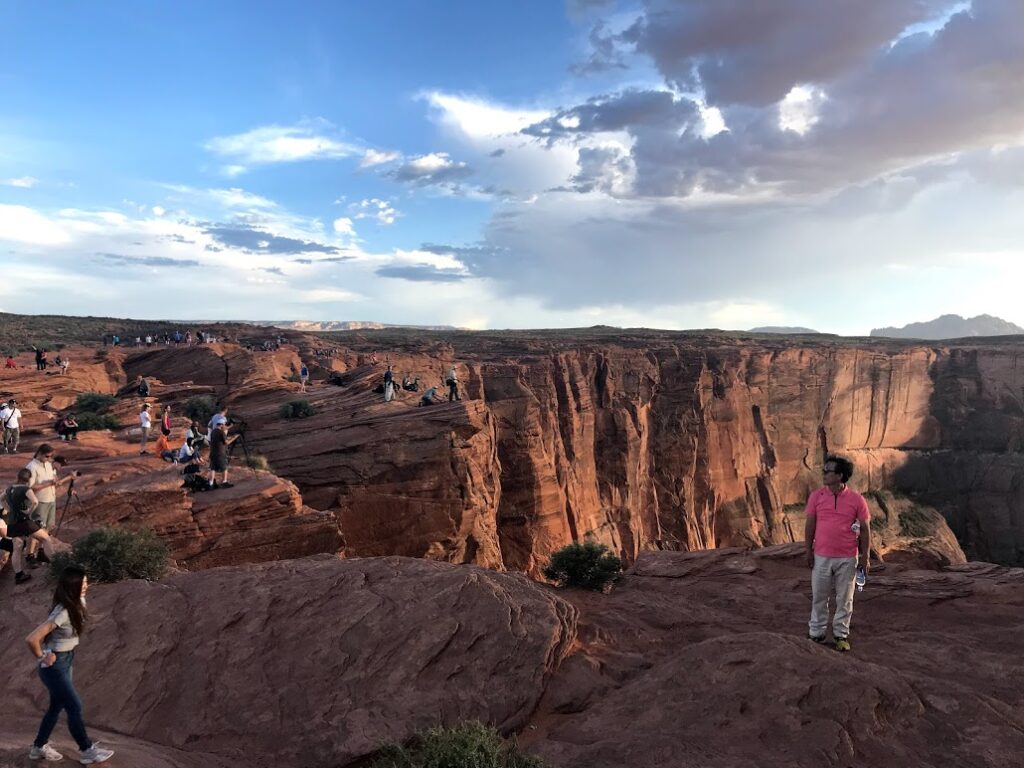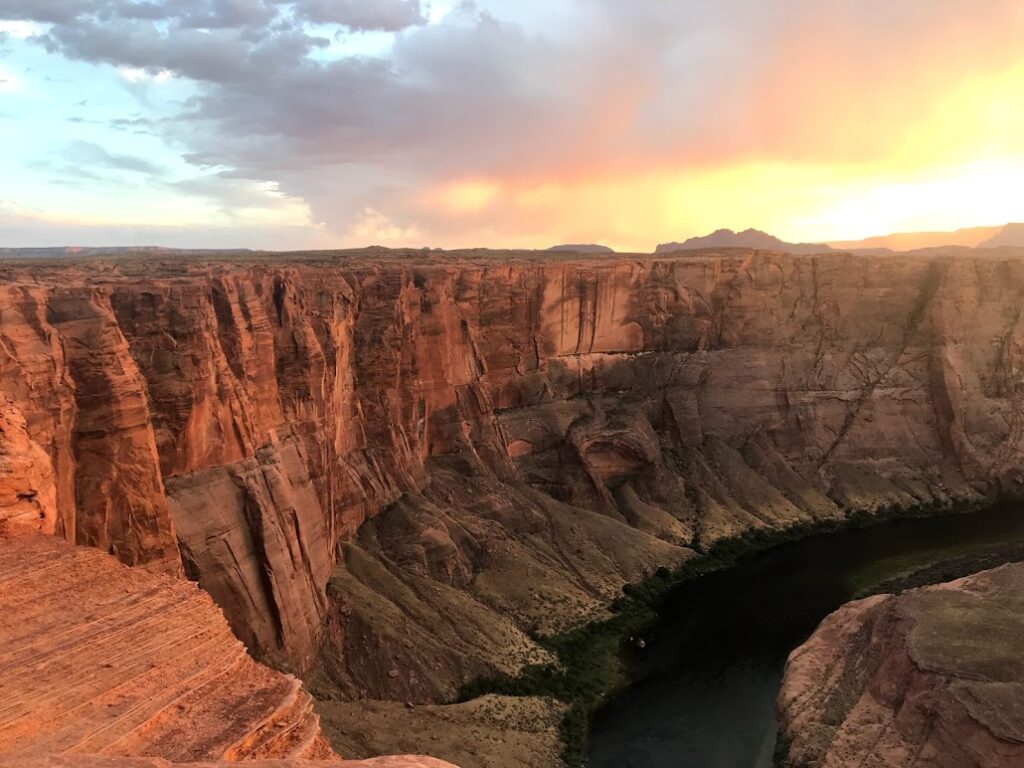 Go. Go to Horseshoe Bend. Next time, I will go at sunrise so the sun shines directly on the horseshoe and water and brings out the colors of the river. But I really think you cannot go wrong when you go to see it, and I can't recommend it highly enough.
Where to Stay
Wahweap RV and Campground
The sites are large, and level, and the amenities were excellent. Hot showers, great pressure, clean bathrooms, and right next to the beach. Our site had shade, but it would have been a game-changer if we hadn't. As long as you have shade, I totally recommend this site. Beautiful view from the tent!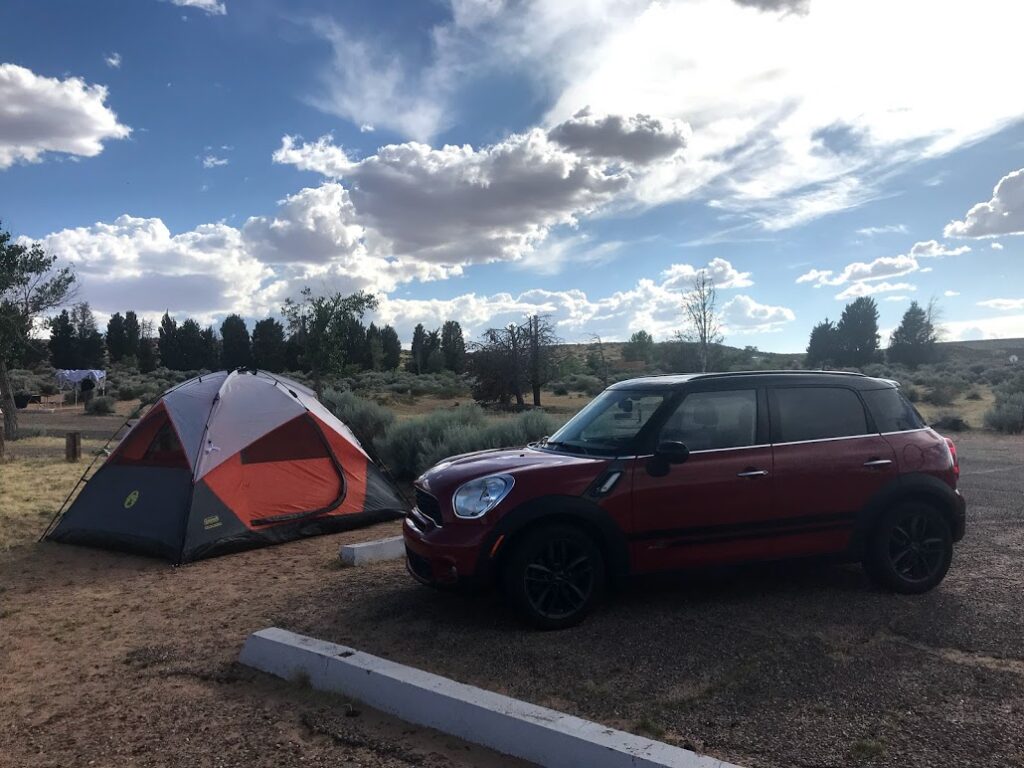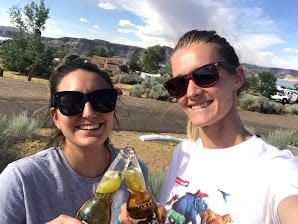 Day 1 set the bar high for more adventures to come!