The next stop on our road trip was White Sands National Park, a recent addition to the National Park family, as it was upgraded from a monument in 2019.
What to Expect: About the Park
White Sands National Park is one of the world's largest gypsum dune fields and is unlike anything I have ever seen. Mounds of glittering, almost blinding, white sand stretch up into the bright blue sky, dotted by the occasional scrub brushes towards the entrance of the park, but shifting to dunes of pure gypsum the further you get into the heart of the park. This stunning natural wonder is tucked near the city of Alamogordo in Southern New Mexico and close to the Holloman Air Force base and White Sands Missile Range. (Be forewarned, roads are often closed due to missile launching, so make sure to check the status before heading out. We were lucky to not have any issues with this, but it's something to be aware of). Our visit began on a warm February day with little wind, and was a stark contrast to our day in a dark cave in Carlsbad the day before. We spent about 4 hours at White Sands, and were able to pack it perfectly full of activities, balanced with some downtime.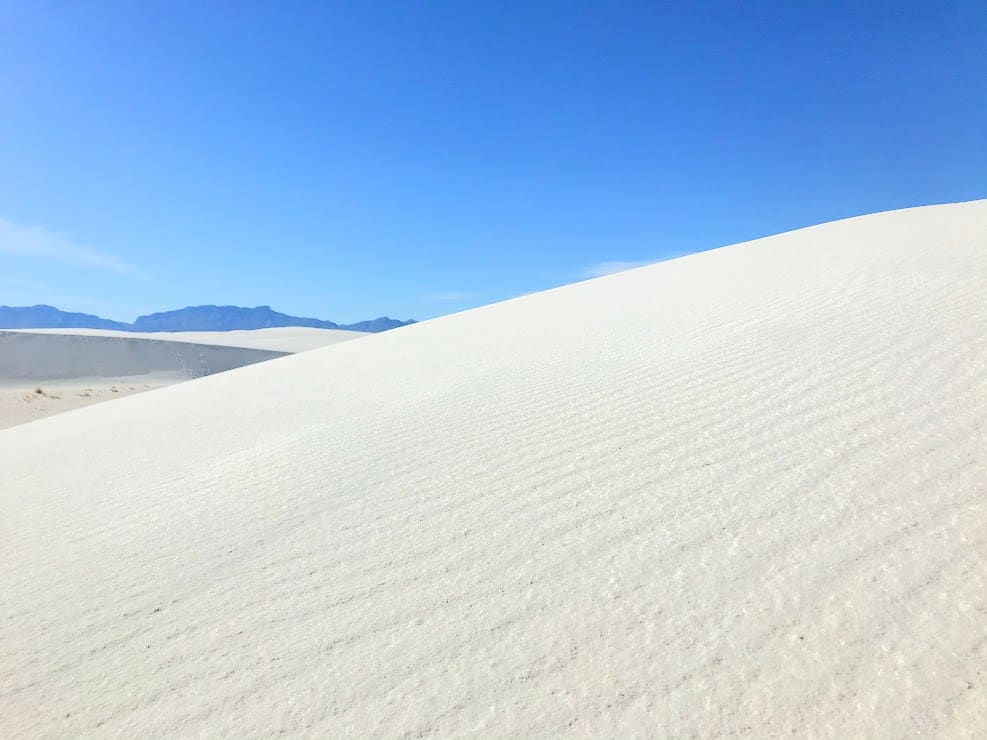 5 Things to Do at White Sands
1. Visit the Visitor Center. This is probably very much the elementary teacher in me speaking, but I always enjoy learning about the park before I head in. I find this makes me much more tolerable to the people I travel with, rather than maintaining a stream of questions out loud the entire time. How was it made? Why is it here? What animals live here and what else is there to do that I may have missed? Check out the park introduction video, buy a postcard or two, and most importantly, rent/buy your sled and wax. I also always talk to the Park Rangers, since they have the most up-to-date information, and can give you a map and mark out any sights, stopping points, or trails that they recommend. 
2. Go Sledding! This is the hot thing to do in White Sands, no pun intended. Flail your way up the dune of your choosing with your toboggan, available for purchase in the gift store near the visitor center, and then blast down to the bottom to access your inner child. There were three adults in our party and we shared one toboggan easily: you can only go head over heels so many times at this age before you have had enough, but it was a blast.
3. Play in the sand. When you are done sledding, pick a dune to perch atop and just spend some time taking it all in. The temperature was perfect for short sleeves and we gratefully exposed our winter arms and basked in the sun. When you dig your hands into the sand, it feels like sugar cookie dough; cool to the touch the further down you dig, firm but not quite compactable, and warm and fine on the surface. Watching everyone around us sledding down the hills and falling off their sleds also proved highly entertaining, as you would expect. The dunes don't discriminate against age, and young and old alike were having equal amounts of success and failure at the activity.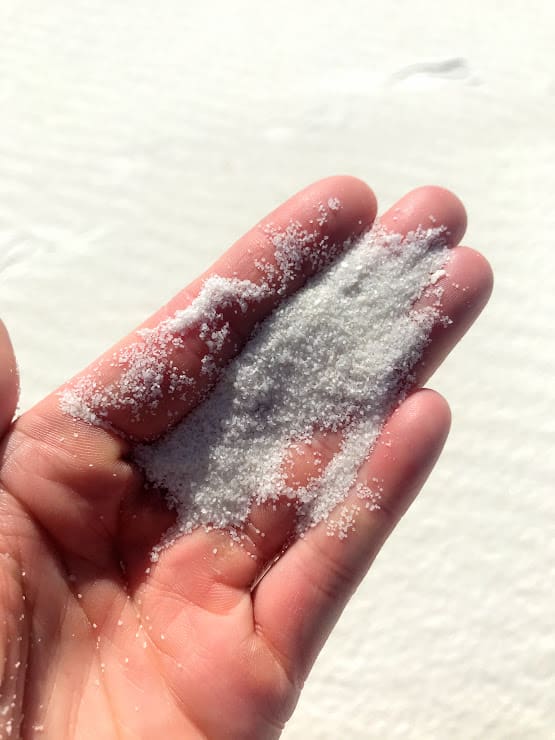 4. Walk the dunes (but don't get lost!) We only walked on the dunes really from the car to our favorite sledding spot, and a bit more on the other side of the parking lot, but we were glad we had left arrows in the sand to point us back to our car. When you get out in the dunes, especially in the valleys, and all you can see are sand dunes all around you that all look alike, it can be very difficult to figure out which way you need to go. It is well worth it to go exploring, just make sure you have a plan for how to get out.
5. Check out the Interdune boardwalk. This is on a raised platform over the sand, so it is easier to walk on, and more accessible for all ages. It was a brief half-mile walk, with some informational placards and a different view of the dunes: more scrub brush and grasses. We looked, but did not find any of the white lizards or other wildlife that call White Sands home.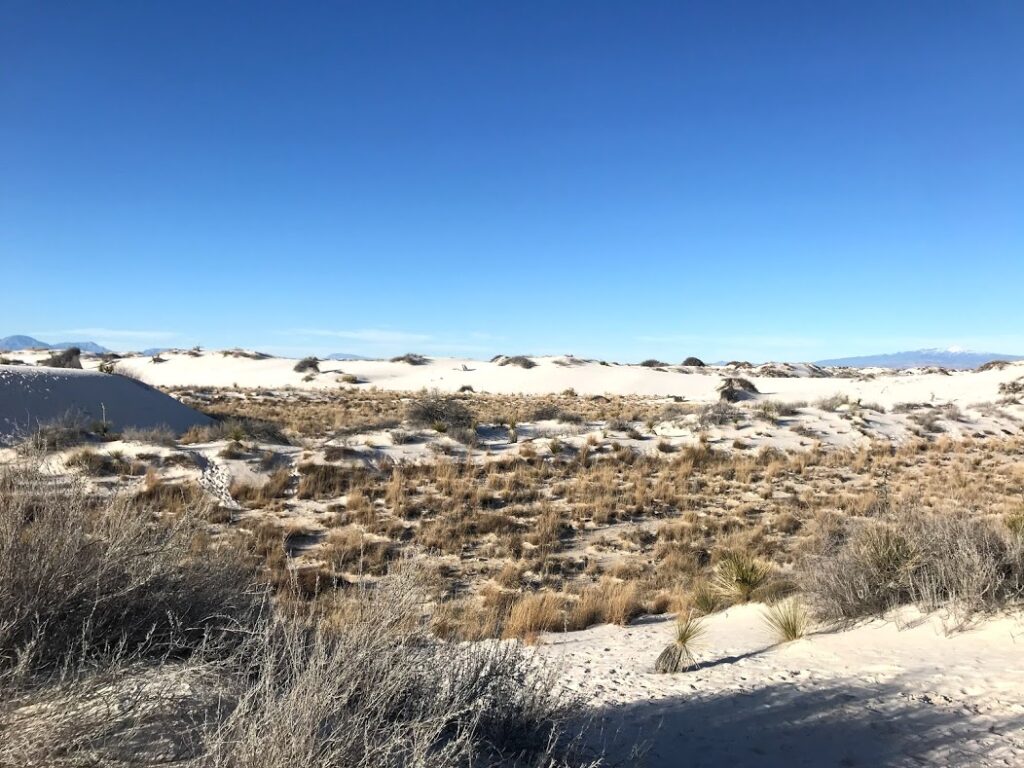 Next Time
As always, here are two things I wish I had done/or had time for on this trip that I hope to be able to do next time.
Stay for sunset. I imagine the pastel sky contrasted on the white sands is an incredibly surreal and gorgeous experiences, and I was bummed we didn't have time to stay to see it.
Have a picnic. There are tons of covered camping areas available (for free) for groups that want to come in for the day. Have lunch with a great view!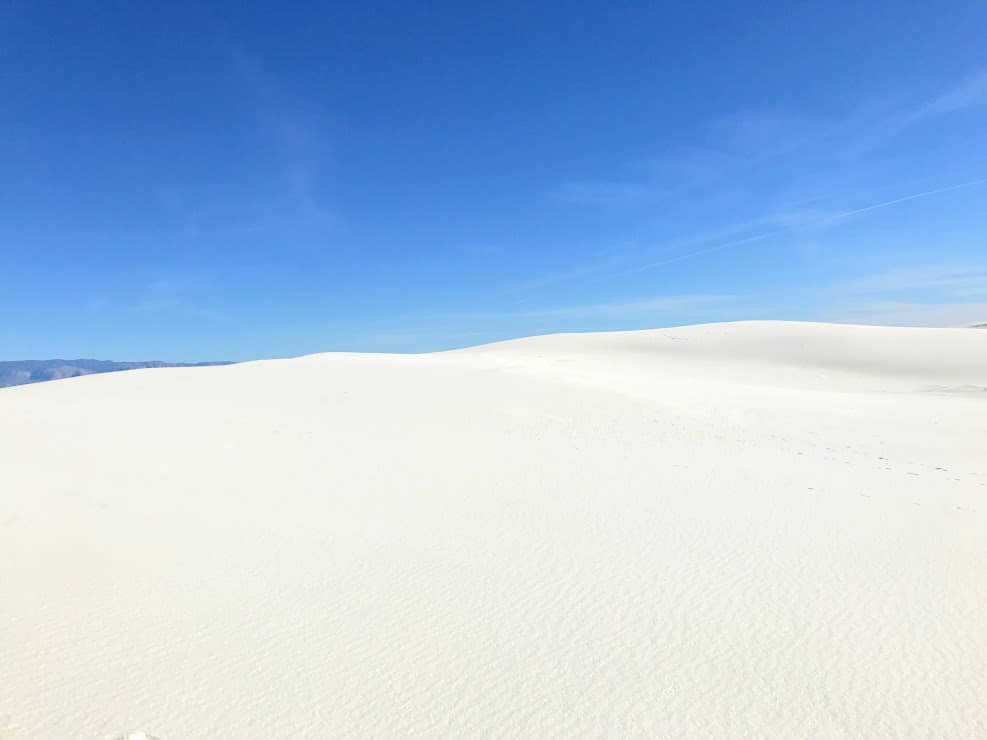 Want More Information?
Other blogs I read talked about how you could spend several days at White Sands…..I don't quite get that. It is a fantastic way to spend a day or afternoon, but I think it might be hard to spend more time than that. To each their own though…
This is one of my go-to websites when it comes to planning National Park trips. Ash is a former park ranger with an extensive knowedge of the parks, and she lays out each park in a clear and organized way.
This blog has some incredible pictures and good tips too.
Check out my guide to Carlsbad Caverns and consider adding it to your roadtrip for an incredible experience.
There you have it. If you are in the area, a stop at White Sands is definitely worth taking, even if it is slightly out of your way.