When your sister finally comes to visit New Mexico for the first time, you celebrate by sneaking away for a girls night at Ojo Santa Fe. Tucked off the I-25 freeway, just 20 minutes south of Santa Fe, is the incredible hot springs oasis of Ojo Santa Fe. We had the most amazing night away and came home completely relaxed. Here is what to expect on your overnight get-away.
Soak
The main draw of this resort is its hot springs, of course. Visitors can rent a day pass for $65 on the weekends, and $45 Mon-Thurs, but since we stayed overnight, use of the tubs was included. By the time you factor in two day passes for two people, you might as well pay for the overnight fee, because then you get access to all the resort amenities. Also, New Mexico residents get a discounted rate for staying Sunday-Thursday.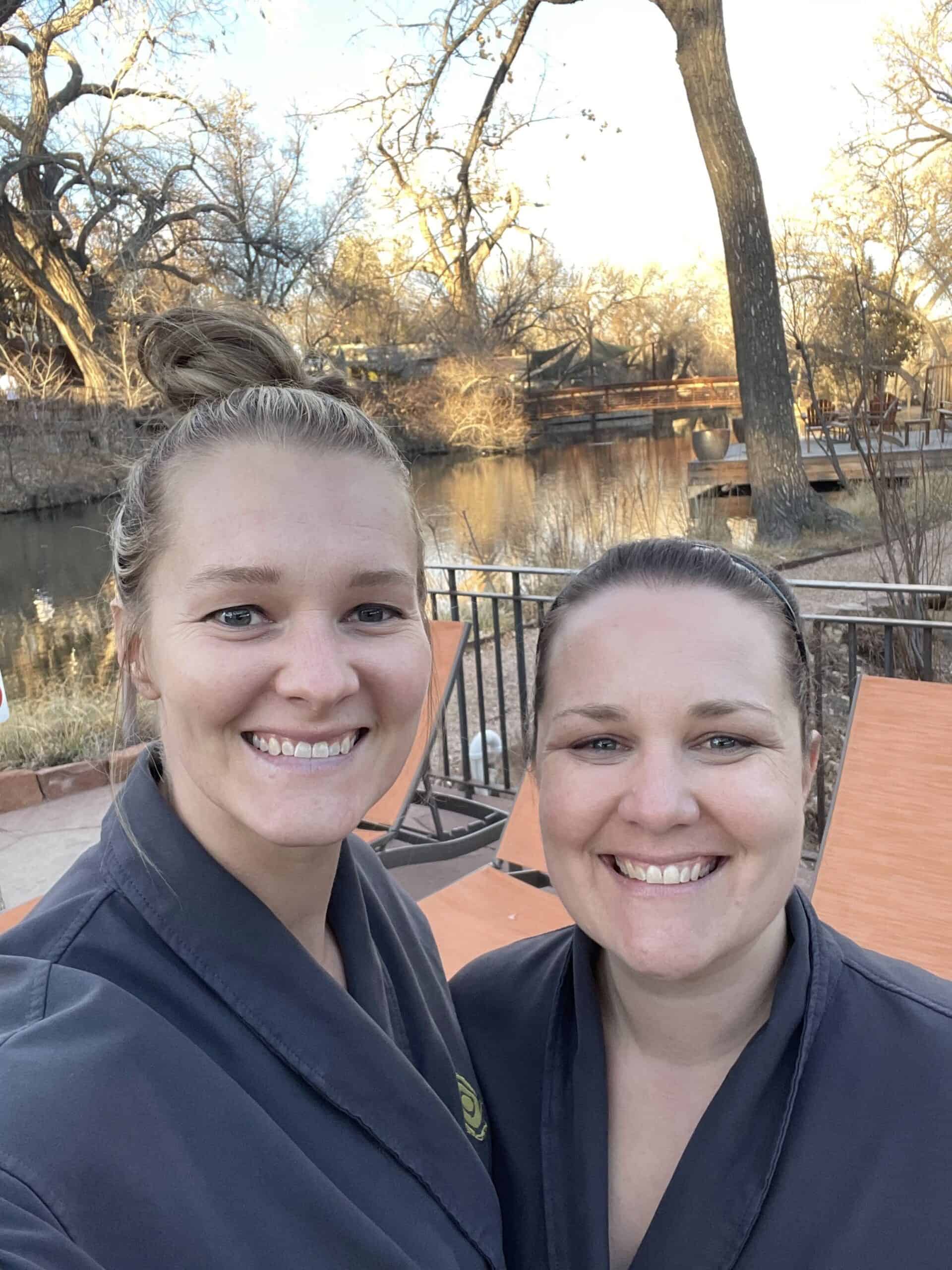 This resort boasts multiple soaking tubs tucked up against a small lake, surrounded by enormous cottonwoods. The deck is complete with a fire pit, hammocks, lounge chairs, and a supply of fresh drinking water so you don't overheat. Two waterfalls trickle past the tubs and cascade into the water, adding a peaceful and tranquil ambience. Each pool is a different temperature, starting from the high 90s and ranging to 104. Your entry fee gets you access to communal soaking pools, but you can also rent a private ojito as well.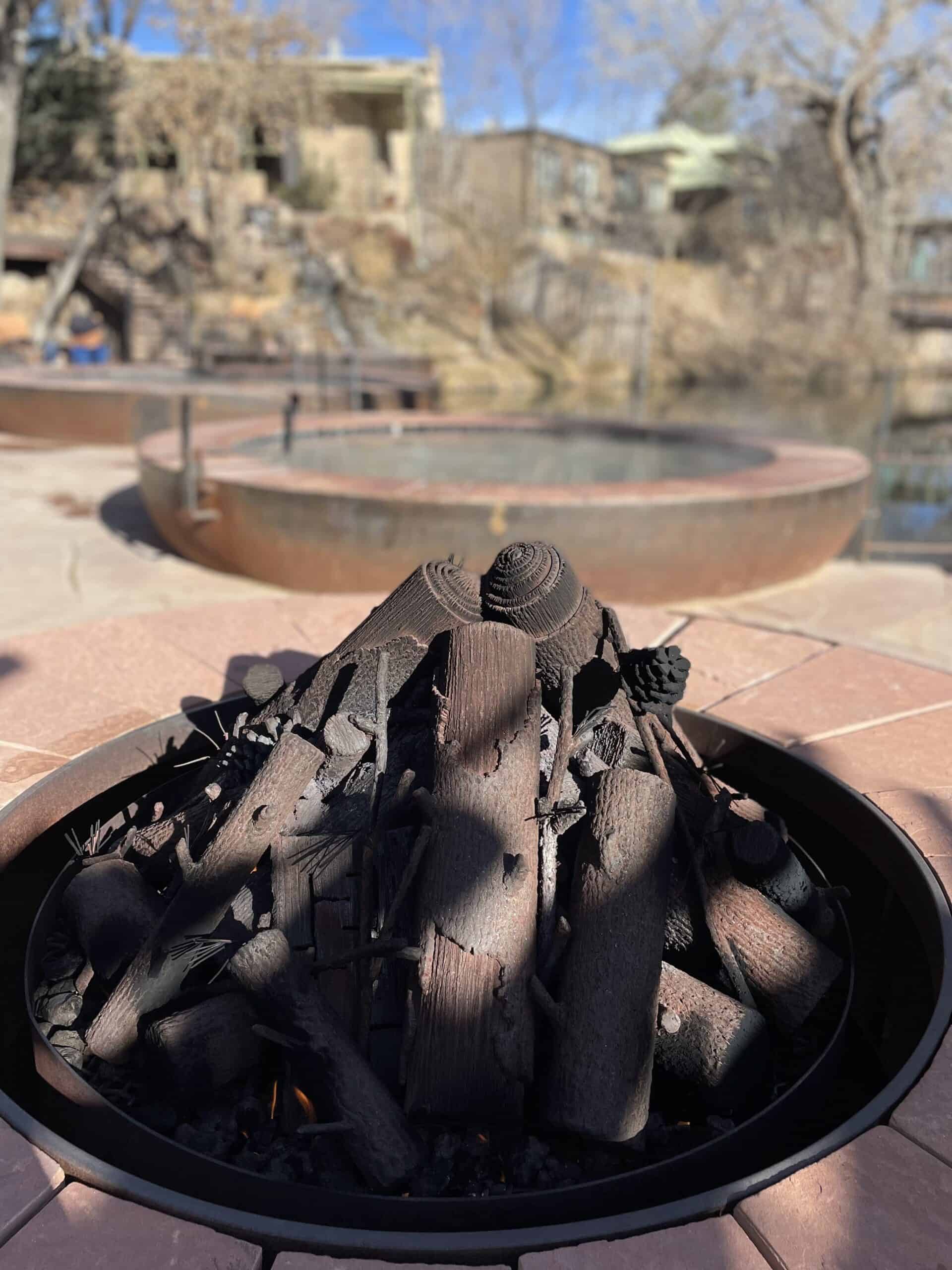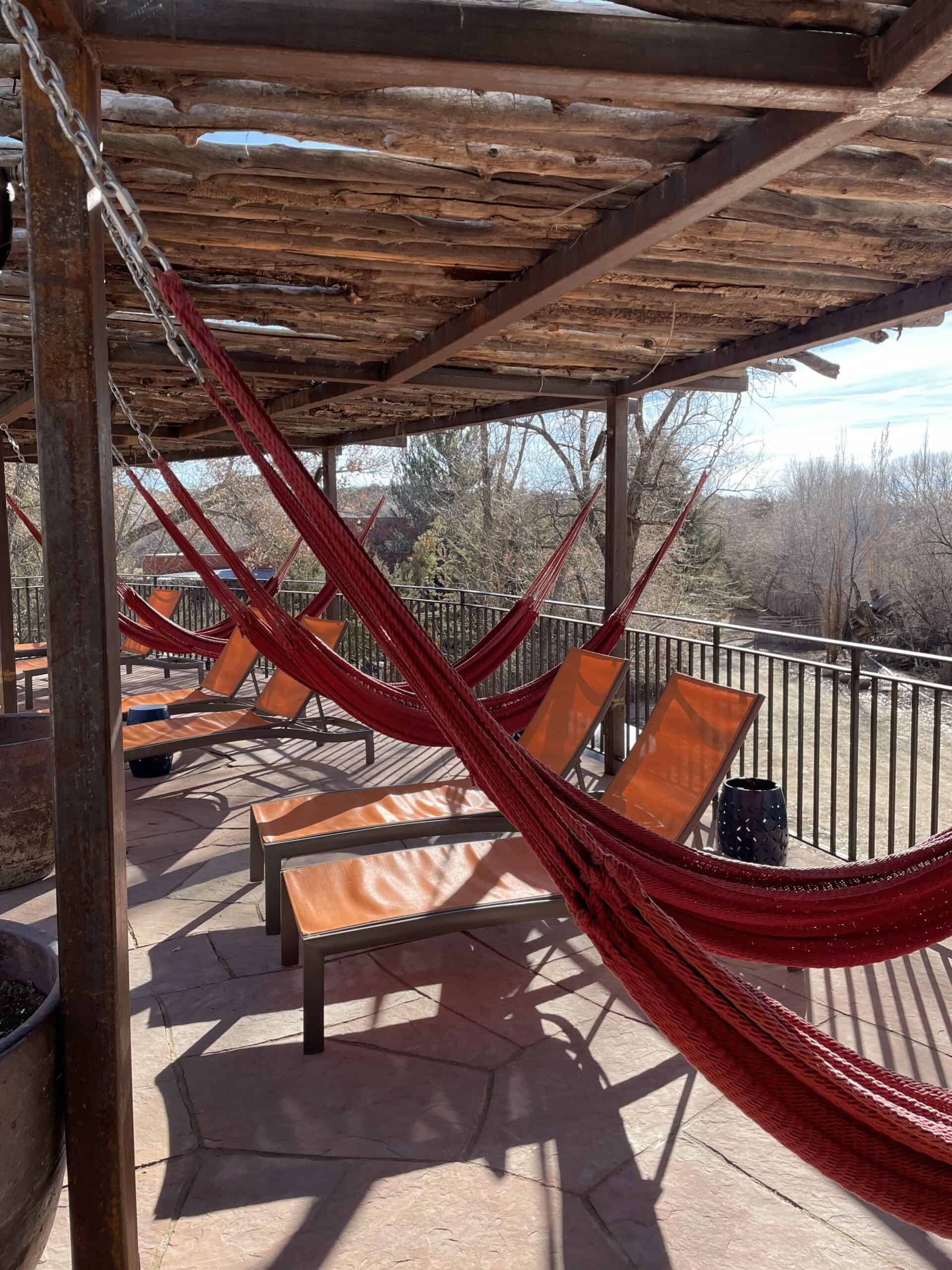 We jumped in the first pool and stayed there for almost two hours, which was a little uncomfortable because we chose the hottest one without knowing it. The below 30 temps outside of the water made the outside air too cold (we went in January), but the water was too hot after two hours in it, but a couple in the hottest pool with us kept talking all about how they were going through their second amicable divorce to each other, and it was too interesting to switch pools. Thus, we roasted. We were so much more comfortable when we finally went to the 98 degree pool, where we could privately chat our faces off under the stars until we were wrinkled like raisins.  
Eat
After finally pulling ourselves away from the soaking tubs, next up was dinner at the Blue Heron. The food was delicious, but a bit overpriced, in my opinion. To be fair; they are the only restaurant in the area, and guests don't want to get out of their robes to drive twenty minutes to eat somewhere else, so you are paying for convenience.
We shared a hummus plate with soft pita bread, fresh tomatoes and cucumbers, which honestly was the highlight of dinner (a moment for simple things done right, please). My sister got the fish tacos, and I had salmon, and both were delicious. We would have finished with the pavlova for dessert, but they had sold out by the time we were ready to order. The restaurant has a cozy atmosphere, tasty cocktails, and the best part was that it was a two minute walk to our beds afterwards.
Unwind
Ojo has two blocks of rooms, or you can stay in their Casitas, which have a one or two bedroom option. We stayed in the Garden block of rooms, which are the closest to the soaking pools and restaurant. The rooms all have a little patio or balcony, and ours had no TV, which really added to the peaceful, retreat-like feeling. Full from dinner and cozy warm, we snuggled up in our beds with hot tea, face masks we brought from home, and our books, and were soon sleeping like babies.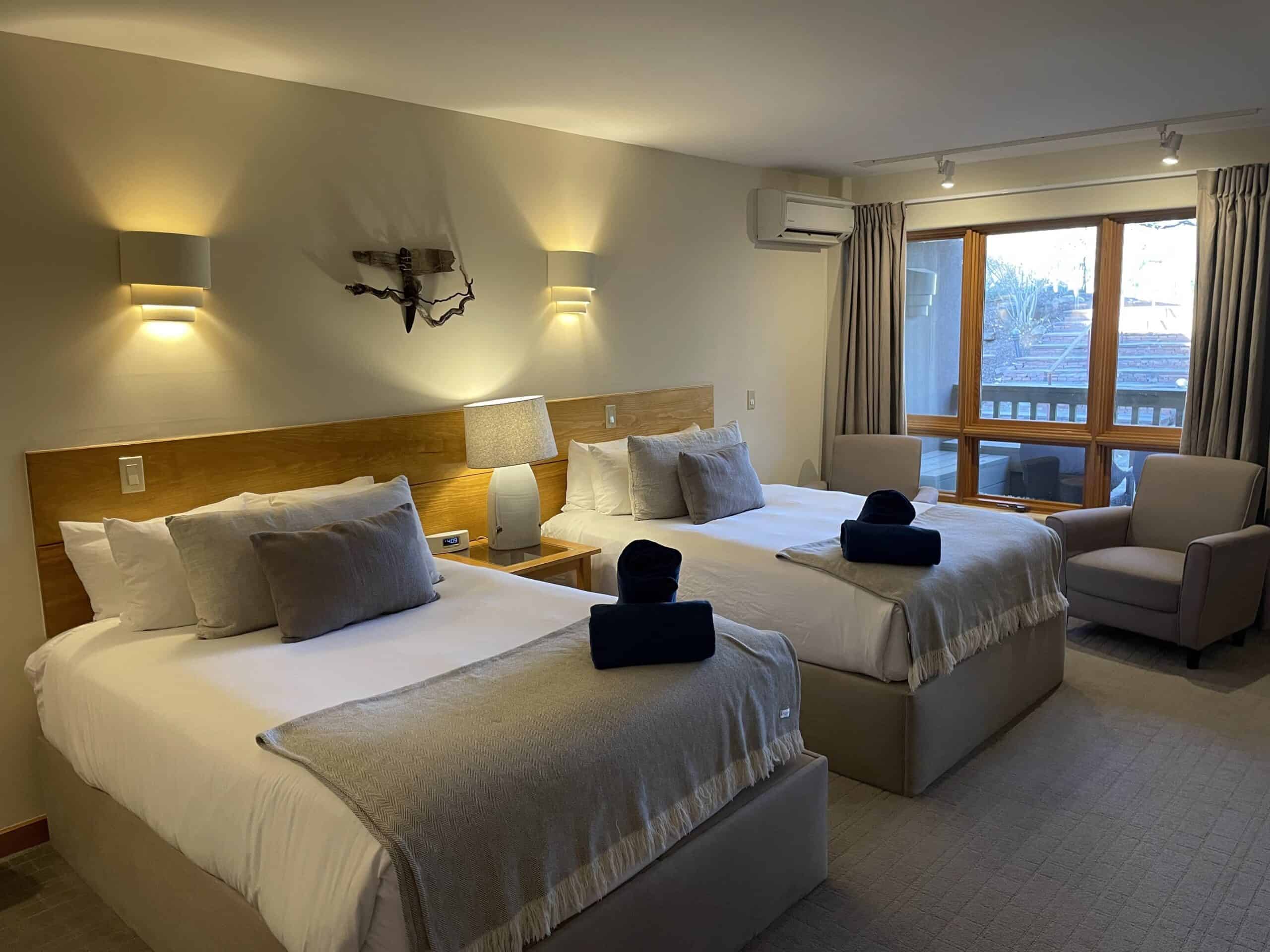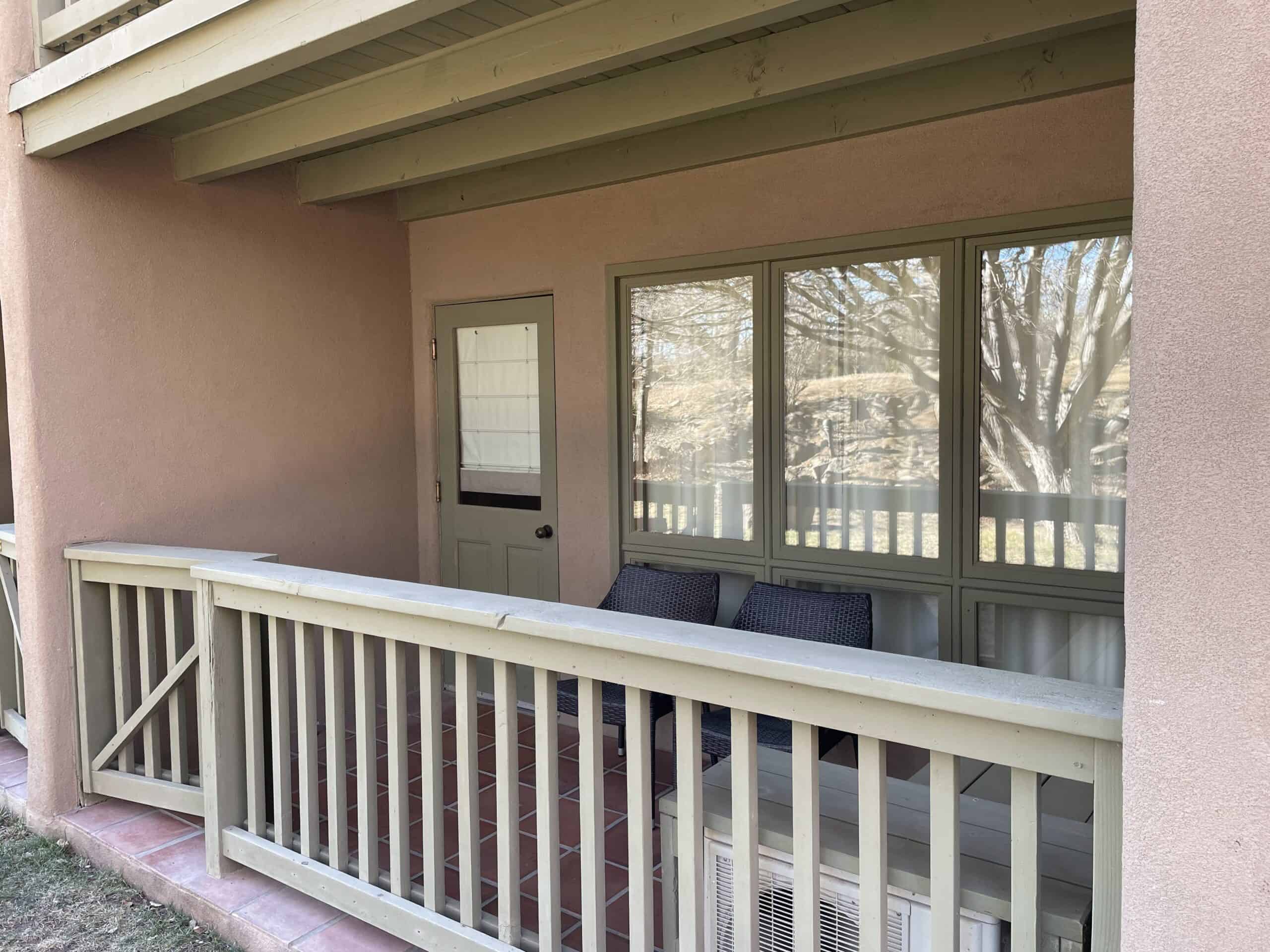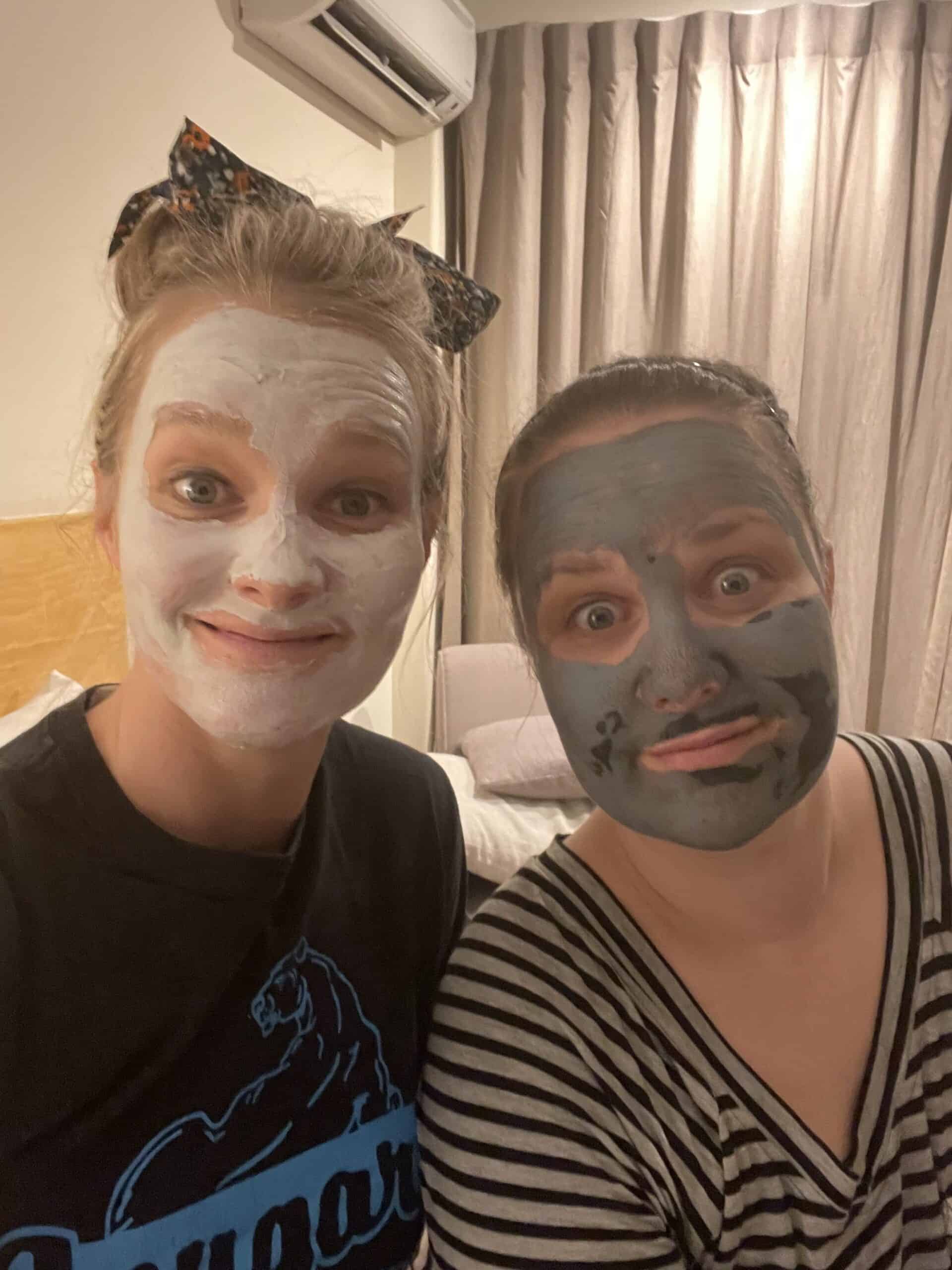 Resort Activities
One of the great things about Ojo is that they offer so many resort activities: take a yoga or archery class, enjoy a guided hike, stroll the nature trails around the property, visit the chickens, or stop by the puppy patch!!! Ojo partners with the Humane Society of Espanola, so they have adoptable puppies right on the property! For select times throughout the day, you can go down and sit in a pile of puppies; watch them wrestle, trip over everything, or try to snuggle one in a moment of calm. This was definitely on our list of things to do.
Soak Again
The next morning, we opted to skip the morning yoga class for a walk around the property and one more chance to soak. This time we tried a different pool which ended up being my favorite due to the water spouts and the depth of the pool; you could comfortably stand in the water in this one. Some of the shallower pools made it so you were either up to your neck sitting down, or standing and having too much of your body out of the water, but this one was just right. I also enjoyed soaking more in the morning than at night, since the outside temperature was warming up the longer we soaked, instead of slowly getting colder. Don't get me wrong though, both soaking experiences were amazing.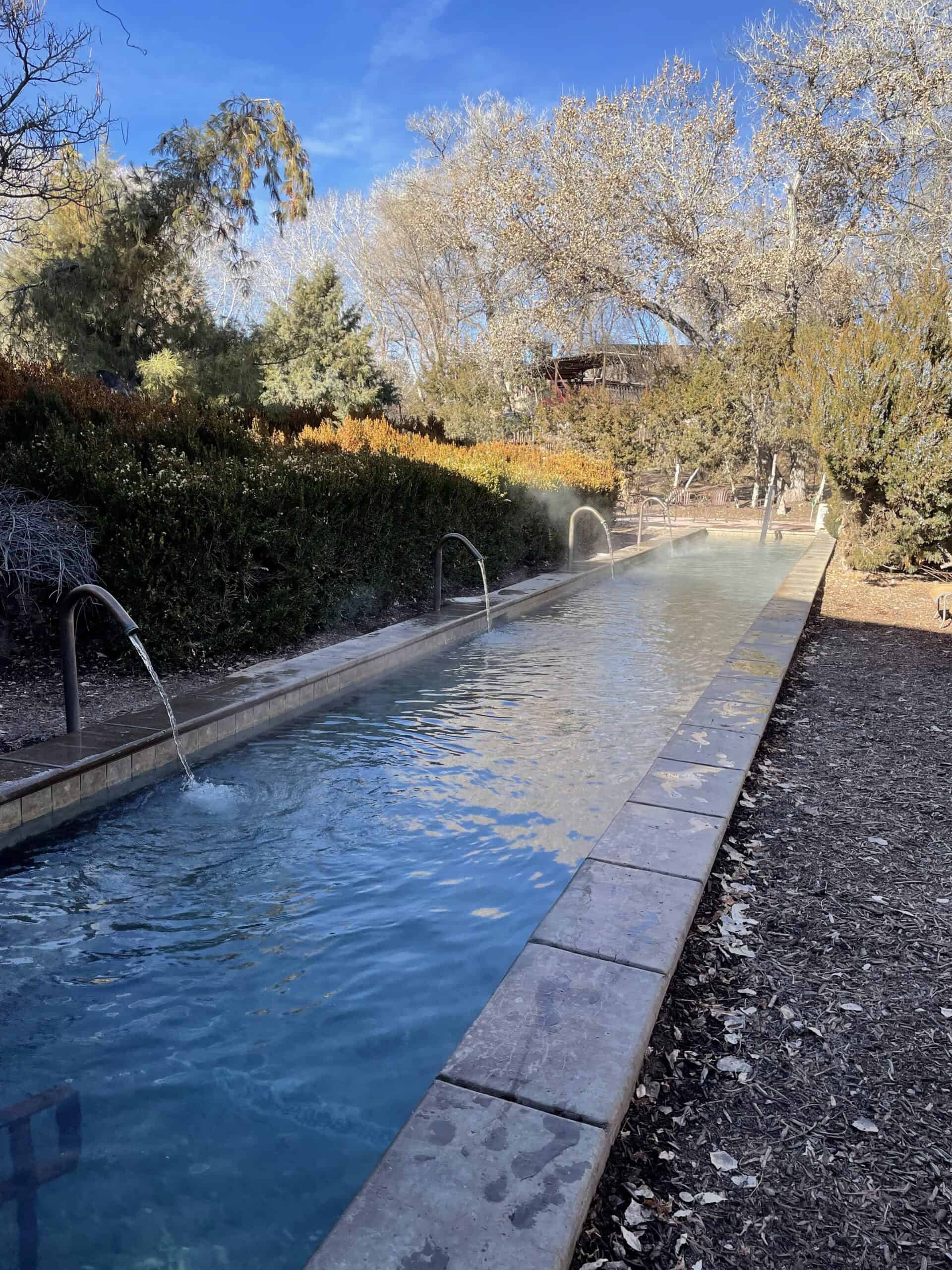 Did someone say puppies?
We could have soaked for a long time, but we didn't want to miss our appointment with the puppies. We finished off our stay with some puppy snuggles before reluctantly checking out and heading back to Albuquerque, renewed and refreshed, and with plans to return already brewing in our heads.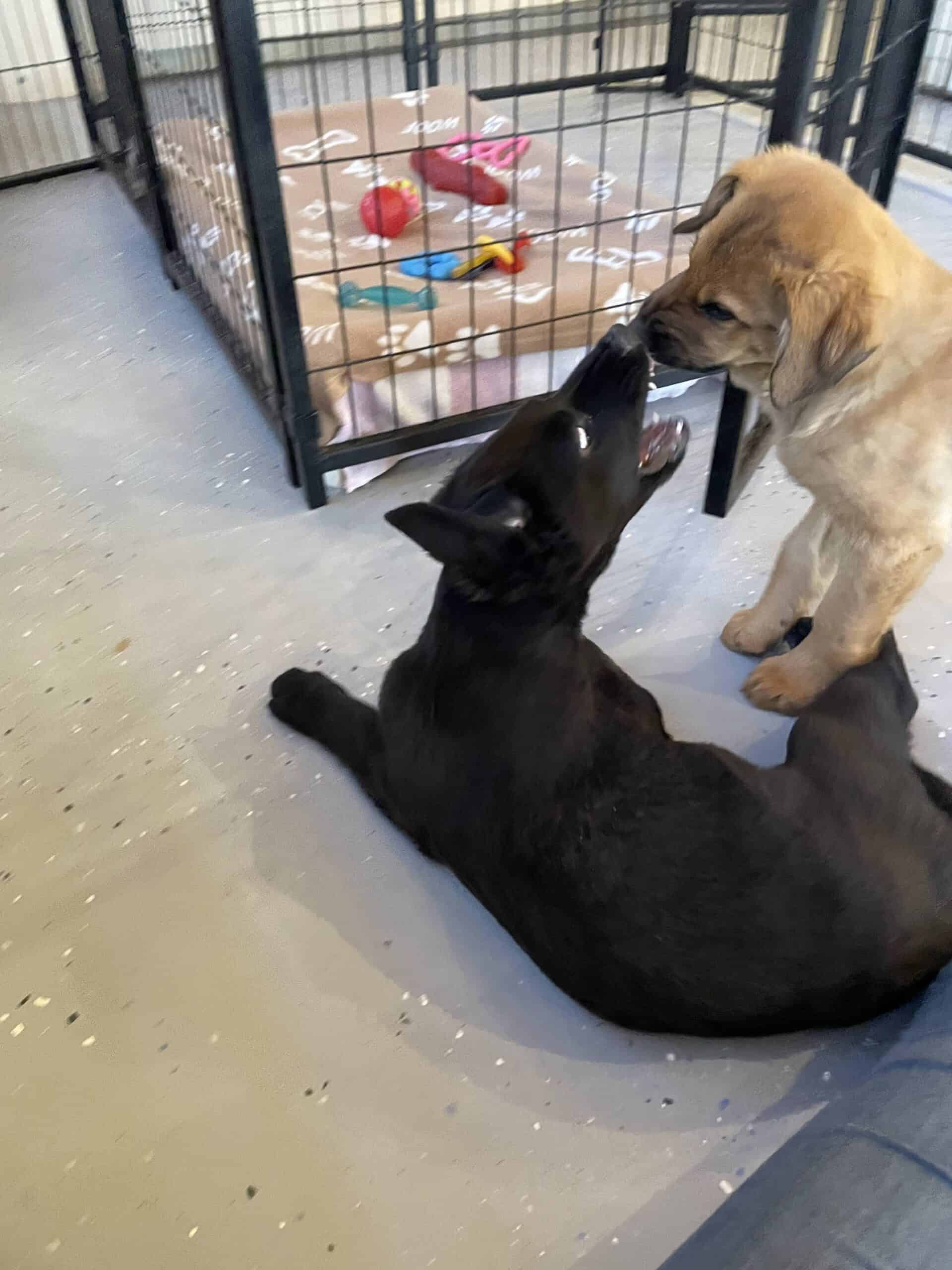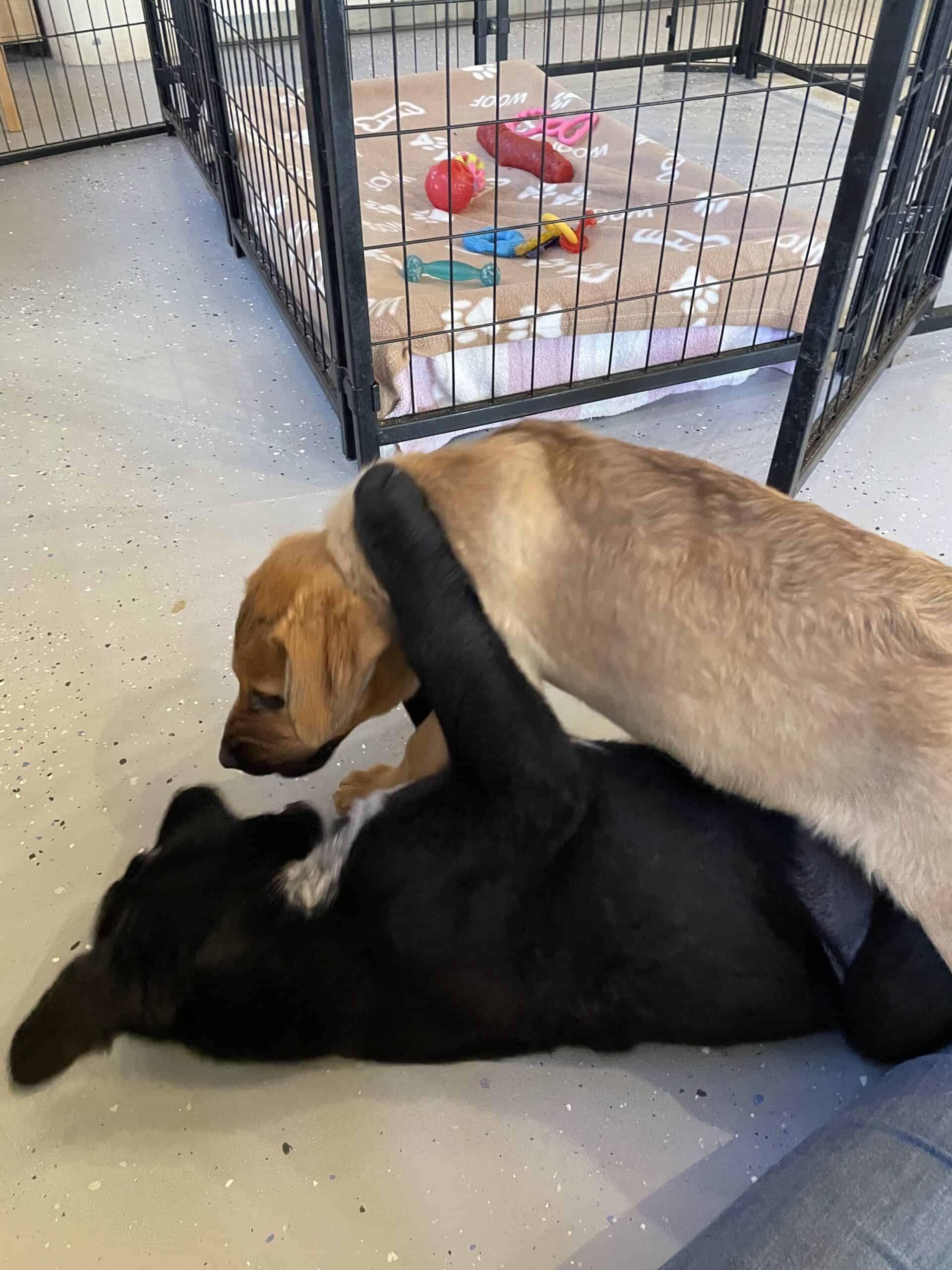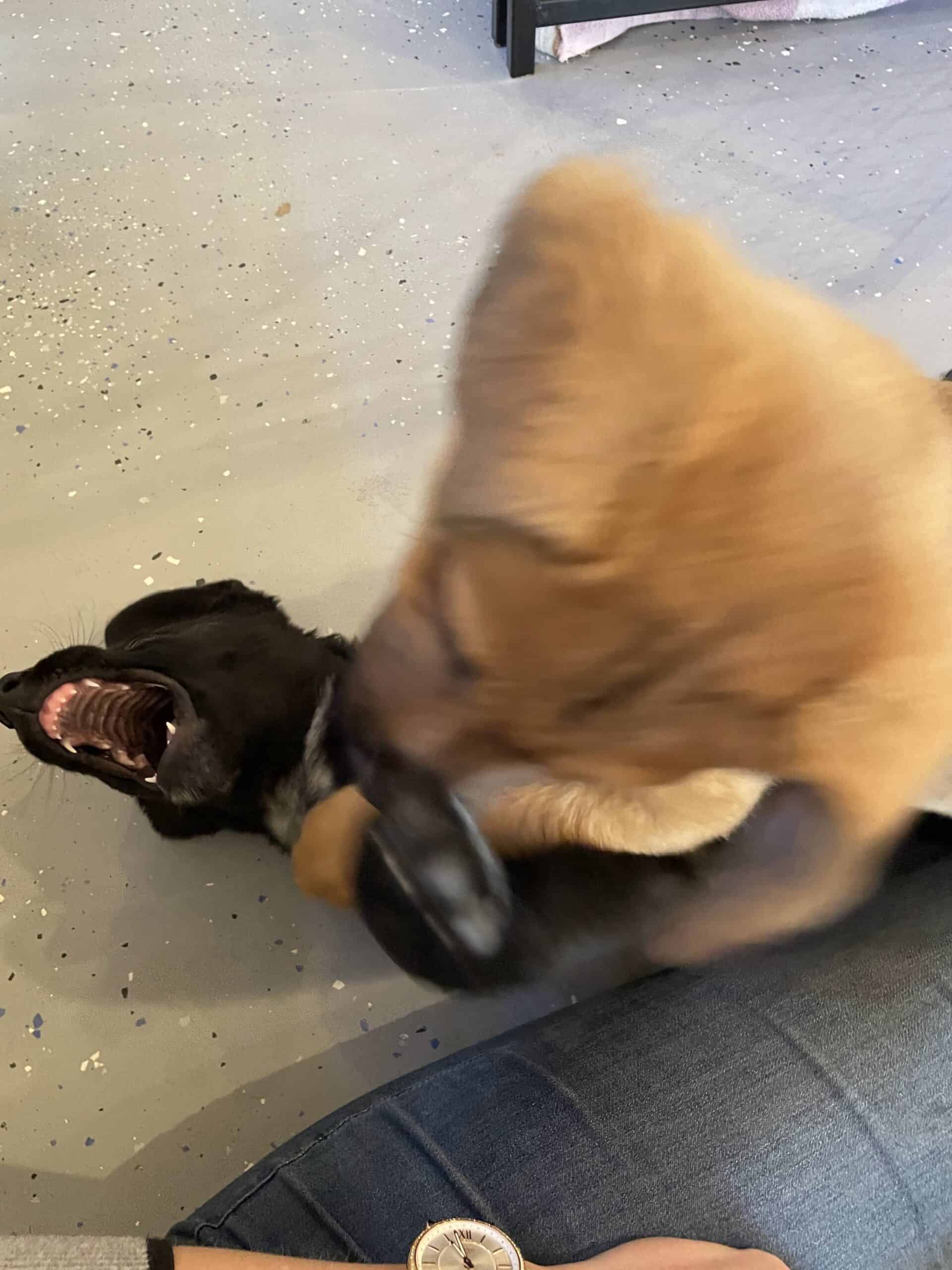 So come visit me! We can go here! It's the perfect way to get away from the daily grind.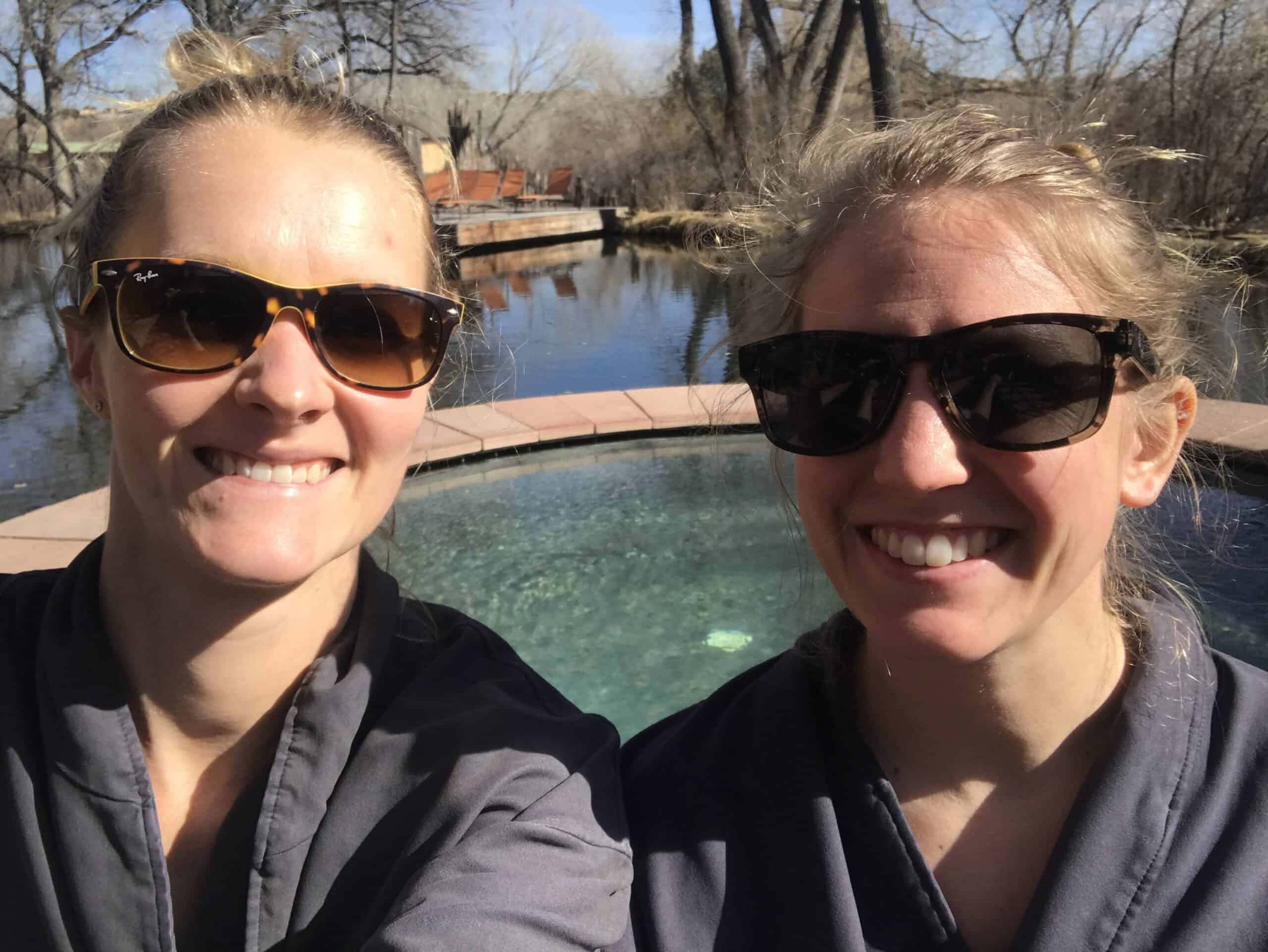 If you enjoyed this post, read about other New Mexico trips I have taken ( A Weekend in Taos, or Visit White Sands) or some of my tips for how to create more calm in your life. Thanks for reading!