I have been dying to go to Lake Louise ever since I first saw its unreal turquoise waters in pictures. And now, after spending a day there, I can tell you that it is completely worth the trip there, despite the potential hassle of parking. As a self-proclaimed expert (ha! not!) after having been there only one time, here are six mistakes to avoid when visiting Lake Louise, (and a few things to make sure to do).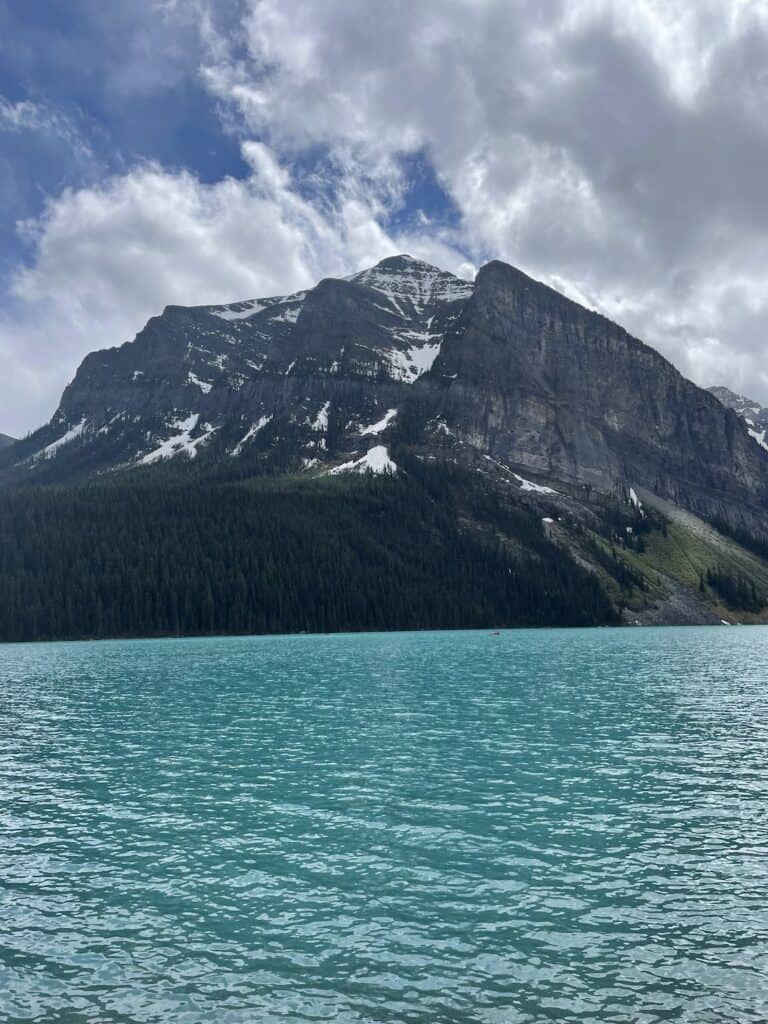 Don't panic about parking.
We did this at the Banff Gondola. After researching and hyping up how terrible the parking is everywhere in Banff, we immediately parked at the absolute first spot we saw. Because of this, we had to take a somewhat humiliating, yet hilarious, long walk through a practically empty parking lot. But, we learned our lesson. And this is my advice, but please keep in mind that we were there in early June, not the peak of summer. Do a lap of the parking lot before you give up on finding a spot.
We found that even though the big flashing sign outside said the lot was full, we were still able to find a spot. Those signs are not updated in real time. We also were able to park at around 9:30am on a Wednesday, so you don't always have to get up at the ass-crack of dawn to get a spot. Do not lose heart drivers! Perhaps there is indeed a spot for you, if you only look. (But also, there is apparently a good shuttle option if you pre-book, so that is nice too.)
Don't almost fall into the lake while posing for a picture.
Upon your arrival, do start off by walking the lake shore in search of the perfect place for a photo. Or to just take in the view. You will have to dodge a lot of tourists. However, these same tourists are also great if you need to use them to take a photo for you.
"Sit here Robin, this will be such a cute picture."
I followed directions, even though it was very hard to sit on such an angly rock, because this is what I do. Which is why my friend had to grab me and save me from the frigid waters when the slope of the rock proved to be too much. We got the shot. But it was risky! Keep in mind, you do not, in fact, need to do it for the 'gram.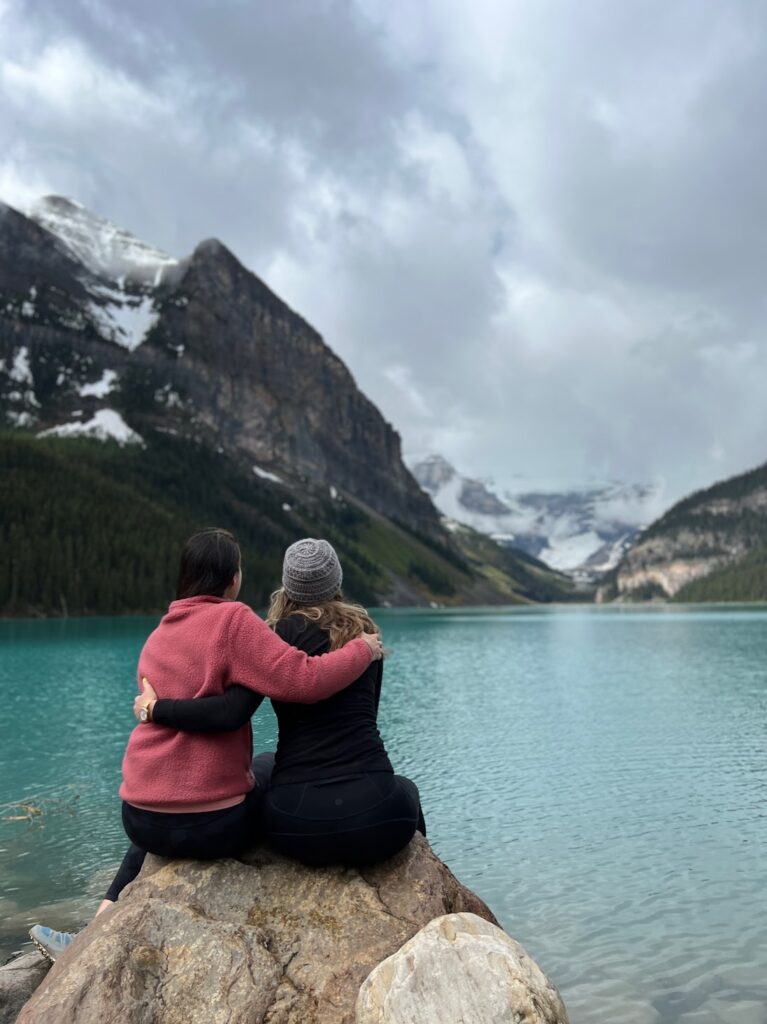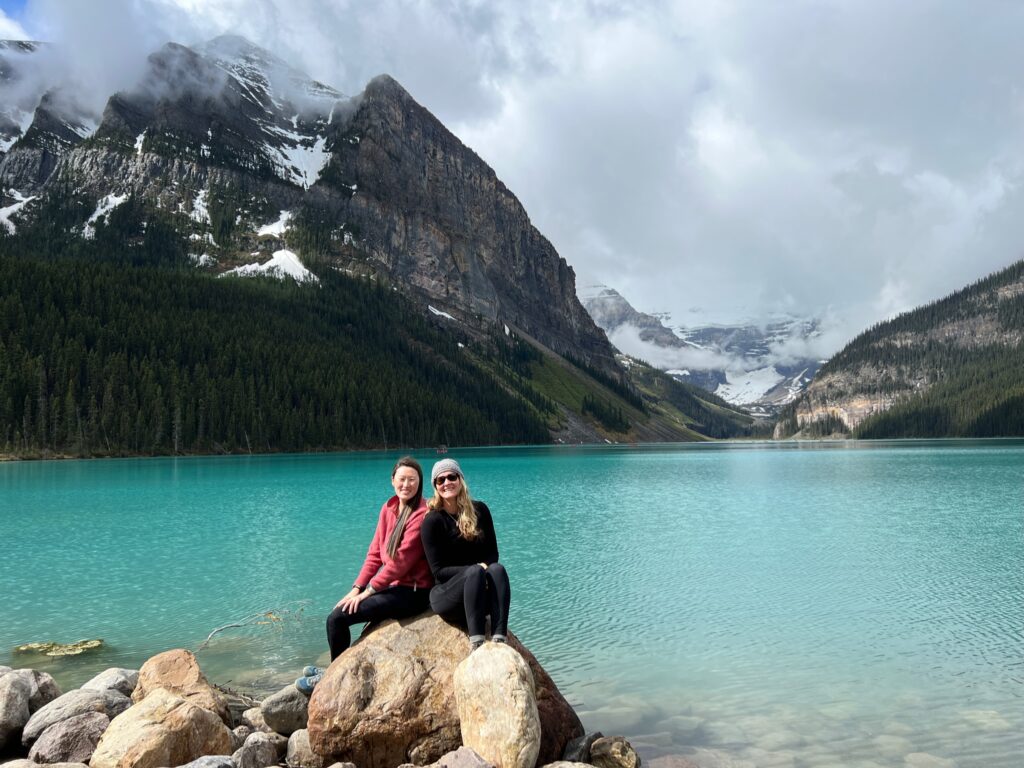 Do rent a canoe.
After snapping pics or ogling at tourists, you might want to get away from the crowds to experience the lake. For those of us who like a little more activity and solitude, I highly recommend renting a canoe and checking out the gorgeous, (but freezing!) waters up close. The Fairmont website has all the latest information on rates, but when we went, it was $145 (Canadian)for one hour, or $135 for 30 minutes.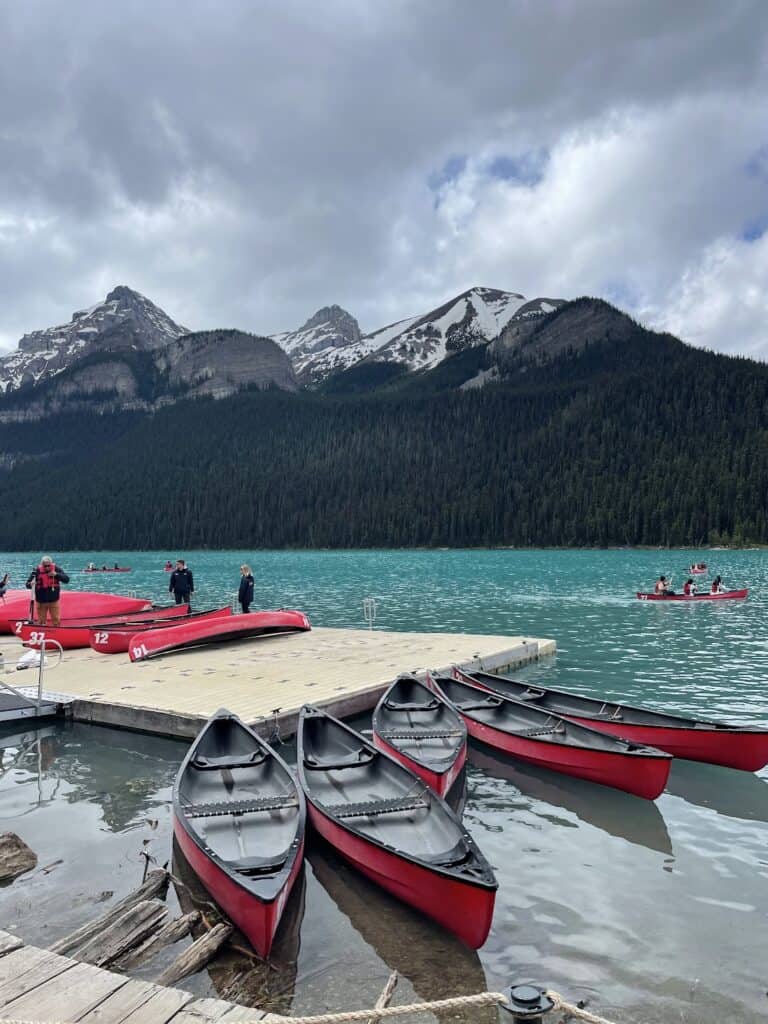 I think it is worth it to rent for the full hour since the price difference is only $10 Canadian, and 30 minutes is hardly enough time to go out before you would have to come right back. But, if you just want the photo op, and don't have the arm strength or desire to paddle for longer, then 30 min might be your best option. Canoes can fit 3 adults, or 2 adults and 2 kids under 55 pounds, and are available on a first come, first serve basis from 8:30am-7:00pm. (Please check for the most current information.)
Do expect a line for the canoes.
But wait in the line anyways, since the whole canoe experience is very idyllic, even though it is overpriced.
Don't spray bug spray on strangers while waiting in line for the canoe.
Be prepared for mosquitoes in the summer. But DO NOT hold the bug spray at arm's length, and press the little button with reckless abandon when the nozzle is actually pointed at the stranger in front of you. Especially when said stranger is clothed with a very nice North Face jacket. As you unknowingly douse your neighbor, be sure to look around with a very confused expression on your face, as if to say "Where indeed did all the bug spray go which I do believe I just launched in my own general direction?" If this happens to you, DO make sure to laugh your ass off about it and then DO make sure to tell the poor person why their jacket is suddenly wet when it is not raining out.
Don't canoe with a lazy ass.
Once you have finally made it onto your boat, it's important that you each contribute toward the forward motion of the canoe. It is easy to imagine how un-fun a canoe would be if you were out on the water with the wrong person, but truthfully, my canoe partner was fantastic. We actually were so confident that we spent the majority of our time in the canoe lamenting the fact that we didn't take our lanky bodies and join a rowing team in college. About twenty-five minutes later, we had to turn around. This is when we realized we were now paddling into the wind, which leads me to my next point…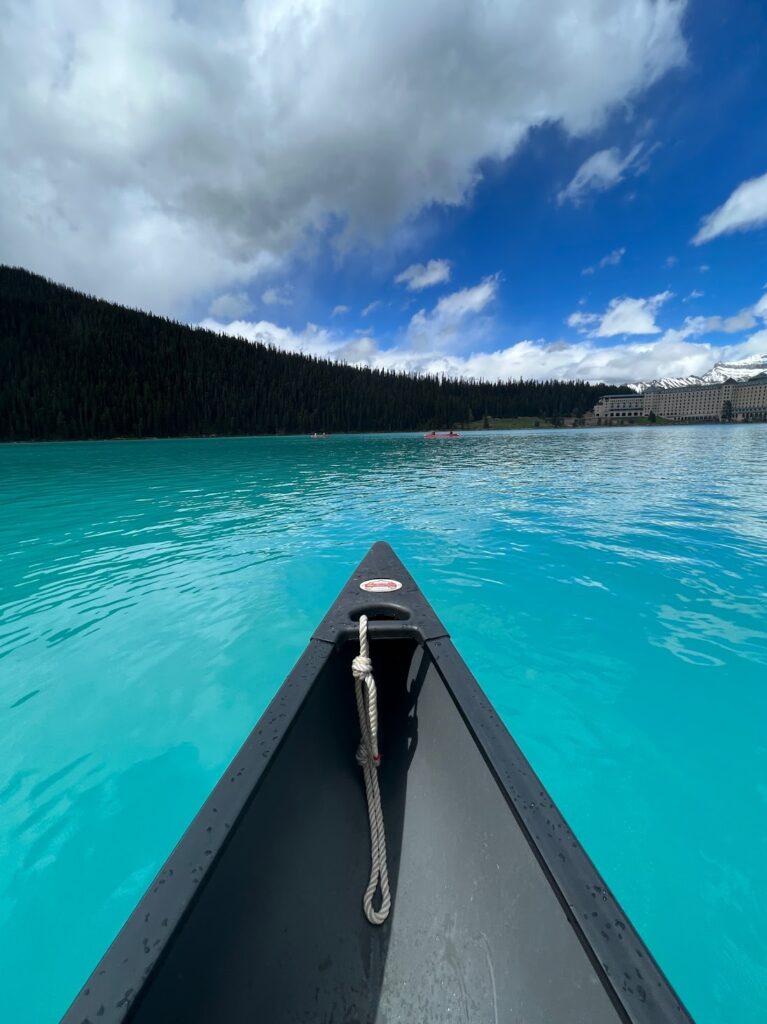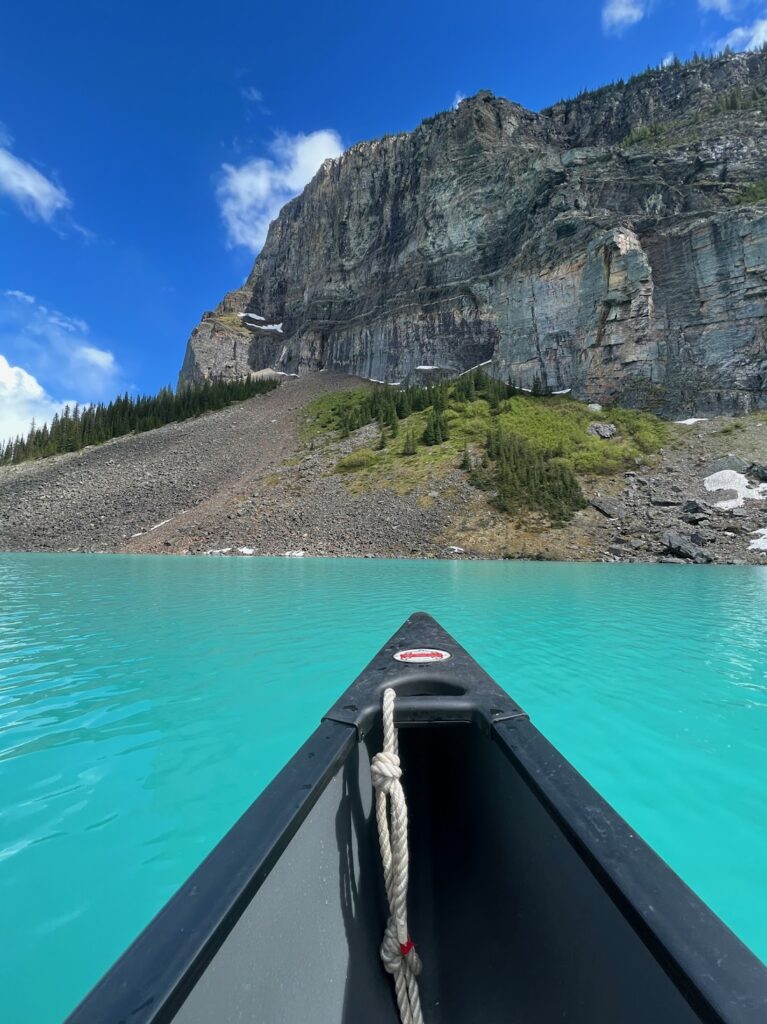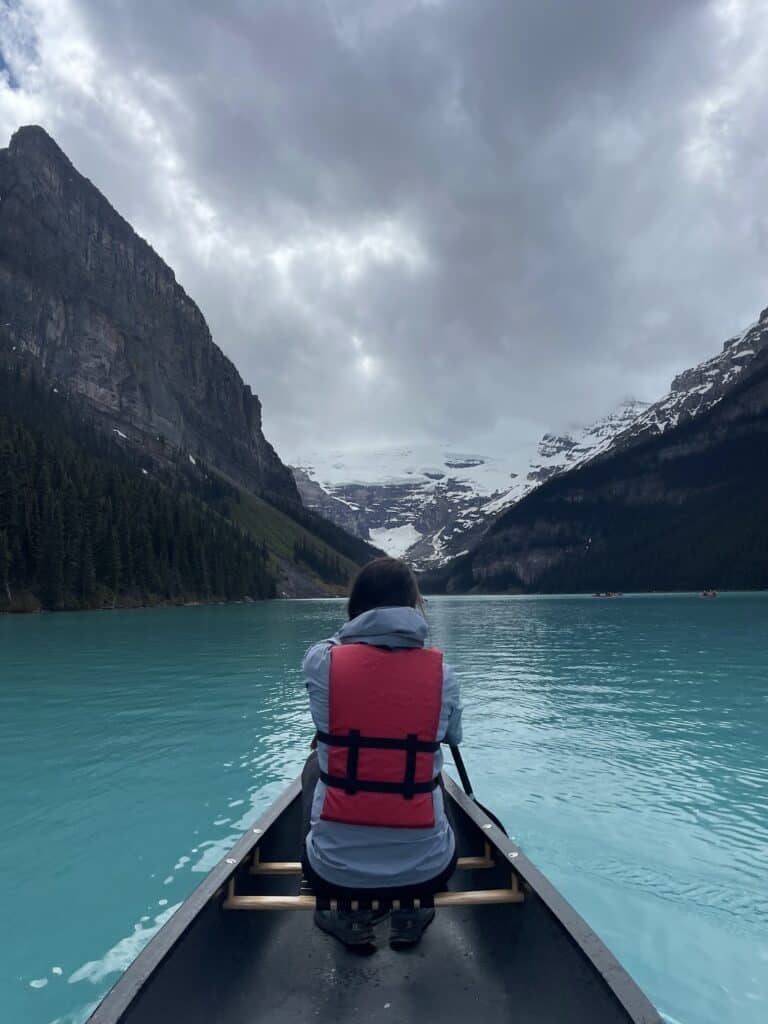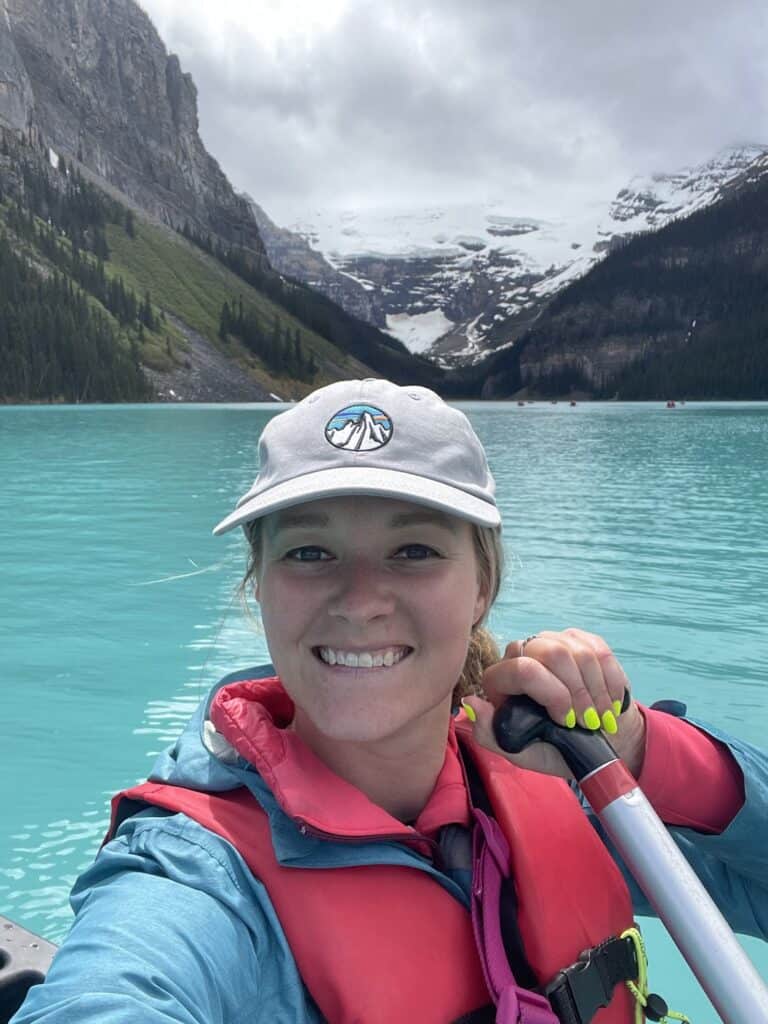 Don't get overly excited about paddling to the other side of the lake.
You will have to come back. It was fun and lovely and all worked out, but this should not be undertaken lightly. Fortunately, I do not have any information on what it is like to be rescued by the canoe people of Lake Louise, although we were given a lovely little whistle to use in emergencies. I had to exercise a lot of restraint to not throw myself my own little concert out there on the water. We finally made it back, the thought of refreshments the only thing that kept us going. After our strenuous activity, we were more than ready to hit up the Fairmont Lake View Lounge for snacks and drinks. Which reminds me…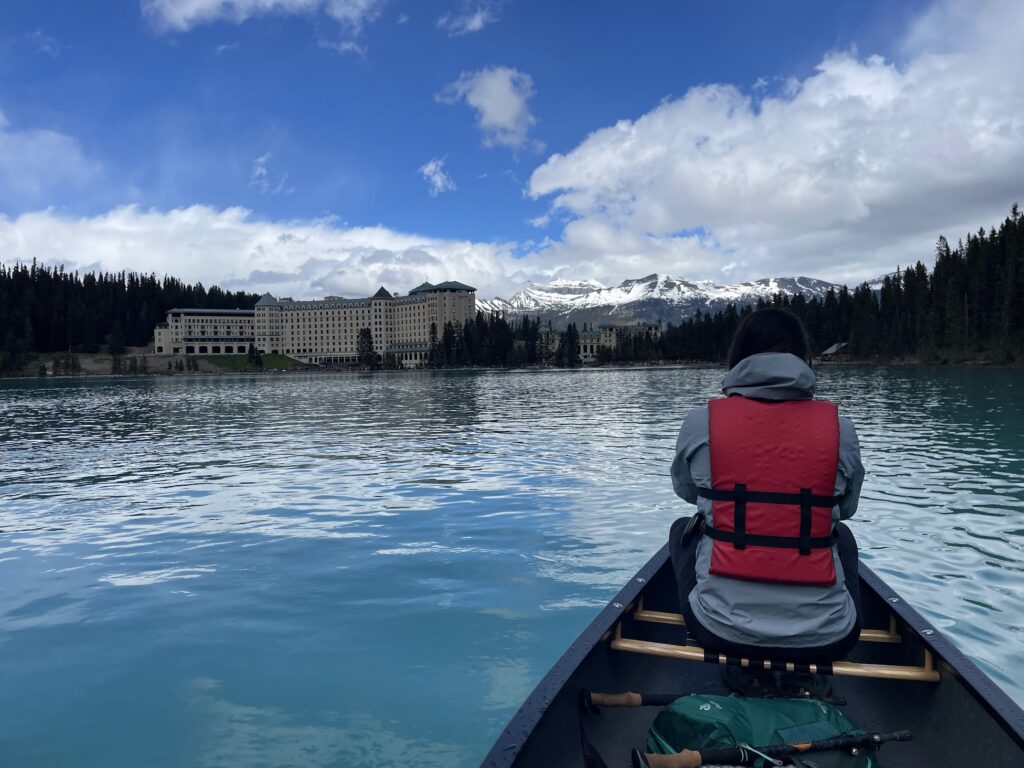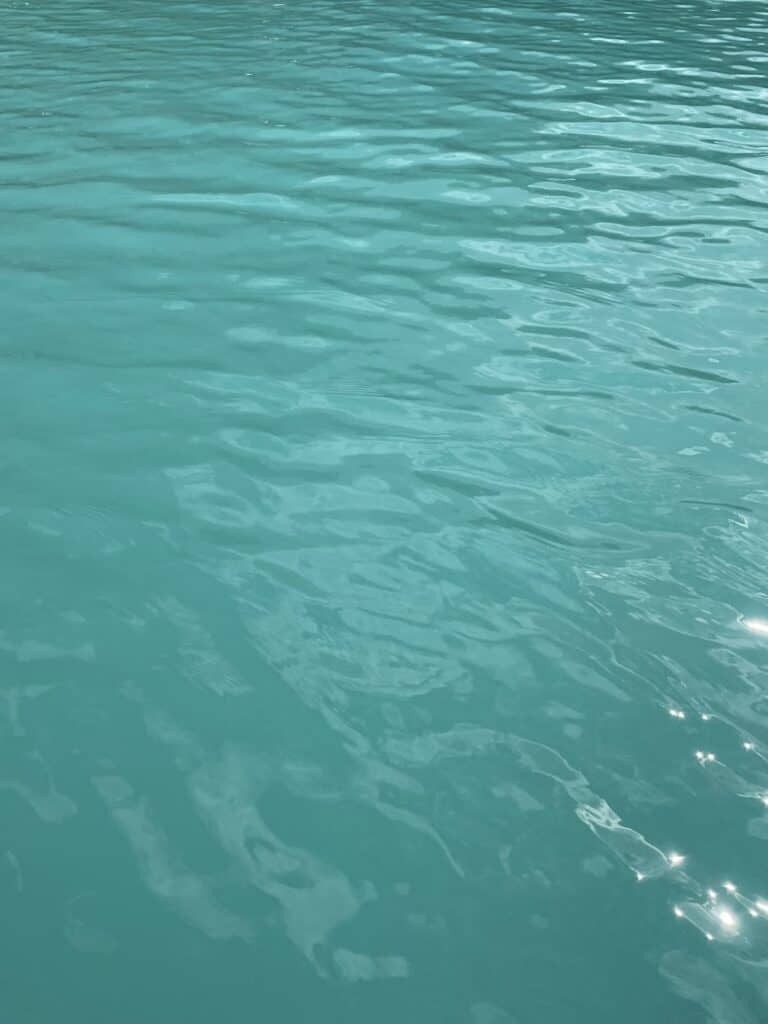 Don't track mud into the Fairmont Hotel's very swanky lounge.
I will say, even if you do this, they will still give you fantastic service. It really is something to sit in an exquisite hotel lounge, on a plush blue sofa, with a million dollar view of the lake and surrounding mountains. It's even better when there are also a million tiny dirt clod friends that have loosened themselves from your hiking boots and are now all strewn about on the luxurious carpet, like you have the manners of a 7 year old. Perhaps this is why now only guests of the Fairmont are allowed to dine there (which was not the case just a month ago.) Sorry about that one, friends.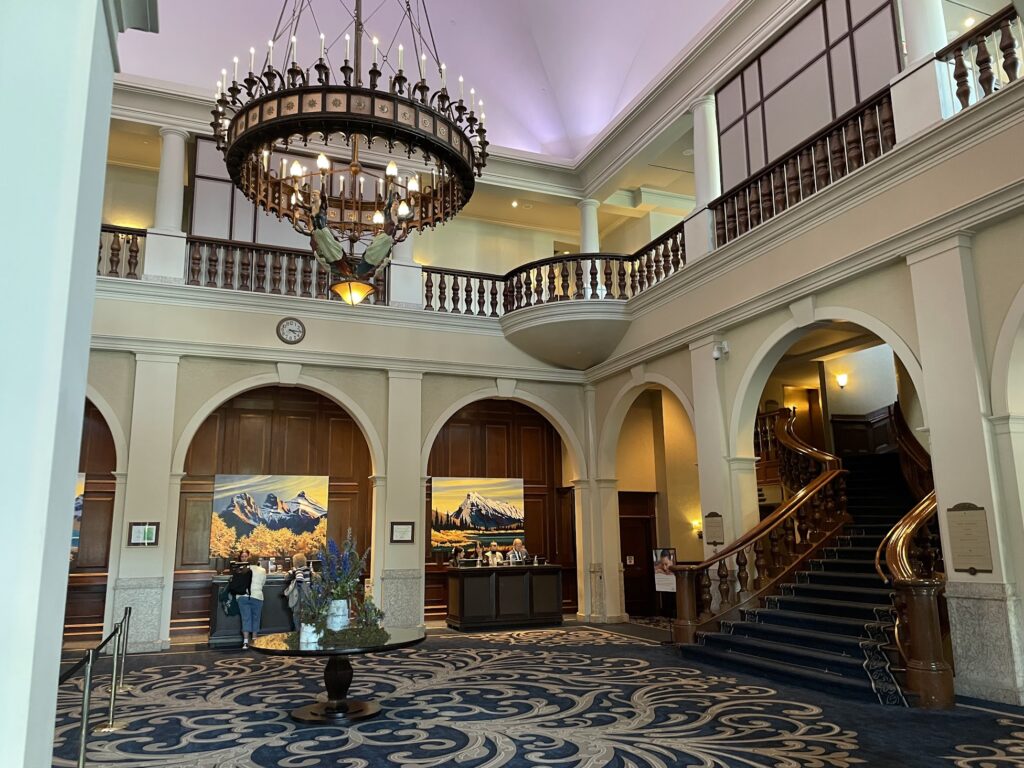 When we were there, we were able to walk right in and were quickly seated in the bar area. I ordered a cappucino, and the homemade chips and dip, and it was all very delicious! Check out the website to see pictures of the stunning view from the bar or to check out a current menu.
In closing, do make sure to stop at Lake Louise on your trip to Banff.
Overall, canoeing on the lake, combined with food and a beautiful view made for a perfect afternoon at Lake Louise. This proves, yet again, that food tastes the best when you have worked for it, and you are eating in an incredible location.
I hope you enjoyed learning from our successes and failures. Want more views of Lake Louise? Consider adding on a hike to the Lake Agnes Tea House to see the lake from above.