When I scheduled my Southwest road trip, I knew that it needed to include conquering the crazy slice of rock that is Angel's Landing. This thrilling hike is easily the most famous trail in Zion National Park, and it does not disappoint. 
Here are my tips if you are feeling adventurous and want to give it a shot.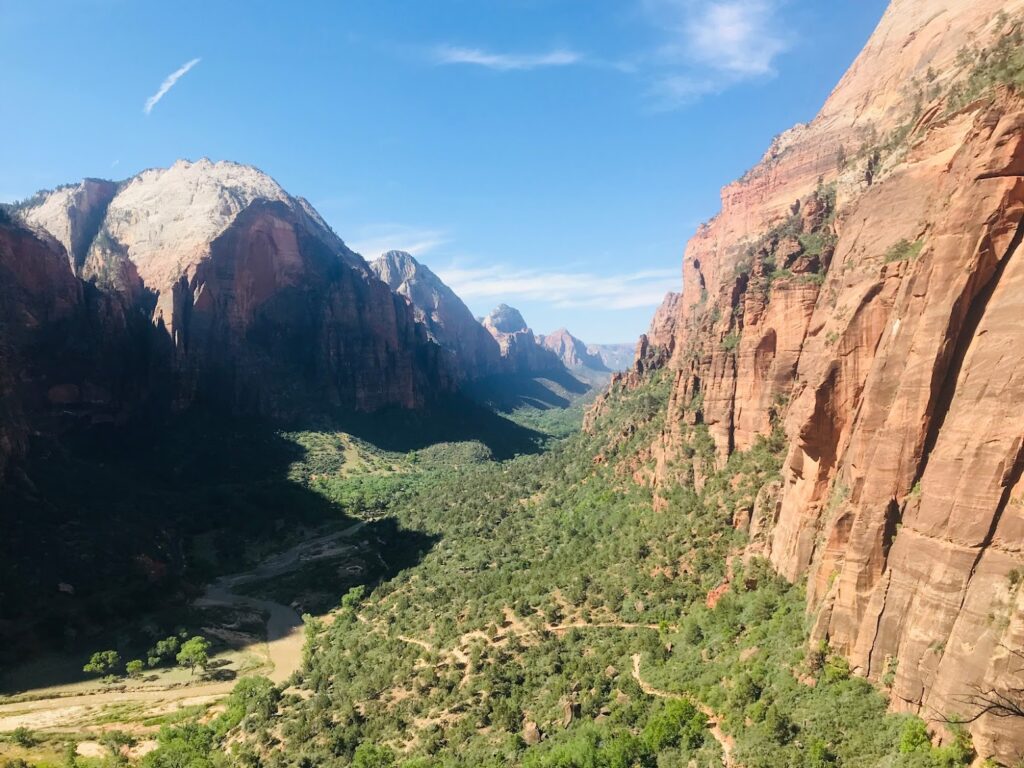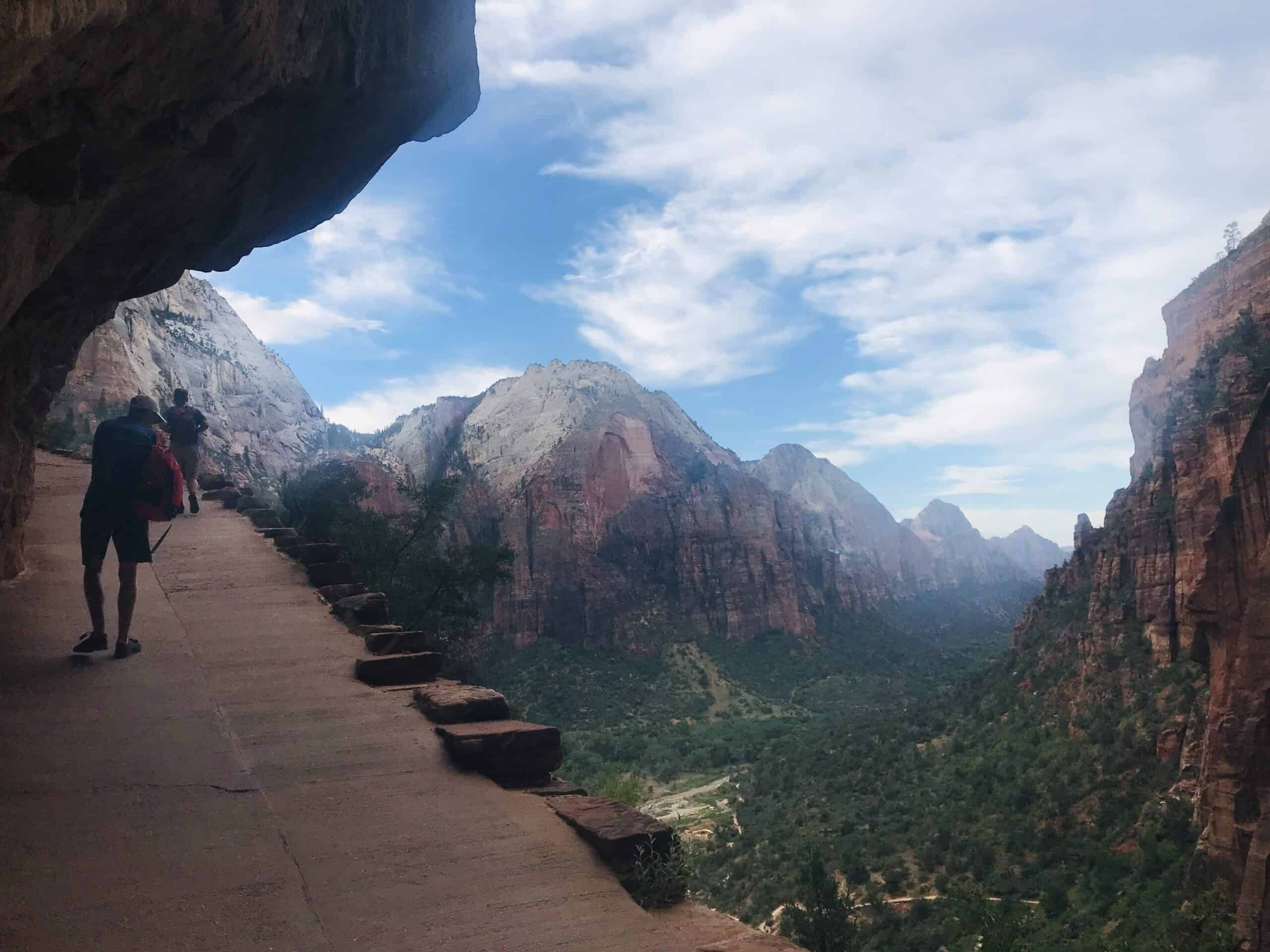 Do read up on the trail before you go.
This gallery shows some incredible pictures of what to expect
This page shows all the logistics of permits and the hike. Permits are new as of April 2022, but were not a thing when I went in 2019.
This website breaks down the parts of the hike very well.
This blog also has good pictures, extensive advice and information, and goes into detail about the 15 or so deaths that have occurred at Angel's Landing.
The Hike
The first two miles of this 5.4 mile round trip journey are steep, but on an otherwise smooth, and sometimes even paved, path that winds up the side of the cliffs, through Refrigerator Canyon and up Walter's Wiggles. Scout's Landing is a great stopping point for those who don't feel like they can make it all the way up; the view is amazing and there are restrooms there too.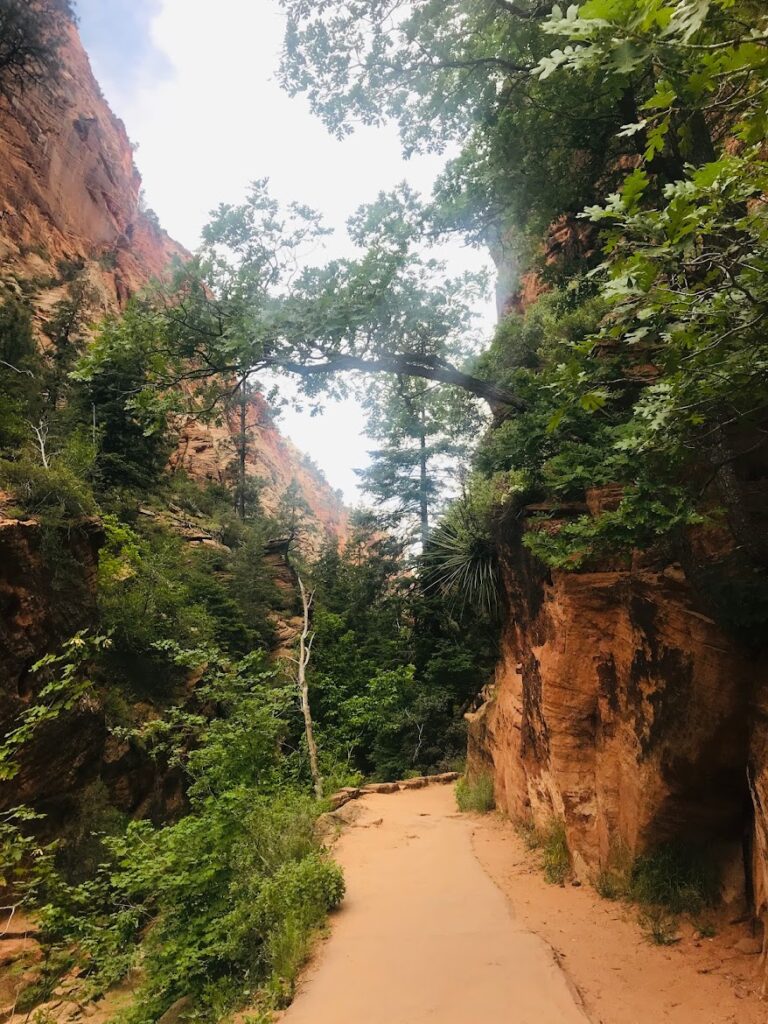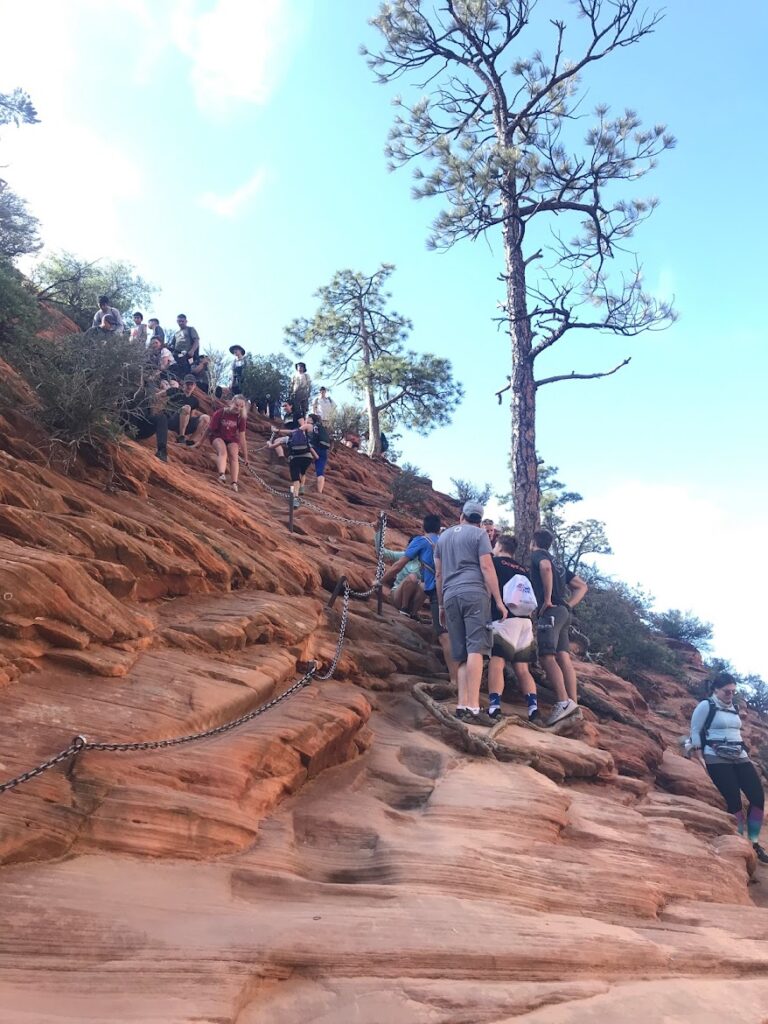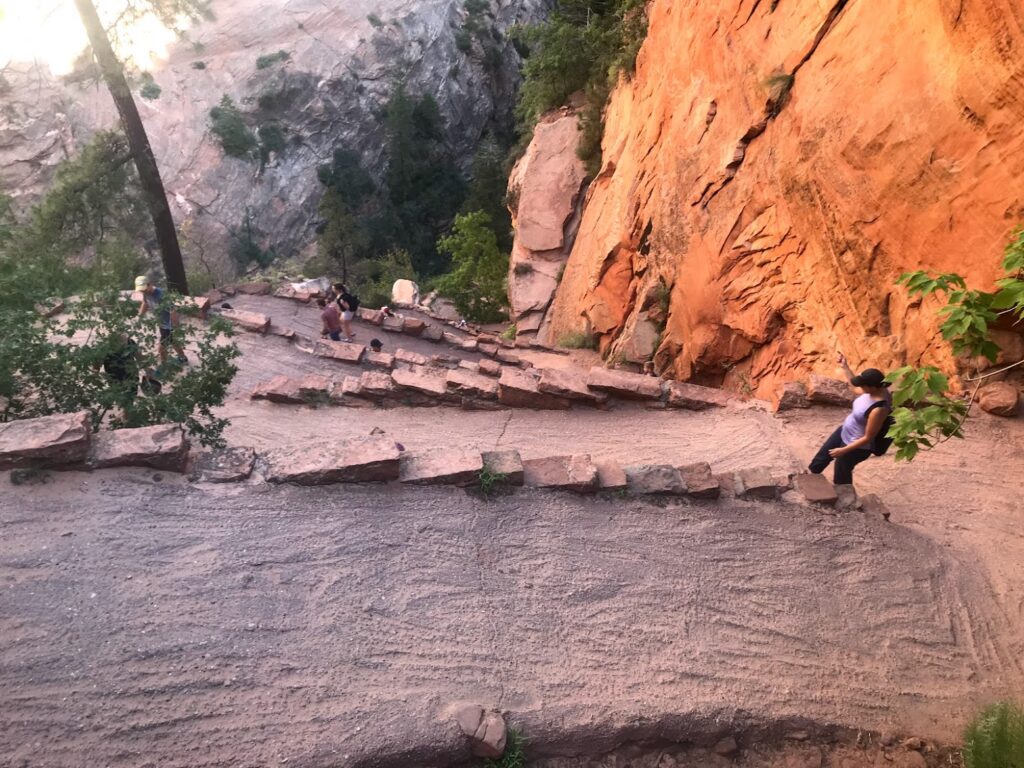 The Part with the Chains
From Scout's landing, the last half mile or so of the hike is the crazy part with the chains. Some sections of the final slice are just a few feet wide, with a 1,000 foot drop to the canyon floor on either side of you, at times. The summit has more room for you to spread out, but you obviously need to be very aware of your surroundings at all times.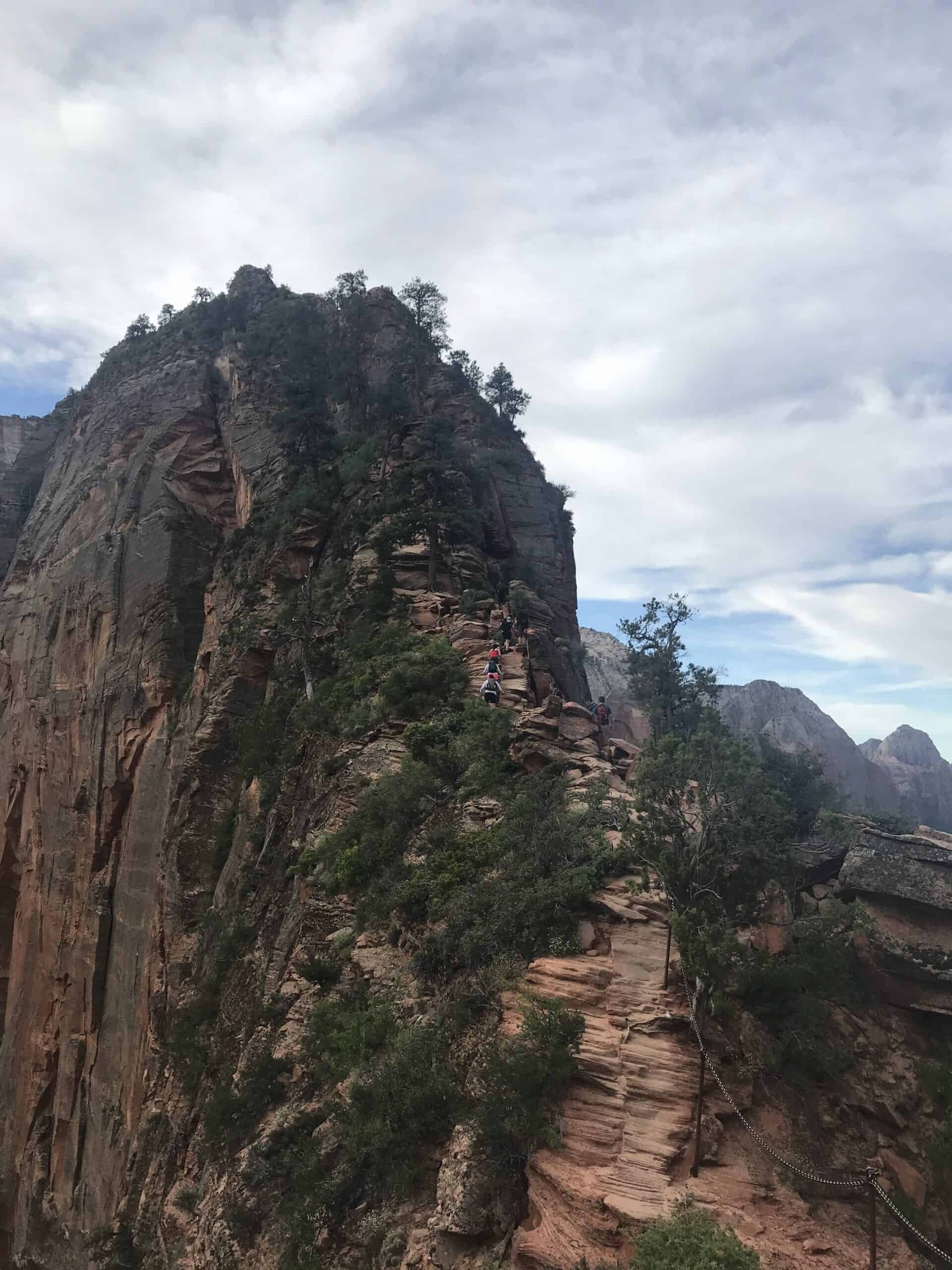 Tips
Go early. Beat the heat and the crowds, because you don't have to think too hard to imagine that crowded trails a few feet wide and a thousand feet high aren't so fun. 
Pack snacks and water, of course. 
Expect crowds. This hike can feel a little Vegas-ey at the top in terms of crowds, photo ops and generally obnoxious human behavior at times. But also expect stunning views and a sense of death-defying accomplishment when you make it to the top.
Don't be an idiot. Don't take pictures while on the chains, or try to chase a water bottle down the slope if you drop it. I saw this happen. It was terrifying. 
Don't do it if you don't feel comfortable. Know thyself. Scout's landing is an incredible hike, without the insanity, if you want the views without the risk.
Remember the elevation (about a mile high) and plan accordingly. 
Take in all the wonder around you. The scenery is stunning.
Do expect to be changed after you summit. This was a very special hike for me. I had a picture of it on my travel poster at home, and it was so surreal to stand on the top and see in real life what I had previously only seen on my vision board.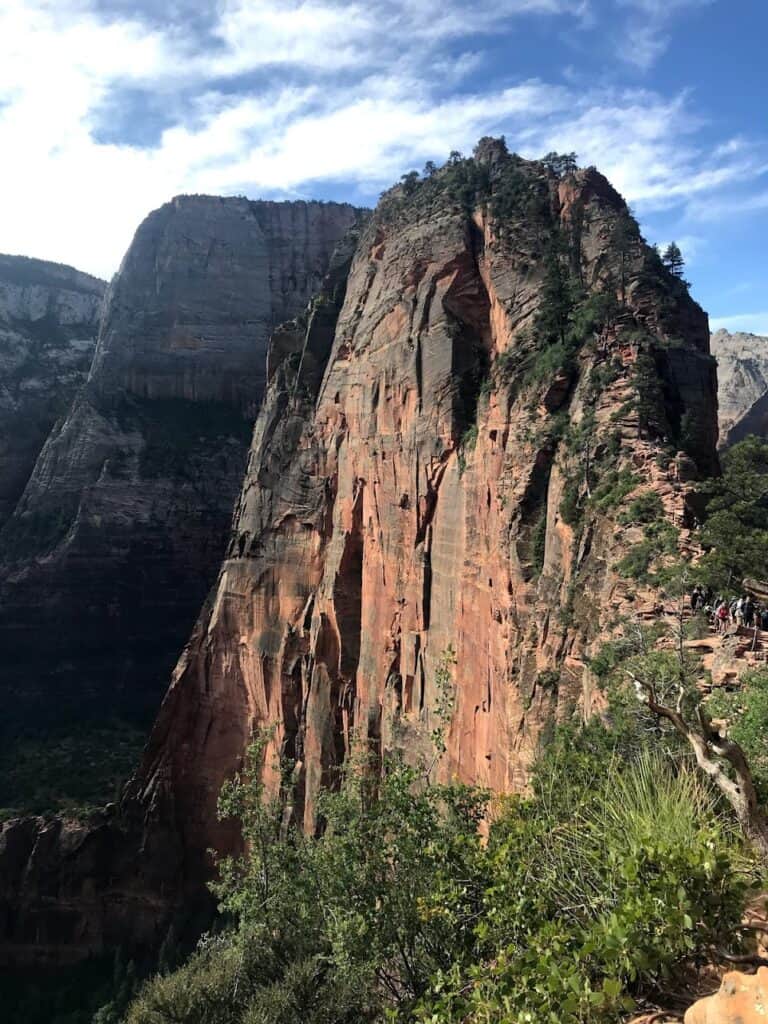 I will end with this more "artsy" approach of storytelling to share about my personal experience.
Angel's Landing
It really starts the night before, or even weeks before, when you decide that you are going to do it, even though the videos and pictures look insane. Then you can't sleep a little the night before because of nerves, and you are thinking about it the whole next morning while you eat breakfast and dress while it is still dark out. Then there is the drive to the park, the wait in line for the shuttle, the actual shuttle ride, and the mass exodus of people all getting off at the Angel's Landing stop, so you have plenty of time to psych yourself out. You catch your first glimpse out the window of the shuttle and swallow hard. After you make your way off the bus and everyone has peed one last time, you stand at the bottom of the cliff and can't believe that you are going to somehow get to the top on your own two feet.
It begins easily, meandering along the river on a flat trail. You enjoy the relative ease and the view, but the whole time your adrenaline is pumping because you know the challenge is coming. You start making your way up, and the view all around you is a paradise. The path is steep and carved into the mountain, but you catch some relief when it levels off and tucks into the shade between the cliffs. Soon it is time to make your way up Walter's Wiggles, which burns your quads and forces you to stop to catch your breath. Finally,  you arrive at Scout's Landing, the last stop before the crazy begins, and you realize you only have half a mile left to the end, but it is the most ridiculous half mile that you have ever hiked because the path is TINY skinny and the 1,000 foot dropoff on each side is more real than ever and you realize that you are going to hike it anyway. 
So you gather yourself, grab the chain and start the climb. There are parts that challenge you, where you have to focus solely on the next step and not the ways it could go wrong. And there are parts, in the midst of it all, that you realize you have more room than you thought or even needed, and it isn't as challenging as it looked, and step by step you are doing it, until suddenly the chain stops and you've made it. The top.
All around you are cliffs in whites and red, dotted with scrubby trees growing in the most unlikely places, and aggressive chipmunks even here and the view is unreal, it is just like the pictures on your bulletin board at home but this time you are seeing it with your own two eyes and it's so amazing. You smell pine, and feel your sweat starting to cool on your face. Your legs are tired and your heart is pumping; but things seem sharper, more in focus. It is still relatively quiet out since you were up at dawn, and a smile is bursting out of you because you did it, this crazy scary hard thing and the reward at the top was worth it, and even more so because you thought you couldn't and pushed through anyways.
It's ultimately up to you if you decide to do this hike. I loved it, and did it twice, but I recognize it is not for everyone. I also don't feel in a hurry to do it again; however, I am incredibly grateful for memories and experience that I did get to have.