For the last day of our epic Southwest roadtrip, we saved one full day for Arches National Park. Here is our one day itinerary, and how we were literally blown away by some of the things that we saw.
What makes this park so unique are all the different rock formations. In one day, you can see arches, windows, balanced rocks, and also giant penis-looking rocks. By the way, is there a fancy science name for giant penis rock? There should be. There is no shortage of them.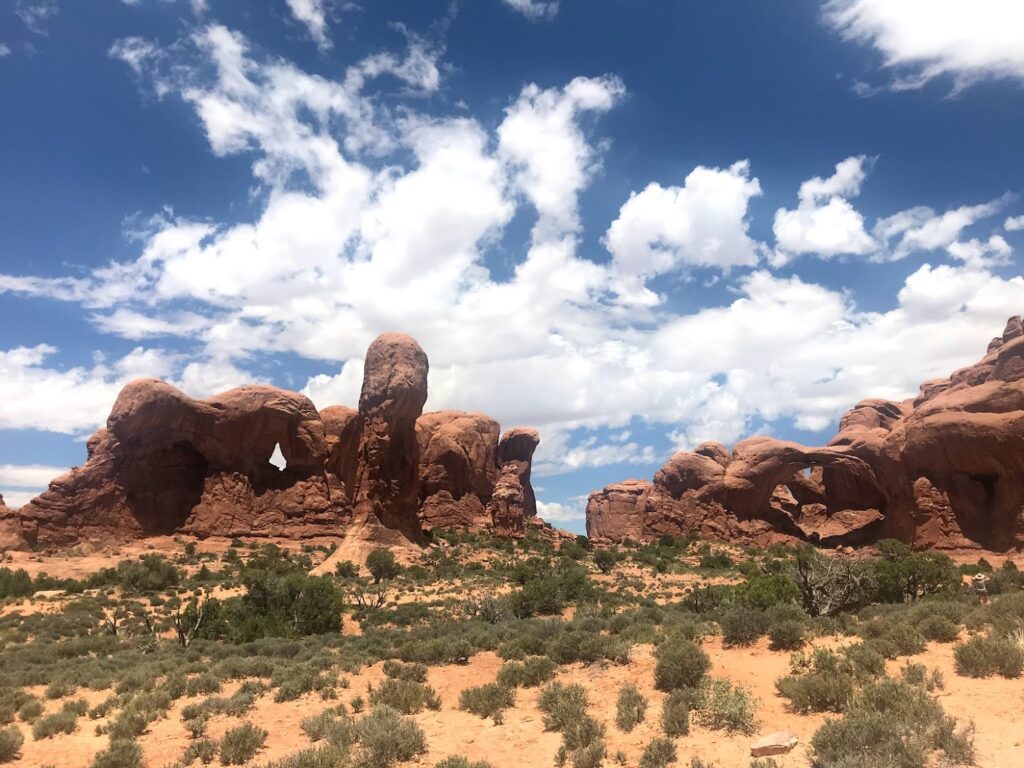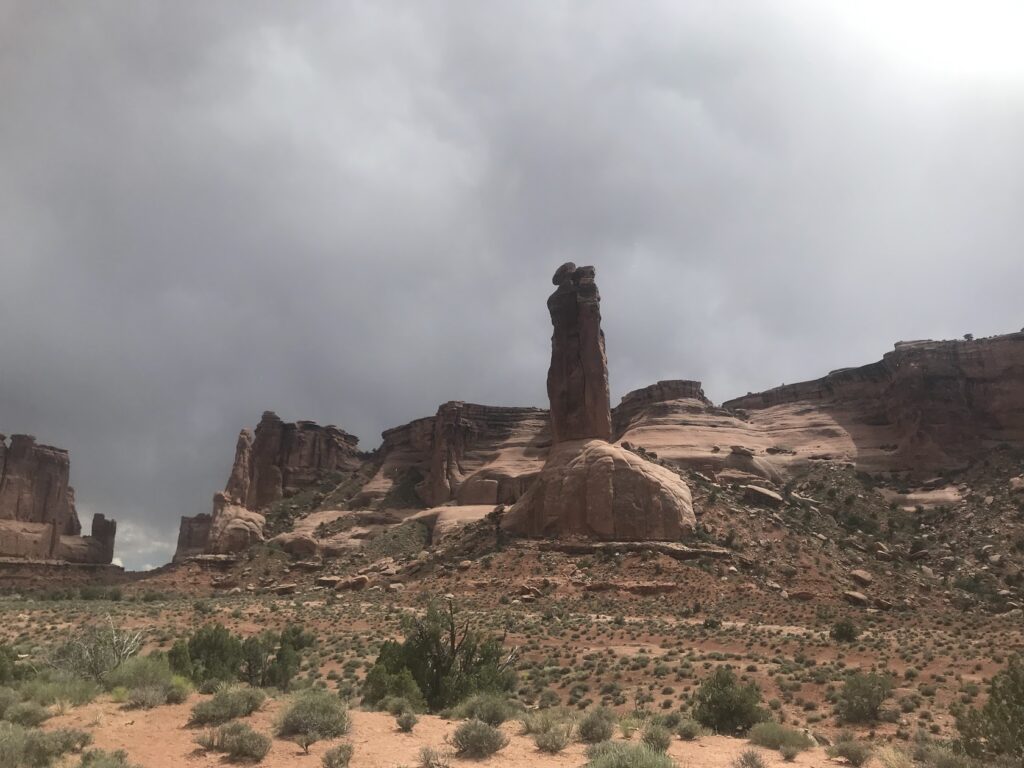 In comparison to other parks, we immediately noticed the crowds at Arches. This was the only park we had to wait in line to get into, and the only park where we struggled to find parking at some trailheads. Make sure to go early!
As usual, we first stopped at the Visitor Center. I say this every time, but we always appreciated watching the park video, and checking in with the ranger for ideas for our timeframe.
Double Arch
For our first hike, we went to see Double Arch. The trails were pretty crowded and it was hot out! Make sure to bring water, sunscreen and a hat! There is very little cover from the sun, unless you were under the rock formation itself. Fortunately, the hike to Double Arch is only .5 miles roundtrip. The red arches soared overhead, making the whole formation feel like a fortress.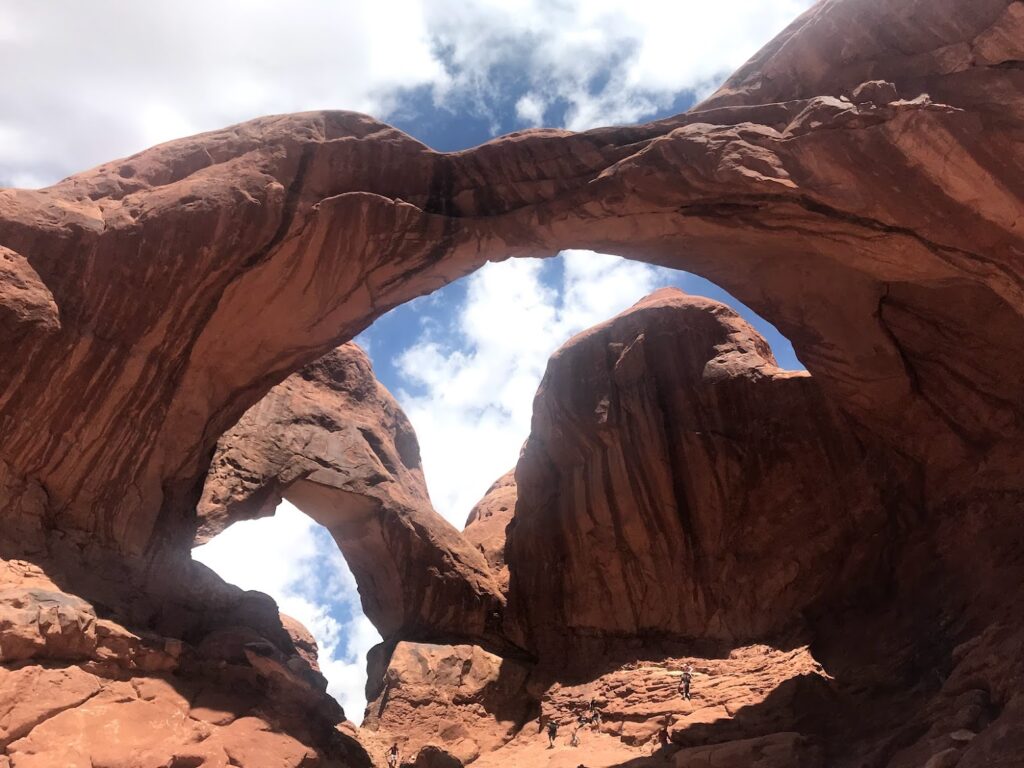 The Windows
Just on the other side of the parking lot, the Windows section of the park. This 1 mile roundtrip hike gives visitors a glimpse of the North Window, South Window and Turret Arches. Combined with Double Arch, these formations make the stop well worth it.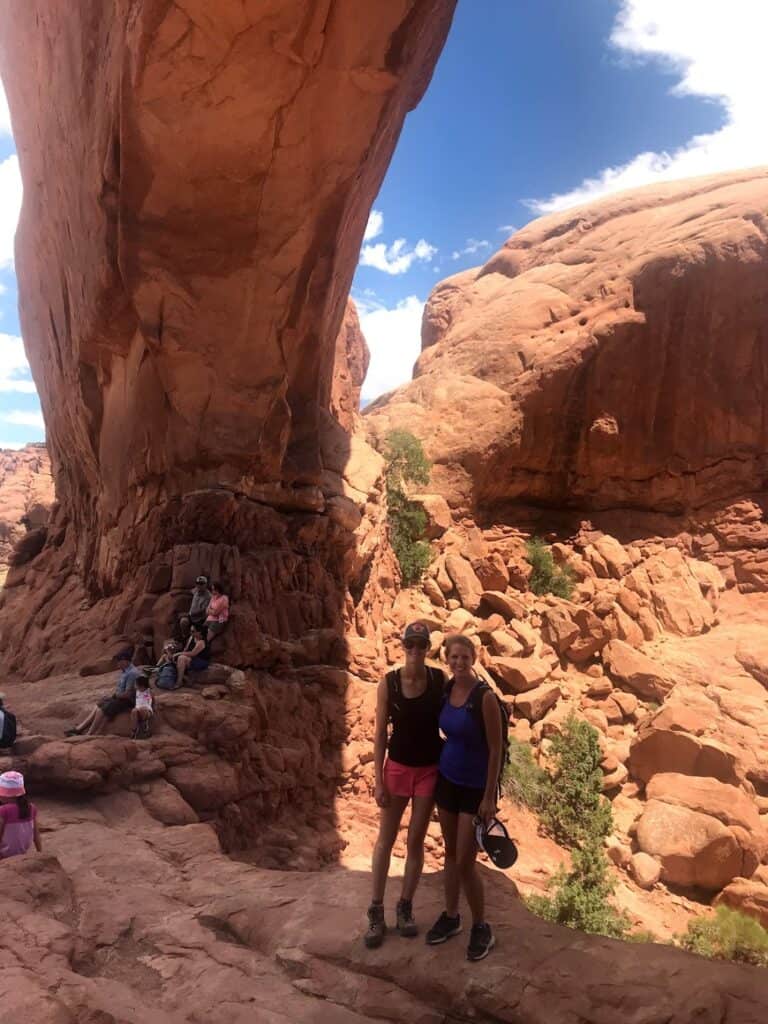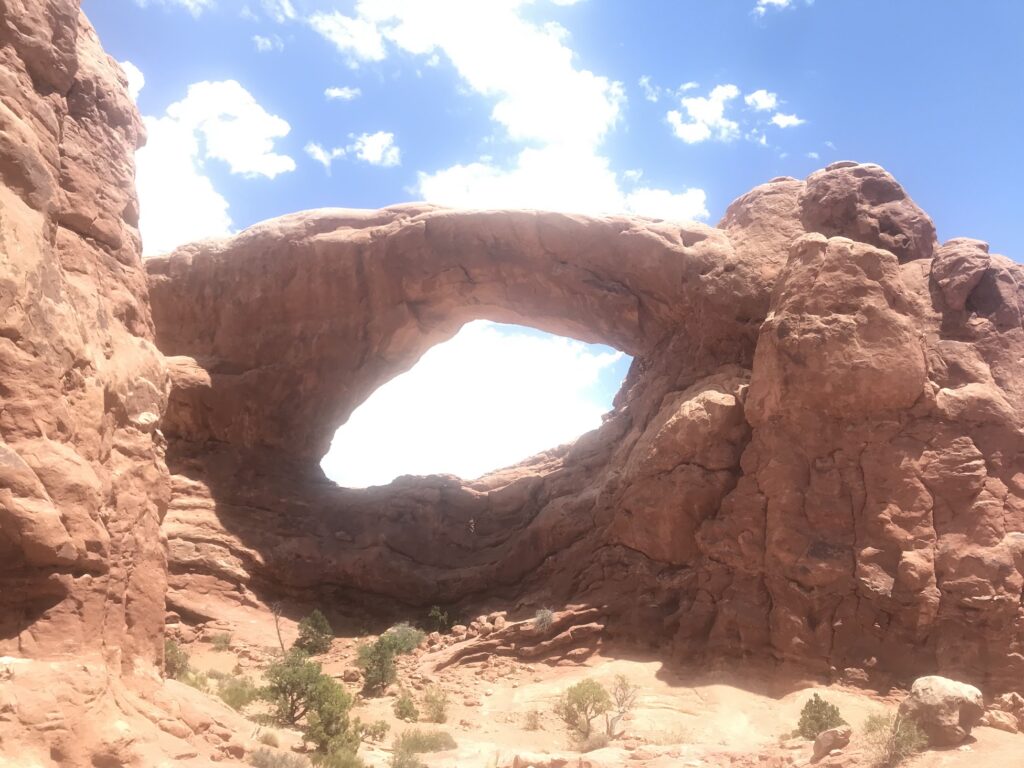 After toasting in the sun, we were happy to get in the air-conditioned car to drive to the end of the park to the Devil's Garden Trailhead, stopping at a viewpoint along the way to enjoy the scenery.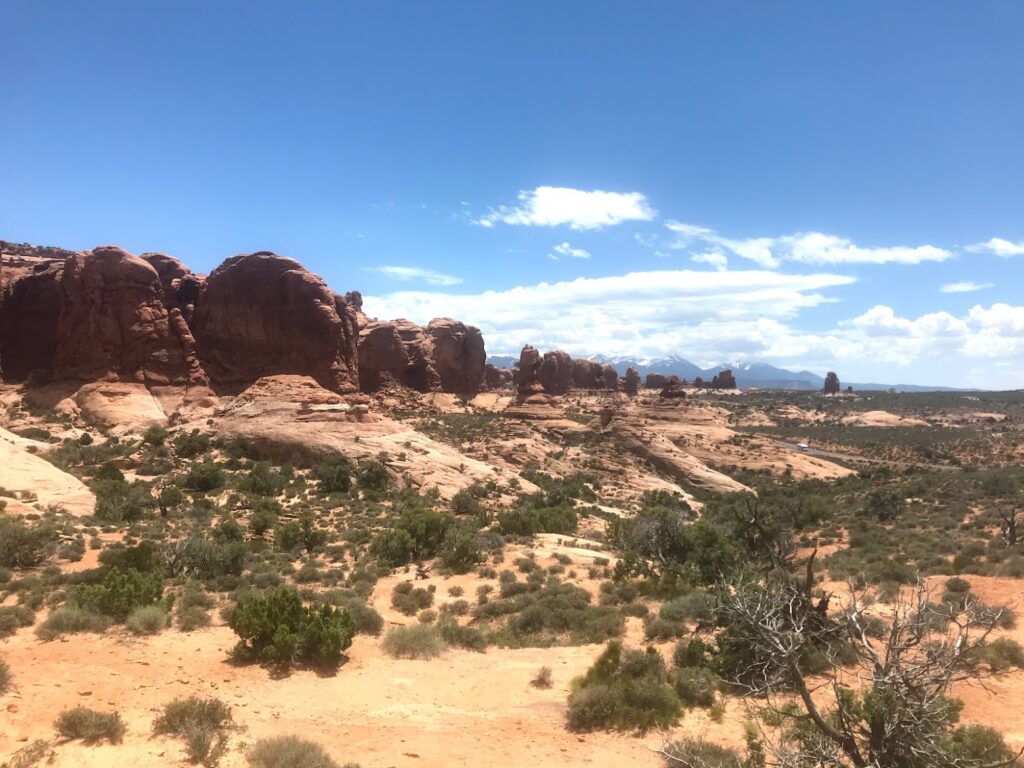 Landscape Arch
After parking, we made the trek to Landscape Arch, a 1.6 mile hike that you can extend if you aren't dying of heatstroke. This arch is especially remarkable because in 1991, visitors actually saw a piece of it break off. It stretches across what seems like a paper thin expanse of rock, stubbornly hanging on day after day. We both agreed that this arch seemed like it should be the one named Delicate Arch.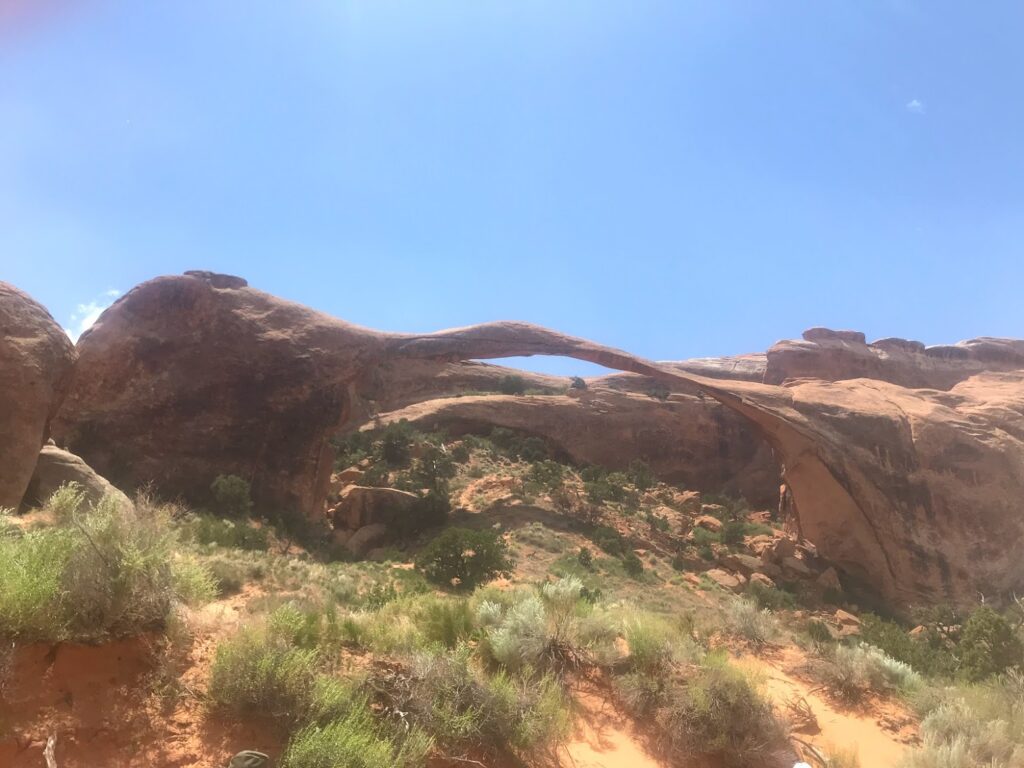 Story Time: A Windy Adventure
It was windy on our hike out; blowing dust abrasively exfoliated our legs and blew into our eyes. As we neared the parking lot, the trail passed between two walls of rock, creating a wind tunnel of sorts.
Suddenly, a huge gust of wind roared so powerfully between the walls, I was shoved against the side of the rock. Sand swirled everywhere, and a few small rocks rained down on me from above. Ahead, I could see other hikers huddled against the wall, and as another gust of wind blasted us, I could hear some girls screaming. (It sounds dramatic, but we were pinned against the rocks by this wind. It was wild.) Everyone braced, hoping that the wind would relent between gusts, and we could sneak out, but it didn't subside. I opened my eyes, found Becca, and decided it was time to go.
Carefully, I strode back to grab her off the wall. "Come on! We are getting out of here!" Holding hands, we ran yelling into the wind, until we had rounded the corner and were out of the wind tunnel.
Bug eyed, we looked at each other. "That was unbelievable?
"Are you ok?"
"I couldn't move for a minute!"
I had never felt the power of wind quite like that; I was almost quite literally swept off my feet. We left with just a few small cuts from the falling rocks, and red sand everywhere: elbow pits, ears, and piled in our boots. Fortunately, we were otherwise unscathed.
Delicate Arch
For our final hike of the trip, we headed back into the park to catch sunset at Delicate Arch. This 3 mile roundtrip hike takes you over the Entrada sandstone rocks until you arrive at the amphitheater that is home to the famous Delicate Arch. Plastered all over Utah's license plates, it may be the most famous geological feature of the park. We hadn't done any sunset hikes any of the other days, so it felt fitting to watch the sunset behind the arch to end our day and cap off a wonderful trip.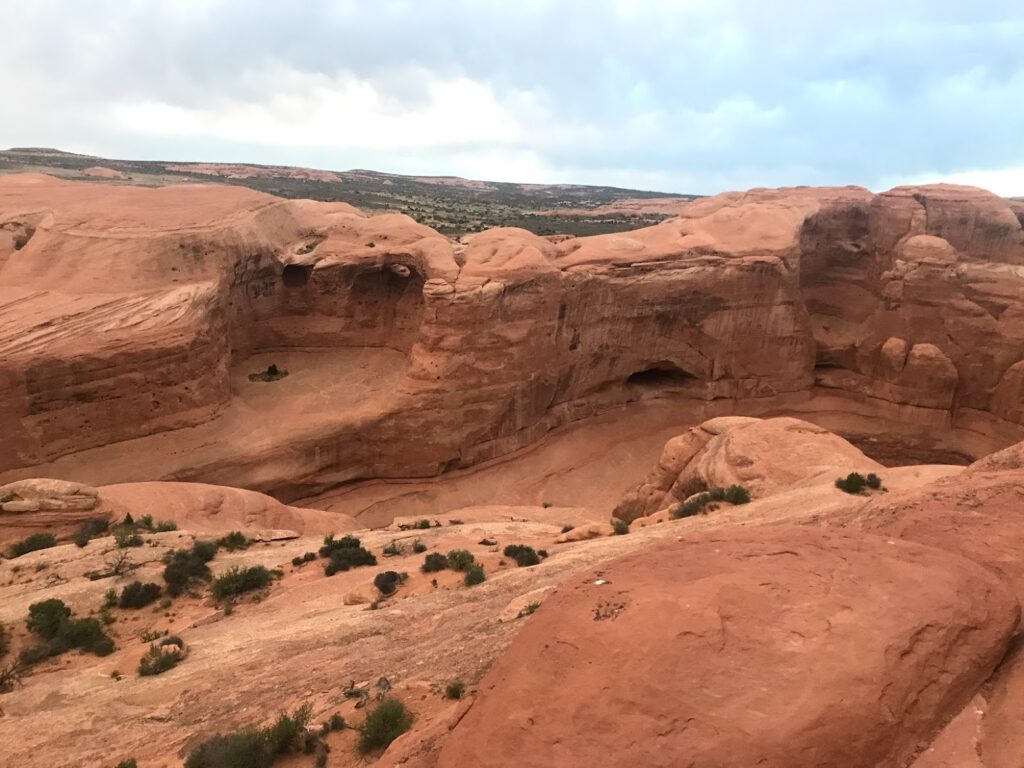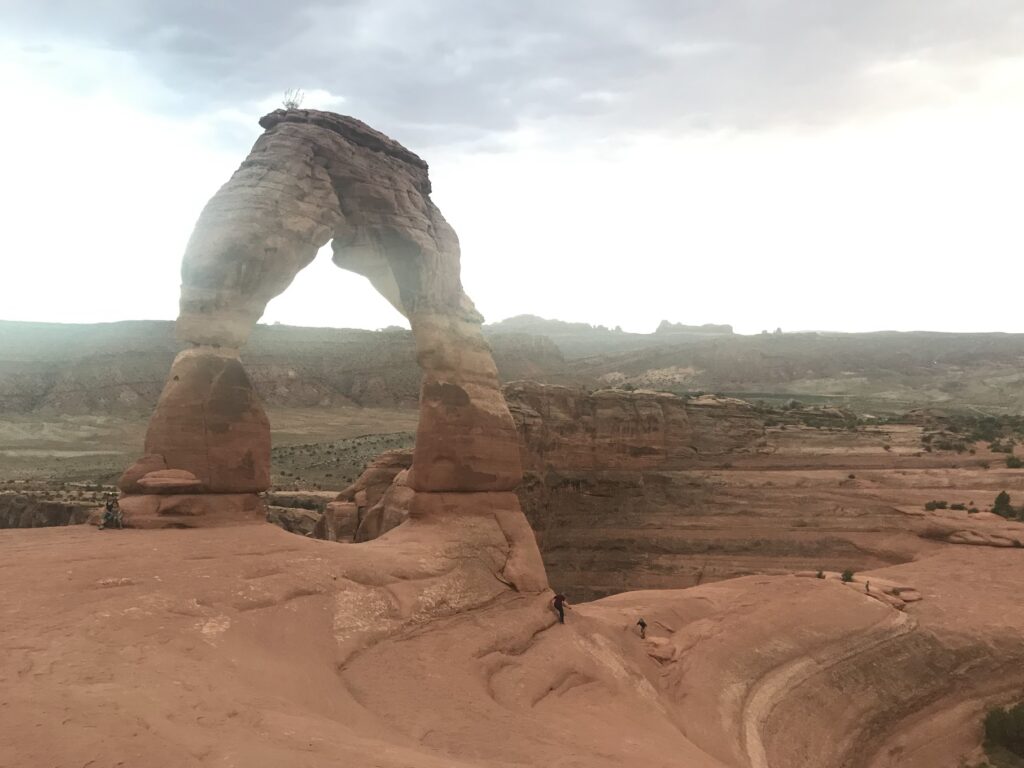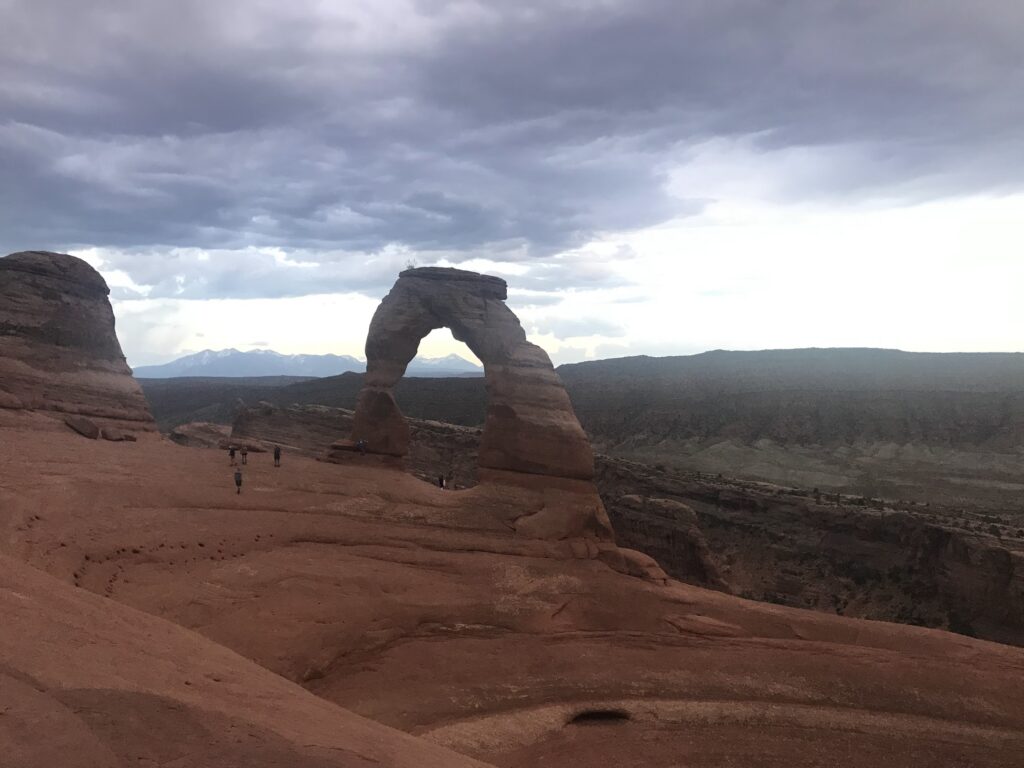 Since we were already in the park at dusk, we wanted to stay to stargaze. Unfortunately, the weather had other ideas, and clouds had rolled in, so it just wasn't going to happen for us.
Tired but content, we were quiet in the car on the way back to our campsite. Arches was a beautiful end to our 11 days on the road.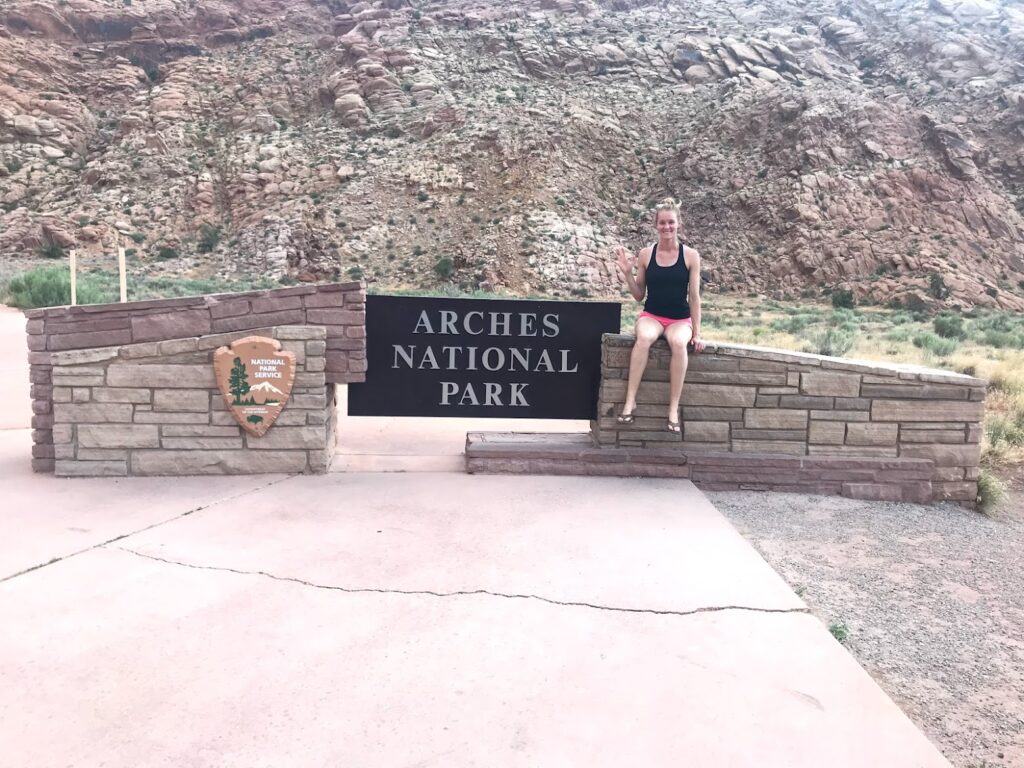 Want to read more? Check out my write-up on Canyonlands National Park, or visit Earth Trekker's article on the park. Their photography is stunning and they have a great writeup too.