Although known for its numerous awe-inspiring hiking trails, there are also plenty of things to do in Banff that inspire wonder if you aren't feeling as adventurous. Here are some of my favorite activities in Banff that aren't hiking,
1. Chase lakes, waterfalls, glaciers and wildlife on the scenic highway to Jasper.
The enormous snow-covered Rocky Mountains finally peaked out from behind the thick blanket of clouds, causing us to gasp as we rounded the curve on the Icefields Parkway, just outside of Banff, Canada. We had just caught our first glimpse of Bow Lake and the Crowfoot Glacier, and couldn't quite take it in. This was the first time I realized that we were in for a real treat on this remarkable scenic drive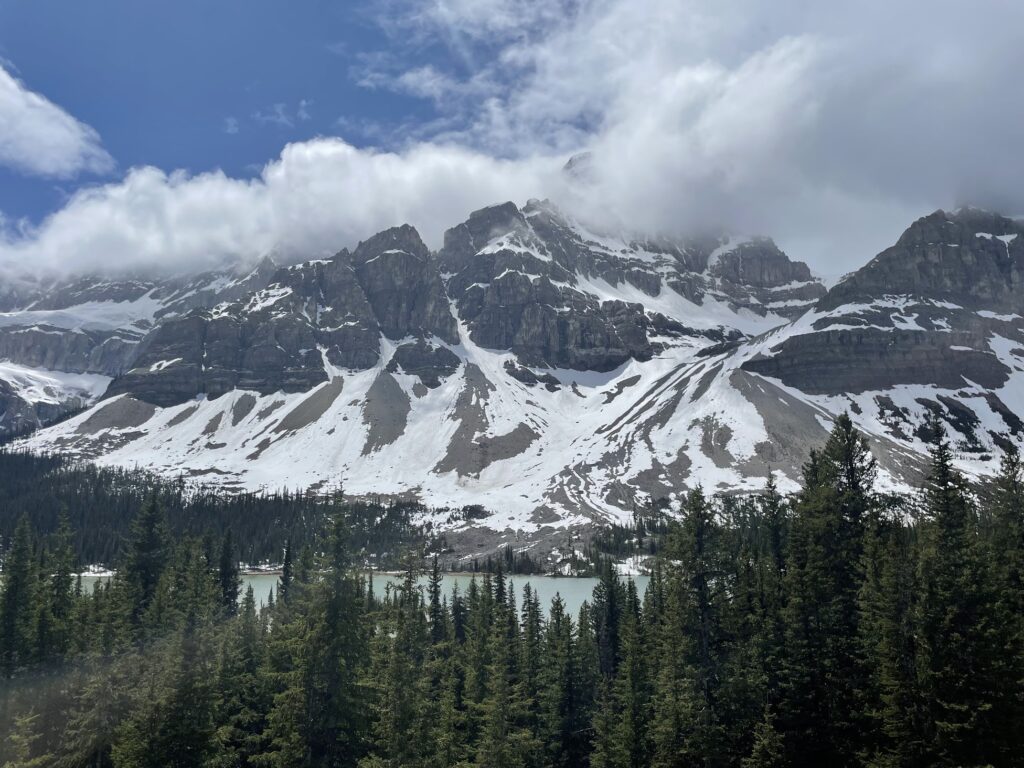 This drive is the perfect way to spend a day resting your feet, if you have been out and about hiking. Or it is a great way to see the scenery without having to hike. Minimal effort, big pay-out.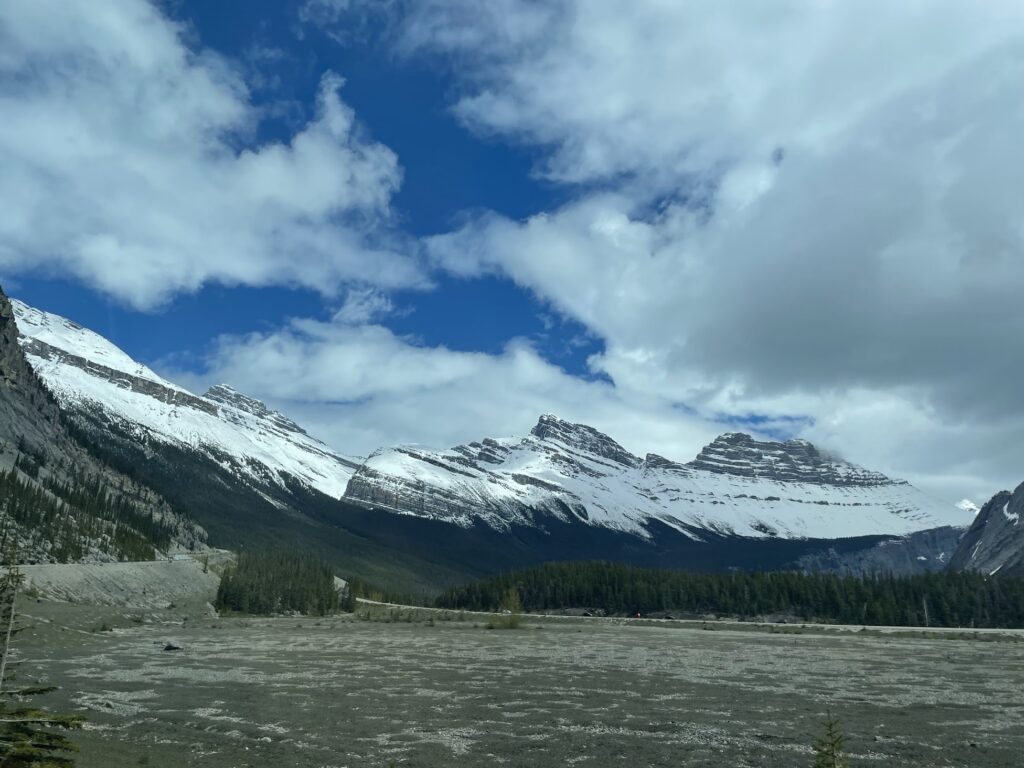 The Columbia Icefields
The scenery shifted as we gained altitude: the sky shone a bright gray as the sun began to reflect off of the increasing snow cover. The world began to turn monochromatic as the blue sky disappeared. Even the trees began to look black instead of green.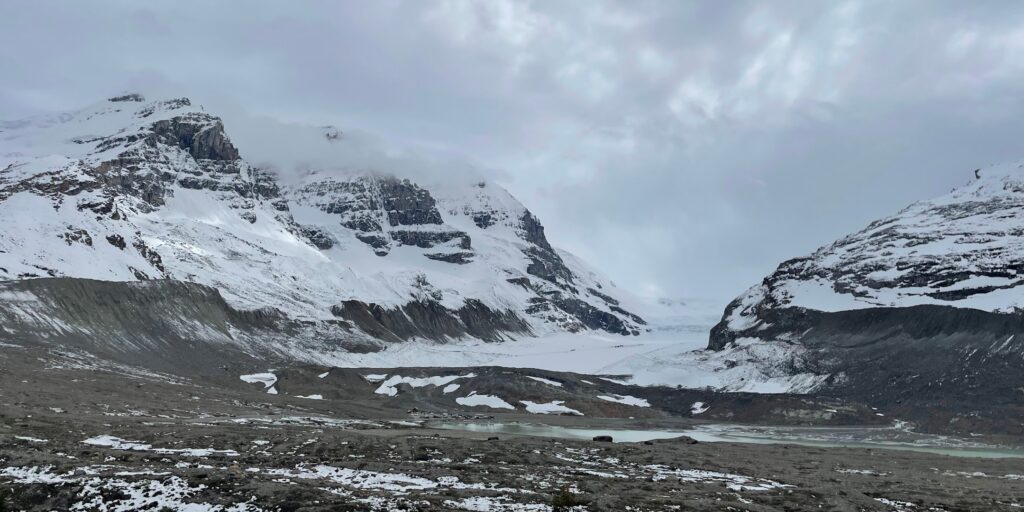 Amidst this black and white world, there were still a lot of sights to see. Tours are available if you want to take a monster-truck/bus thing out onto the glacier. This also includes a trip on the Glacier Skywalk, a glass bottom bridge that offers 270 degree views of the valley, suspended a little more than 900 feet above the valley floor. You can see the Skywalk pictured below, but I would recommend checking out this blog for more pictures from someone who actually experienced it firsthand. (We did not have time.)

Another perk of the drive is that, if you are lucky, you might even see some wildlife. We were fortunate to see two bears, but I only caught one on camera.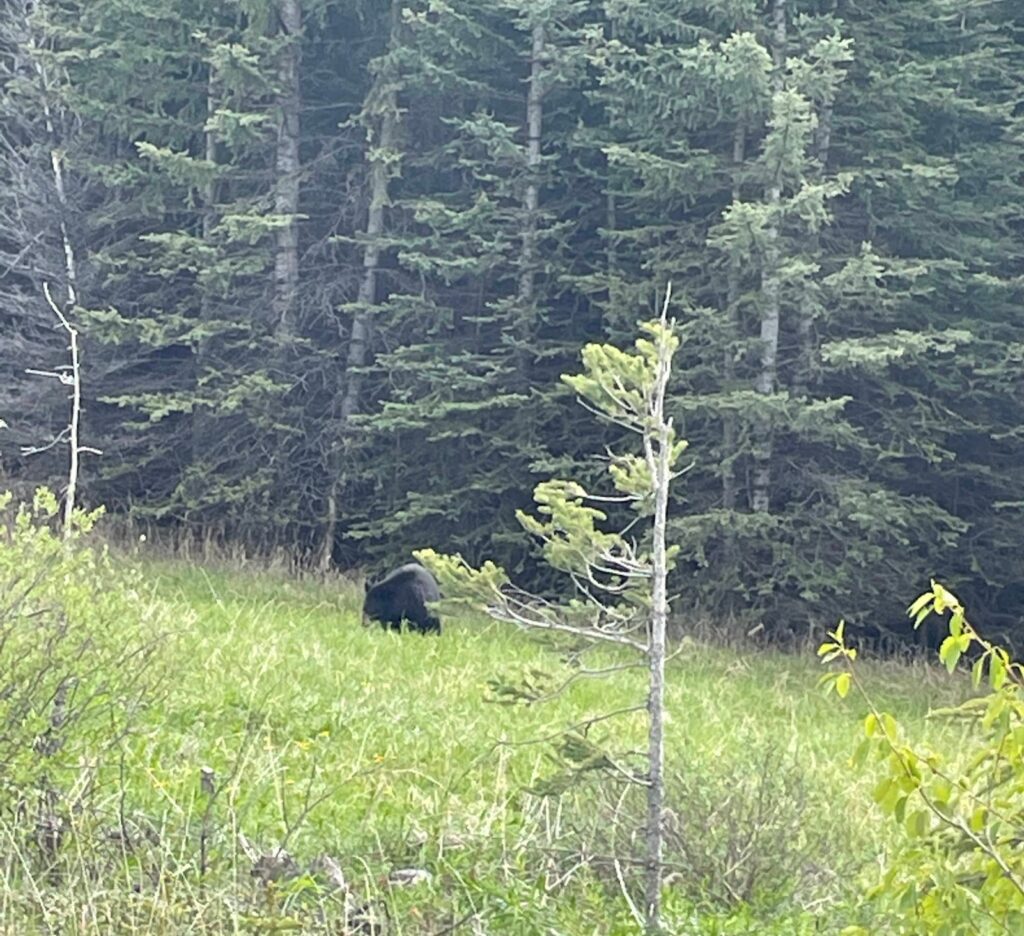 Chasing Waterfalls
Waterfalls abound in the Rockies, so make sure you stop to take them in. This is also a great way to stretch your legs after all that riding in the car.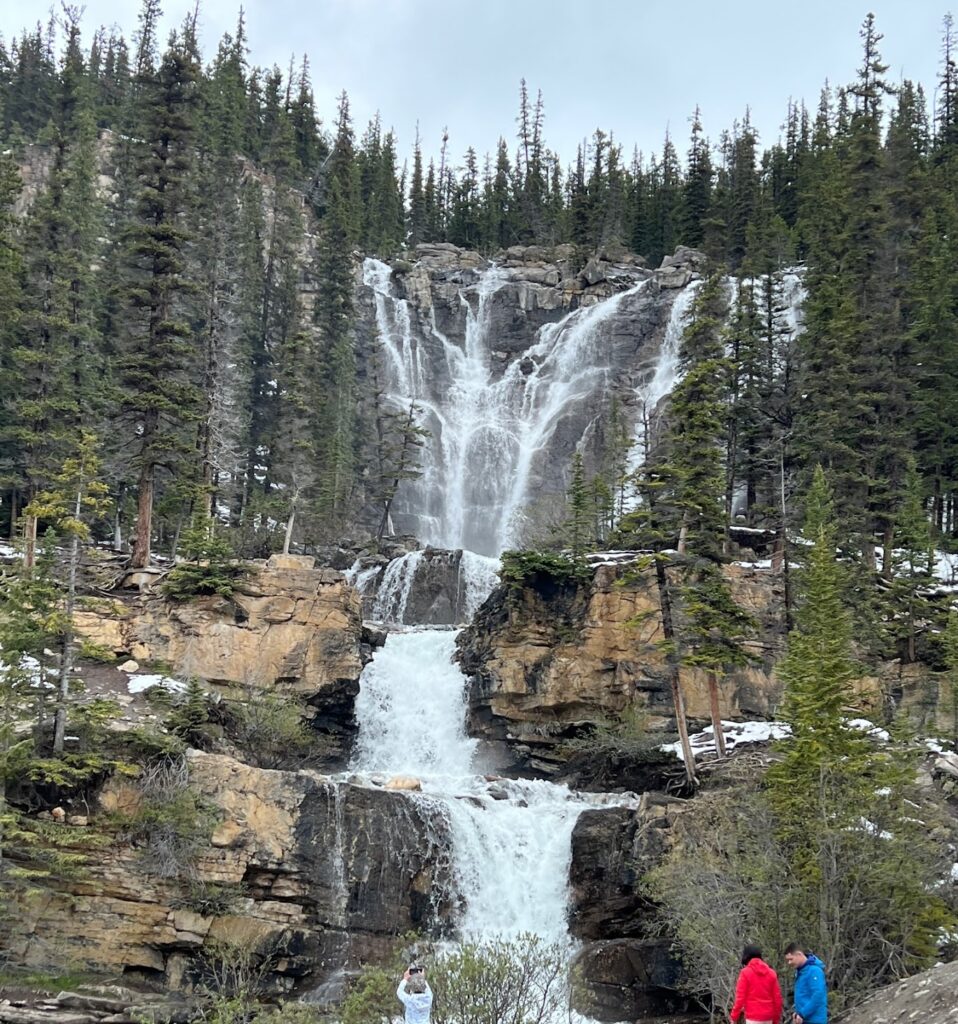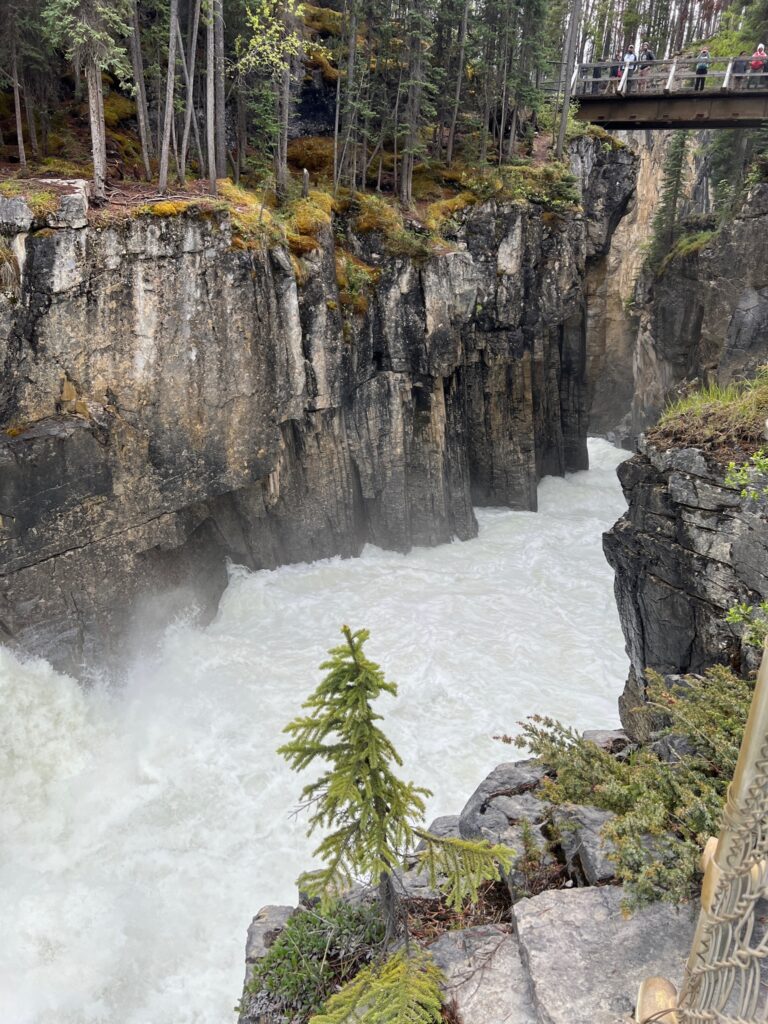 How long is the drive?
As far as distance is concerned, you can make it as long or as short of a drive as you want. We turned around after Suwapta Falls, so we never made it to Jasper, but if you wanted to go all the way, I suggest giving yourself at least four hours to get there. (Google Maps says it is about 3.5 one way.)
We left Canmore around 1:00, and were back for massages at 7:00pm. Despite not making it all the way to Jasper, we were still extremely happy with the drive and the views. Rocky Mountaineer's website was very helpful to use for planning the drive; they break it down by stops, and the gorgeous photos make this drive look irresistible. I definitely recommend taking this scenic drive if you find yourself in Banff.
2. Enjoy a massage.
Who doesn't love a rubdown after a day of sitting in the car? We went to Wildflower Massage in Canmore, one of many options to choose from. We were able to get in same-day to Wildflower for our 90 min massages. This was a clean, professional spa where my masseuse balanced targeting areas that were tight from hiking, with lots of relaxing techniques. I left feeling refreshed.
This was a good massage, but if you want more of a spa experience, I would suggest checking out Red Earth Spa. ( I did not go here, but it looks beautiful and I wish I did!)
3. Set sail on the turquoise waters.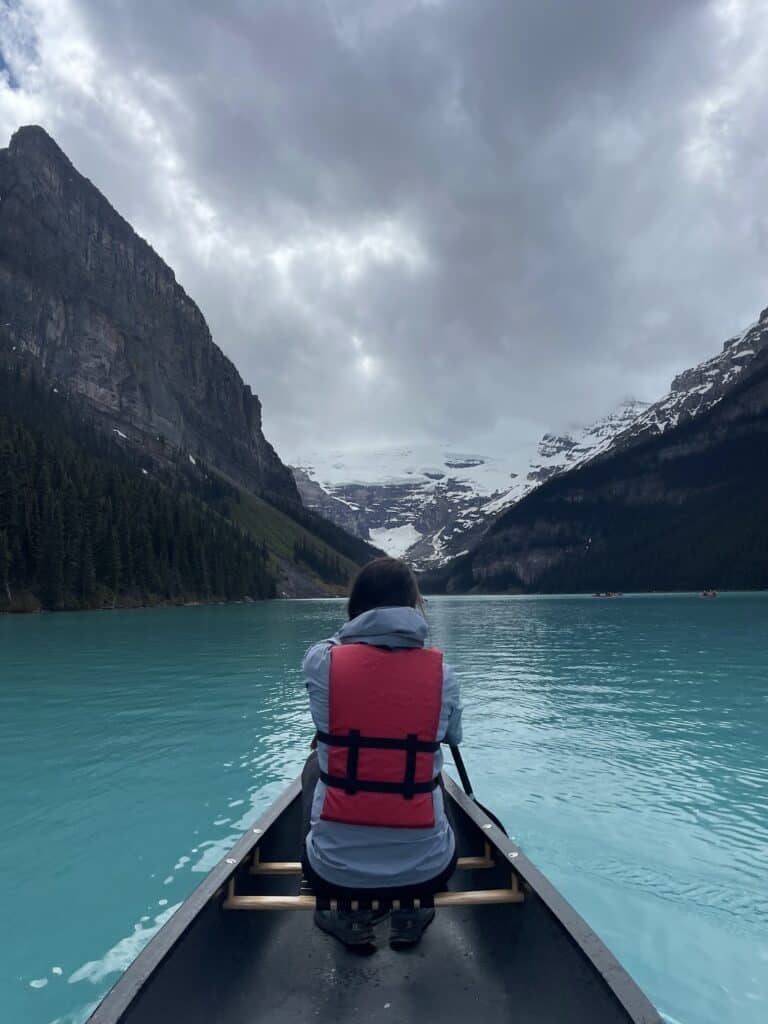 Whether you decide to boat on Lake Louise or Moraine Lake, canoeing is a great way to experience the beauty of the turquoise waters up close. Your arms and shoulders may get tired, but minimal walking is involved! If you want something requiring even less physical exertion, take a boat cruise at Lake Minnewanka.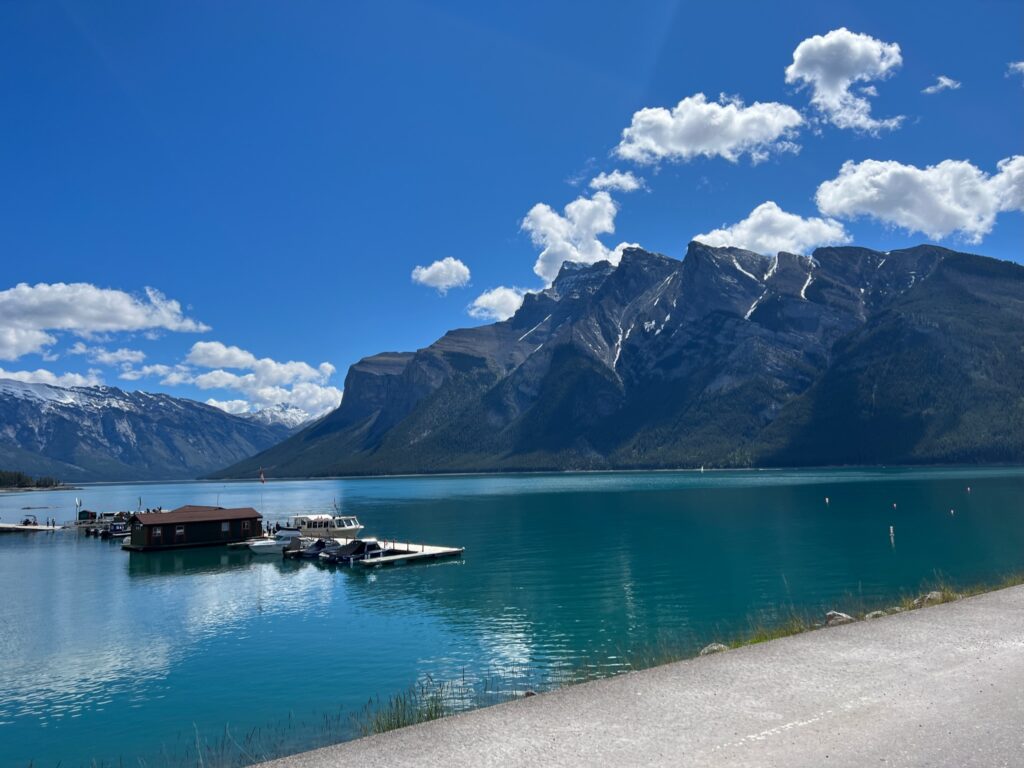 4. Ride a gondola.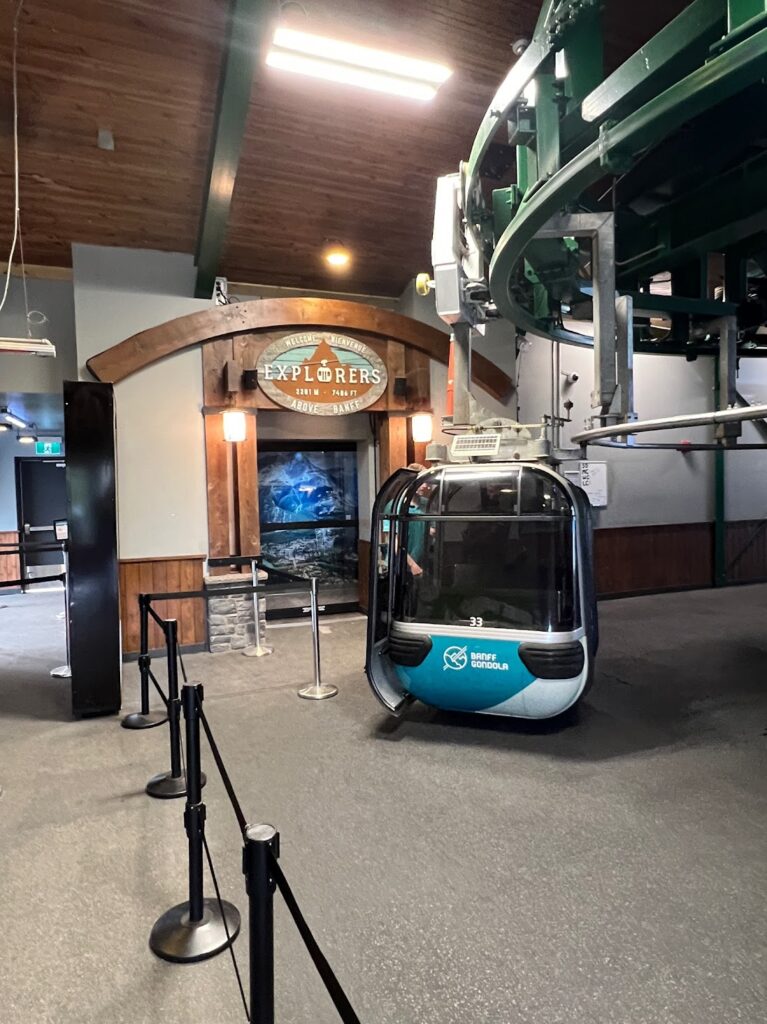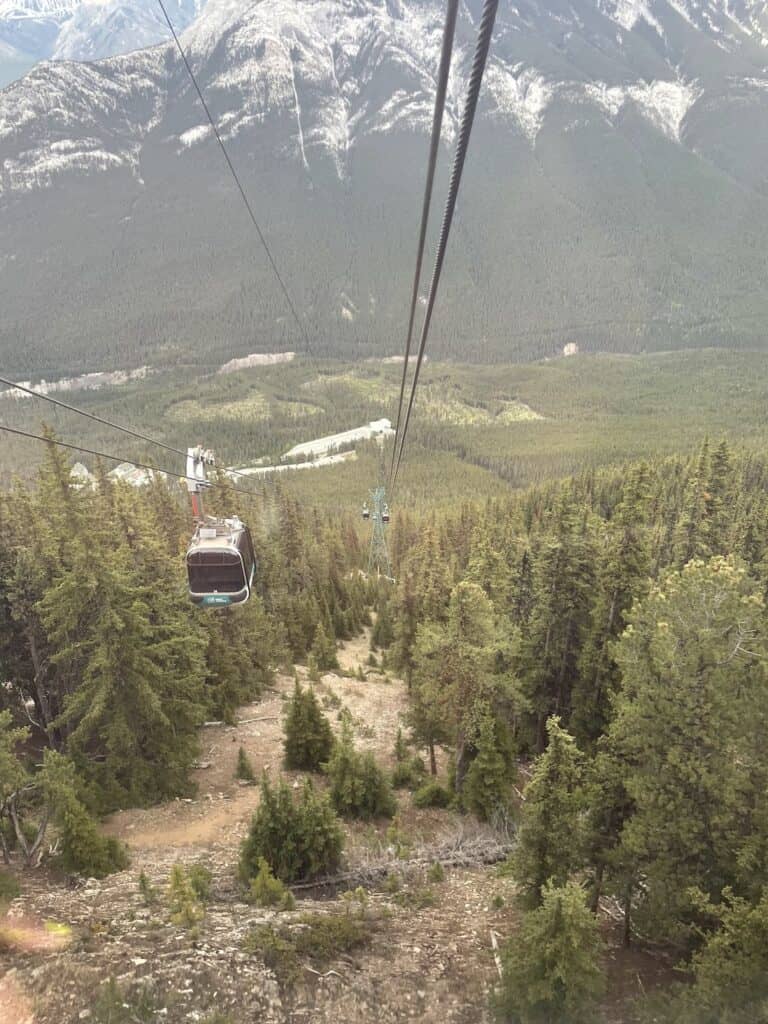 There are at least three gondolas and one sightseeing chairlift ride in Banff, so you have lots of options if you feel like taking flight. Visitors can choose from the Banff Gondola at Sulphur Mountain (pictured here), the Lake Louise gondola (which is apparently a great way to see grizzly bears), the Banff Sunshine Sightseeing Gondola, or the Banff Norquay Sightseeing Chairlift.
This website does a fantastic job comparing them all; I will just add that we really enjoyed the restaurants at the top of Sulphur Mountain. The Banff Sunshine Area seems like an amazing place to go to if I ever get to go back, and the open-air chairlift looks incredible, but also slightly terrifying.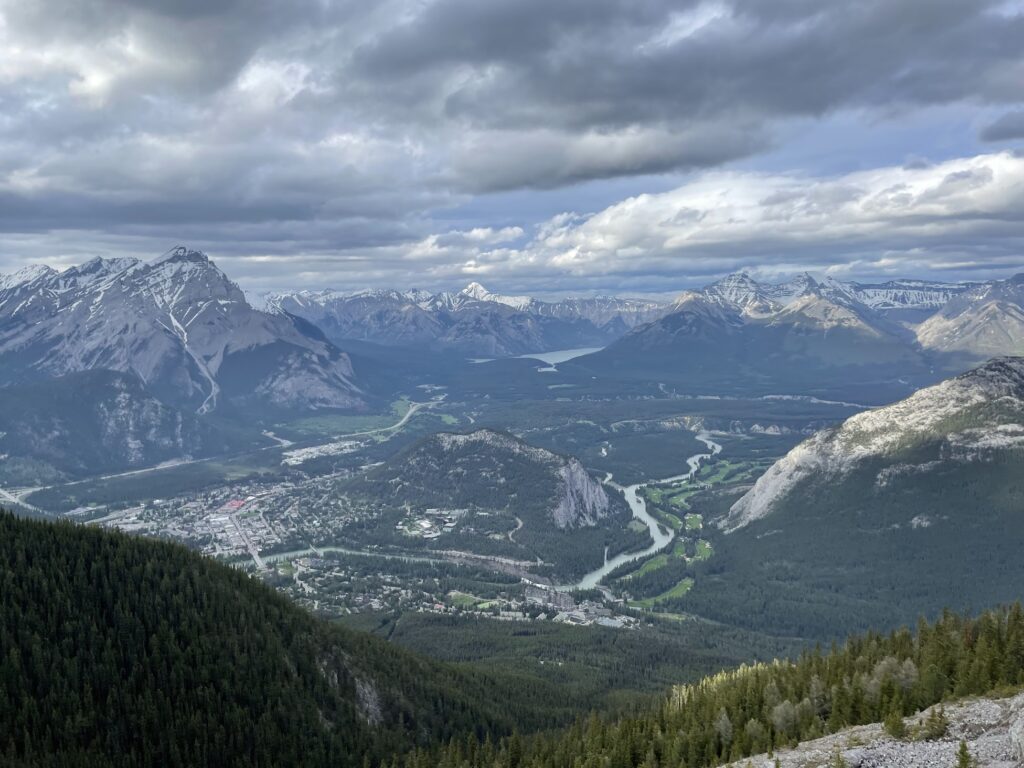 5. Sip coffee at Moraine Lake.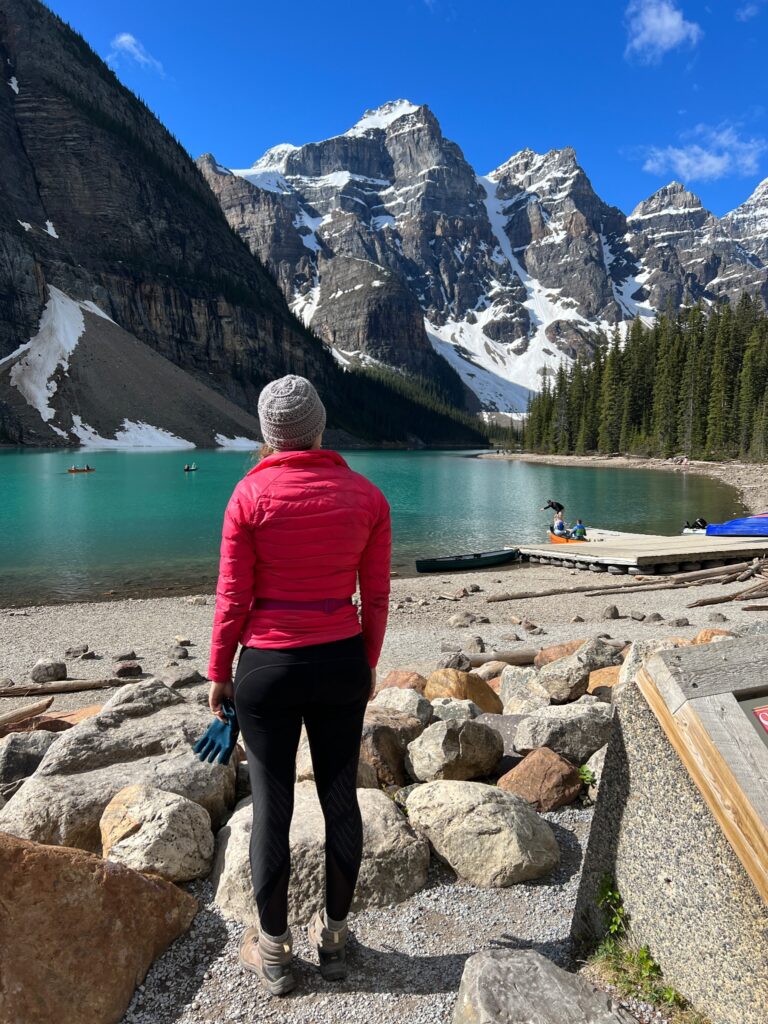 The shores of this remarkable lake are just a few steps from the Moraine Lake Cafe, where you can get espresso and a variety of grab-and-go food options. Sip your coffee on a bench at the beach, or take it with you to the higher viewpoint (But be careful! That would count as hiking!). As the sun warms your face, you can watch paddle boarders and canoes set sail on the pristine lake. Between sips, laugh at ridiculous teenagers braving the frigid waters, their screams echoing off the mountains as they emerge from the glacial water, or observe chipmunks harassing tourists.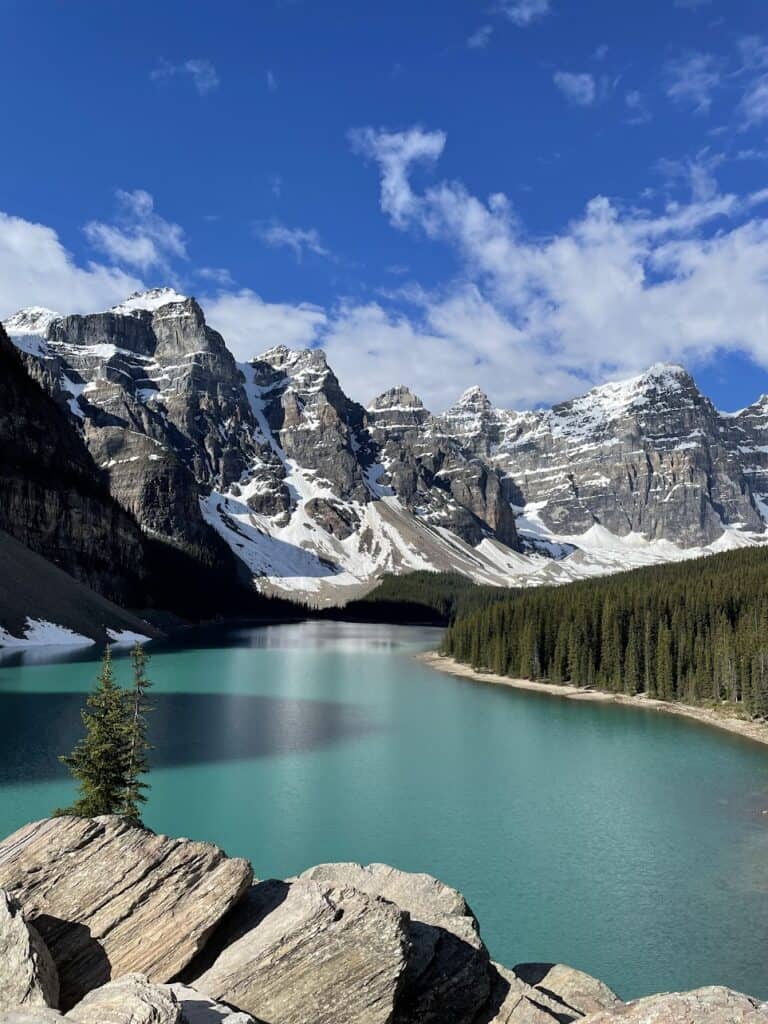 The views of this lake are like a dream. We shared the summit with children reluctant to take family pictures, another father who took one million shots of just the chipmunk who was getting way too aggressive with me while I ate my banana bread muffin, a wedding photographer and her perfectly groomed subjects, and quite a few other tourists. Despite the crowds gathering at 9am, we still were able to find a moment of peace on the shores of the lake, and even secured a coveted parking spot.
6. Window shop in quaint Canmore or downtown Banff.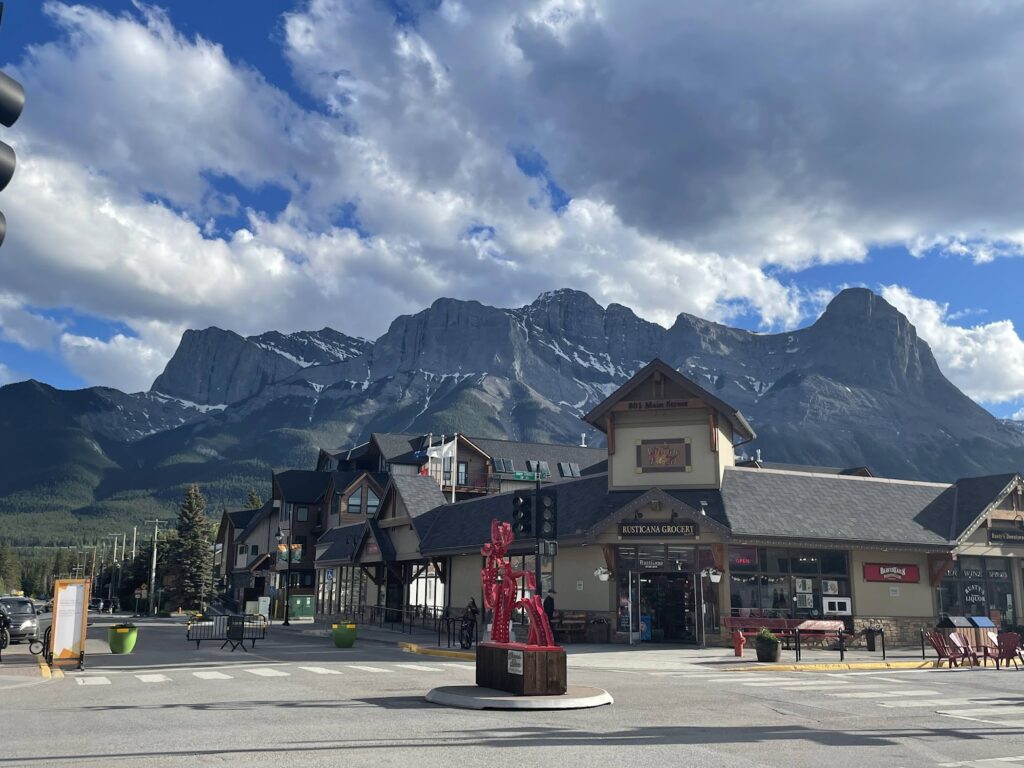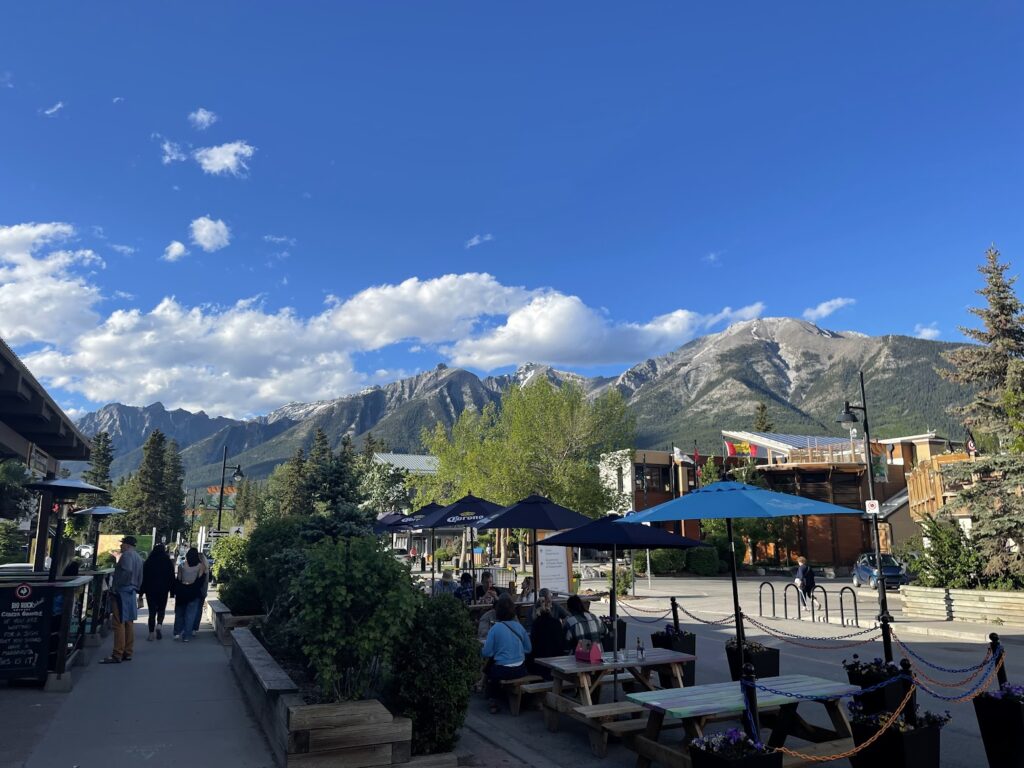 Take a break from the natural wonders to support small businesses, and check out local goods. Stroll along the river, or stay close to the shops selling kitchen things, kitschy towels, outdoorsy apparel, candles and all sorts of other things. I especially loved shopping in Canmore; I have never seen such stunning views as a backdrop to a host of adorable little local shops and eateries. Canmore has a slower pace, and feels less touristy than downtown Banff.
The main street in Canmore was closed to traffic, which made the downtown even more walkable. Picnic tables and umbrellas stretched into the road, along with cherry-red Adirondack chairs, giving us the perfect spot to stop and eat our Beaver Tail while basking in the sun.
7. Soak in one of the many hot springs.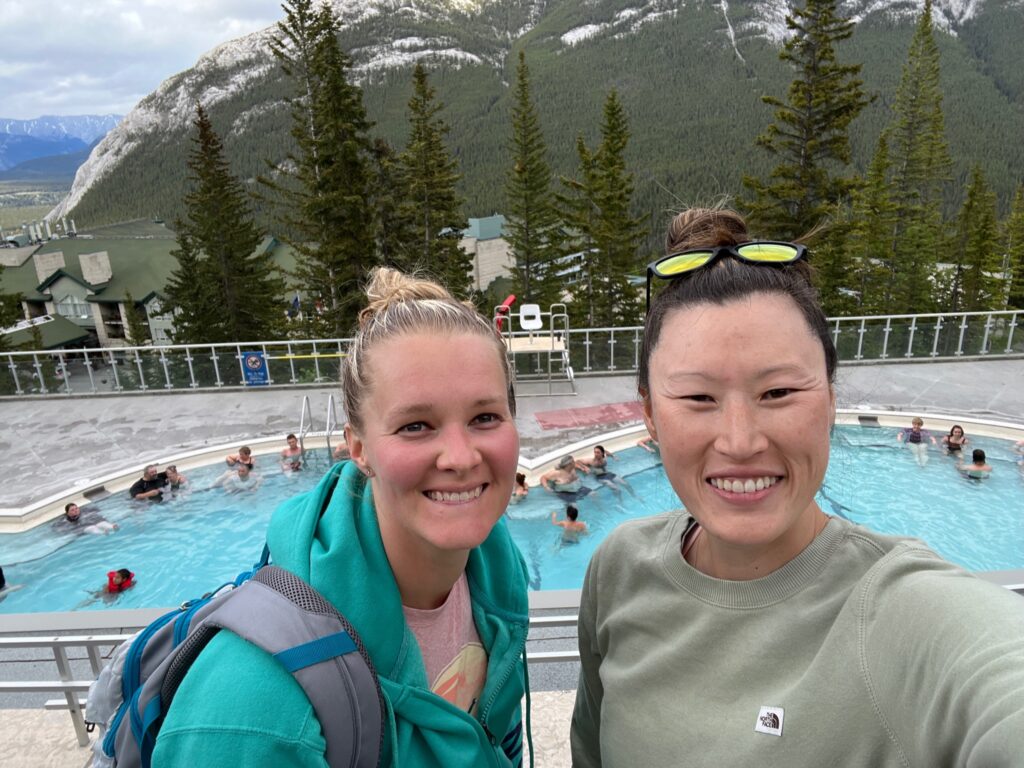 Taking a dip in hot mineral water is a great way to unwind, especially after shopping and Banff has lots of choices for hot springs soaking. Off we went to Banff Hot Springs, mostly because of its convenient location 2.5 miles south of downtown Banff. After paying $9.25 Canadian each, we changed and squeezed into the pool with a whole host of other tourists…not ideal.
It felt great to get in the warm water and soak our tired muscles, but honestly, it was very crowded. Between the chubby tattooed white guy sizing everyone up who entered the pool, the awkward young couple making out on the steps, the Asian influencer making her boyfriend take one zillion pictures of her in full makeup in a giant hot tub, or the Indian bro group in matching swim suits who kept challenging each other to stay in the cold shower as long as possible, I felt that we were in a literal melting pot of tourists. Next time, I may try for a more remote hot spring experience. Overall though, it did feel great to relax in the warm water, even just for a little bit.
In conclusion…
While I HIGHLY recommend going for a hike and getting out into the incredible scenery should you choose to go to Banff, there are also so many great things to do if you are just aren't feeling up for it.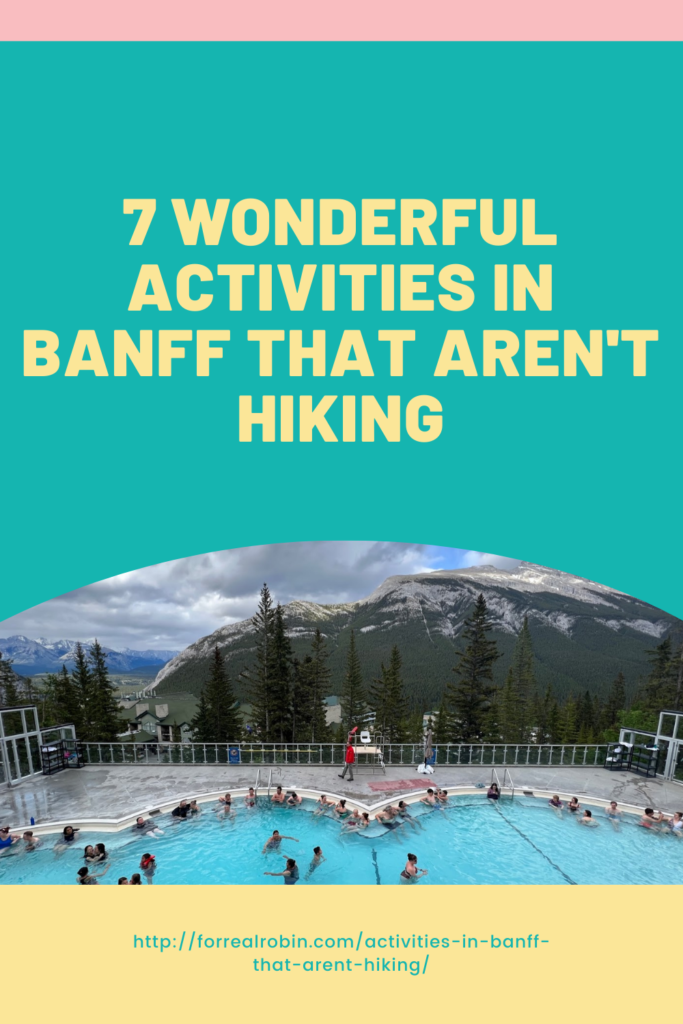 If you change your mind and decide to hike after all, here are two of my recommendations for great hikes in Banff.