Today I am going to talk about an aquarium in the middle of the desert, because that is funny to me. But however bizarre, the Albuquerque Aquarium provides a nice little taste of the sea if you just need to escape the dryness of the desert for a moment.

You can't deny that the aquarium is small, but it offers a nice variety of activities and exhibits, especially now that the otter enclosure is finally open. You can go watch Chaos and Mayhem, the pair of river otters, squirm about in the water, run around in their 2.7 million dollar exhibit, or, as was the situation today, sleep in an obscure corner. But even though I caught the otters in the middle of their siesta, the rays were reading to go. They were aggressively swimming up the vertical walls of their tank, as if they were trying to make a break for it (they obviously didn't know they were in Albuquerque….what was their plan after getting out of the tank? Do you know how far you are from home?). This tempted several onlookers to reach in, which then prompted uniformed guards to yell- for what is most likely the millionth time that morning-"Please keep your hands out of the tank!"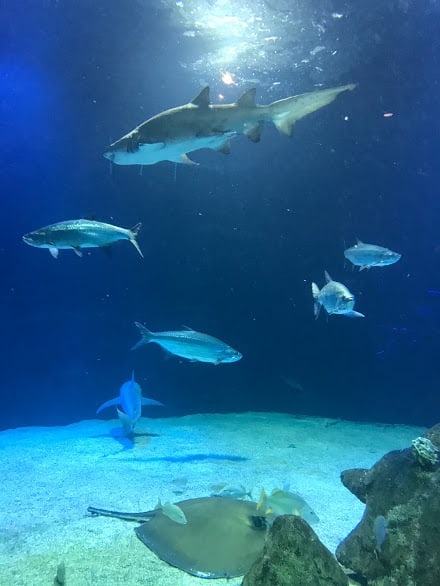 There is also a young loggerhead turtle hatchling on loan from North Carolina (but I think it is probably gone now), a theater showing a different film each day (we caught a portion of "Plastic Ocean" which will make you rethink your use of anything plastic and also cause you to become convinced you will die from a plastic-induced illness), and a giant aquarium full of tons of different sharks, which serves as the grand finale. There is also a touch tank staffed by volunteers, but it was unfortunately closed when we visited.

I would budget only an hour for this visit, especially if you have kids, and if you have to choose between the aquarium and the zoo, the zoo wins hands down. Pairing it with the Botanic Gardens, which is right across the way, would make for a complete afternoon outing. However, the aquarium is a nice air-conditioned option, and there is a restaurant, The Shark Reef Cafe, right next to the largest tank, so you could combine it with lunch to stretch it out a little.

Overall, I enjoyed the chance to reflect on all the ways we as humans impact the world around us, and how we can work to make positive changes to our environment. From educational and thoughtful material, to splashing animals and cruising sharks, the ABQ Aquarium provides a nice change of pace from a typical desert weekend.
Logistics
Gates are open from 9 a.m. – 4:30 p.m. daily. The aquarium closes at 5 p.m and is closed Jan. 1, Thanksgiving and Dec. 25. Prices for adults, at the time of this posting, are $14.50 and can be purchased online or at the door. Children ages 3-12 are $6 and children under 3 are free. Address: 2601 Central Ave. NW, 87104