One of my favorite hikes on this whole trip was to Lower Calf Creek Falls, or as I like to call it, the most beautiful waterfall we almost didn't see. This hike in Grand Staircase Escalante was a last minute addition, which just goes to show you that you can plan and plan, but some of the best moments of travel are the ones that happen spontaneously.
Stop by the Visitor Center
We had some time in the morning on our drive to Capitol Reef National Park, so we stopped at one of the many visitor centers for Grand Staircase Escalante. It was there that we learned that Grand Staircase was the Bureau of Land Management's first national monument. It was established by presidential proclamation, and was the last place in the continental US to be mapped. Spanning an impressive 1.9 million acres, this monument boasts "bold plateaus," and "multihued cliffs." We figured we should try to at least get a taste of what this monument had to offer.
Consult a ranger
Anytime you are trying out a new park (or monument), I cannot recommend talking to park rangers enough. At each park, we made a point to visit the center to get a quick overview of what we were going to see, nerd out on some science and history videos, and check in the with park ranger on their recommendations for what we should do in the park given our timeline. They had all sorts of key insight into the park and could give current information, like which hikes were closed that day. I had done a little research before, so when the ranger suggested a hike I had had my eye on, it sealed the deal. And that is how we found ourselves parked at the trailhead for Lower Calf Creek falls. 
Hike Lower Calf Creek Falls
This 6 miles hike began in the sand and took us along these jaw-dropping and somewhat intimidating canyon walls. The alcoves look like huge pockets of rock were blasted out, but in fact, these impressive structures are formed when water freezes in the rock, expands, and then cracks. The rock falls away, leaving a gaping hole, much like when you lose a tooth.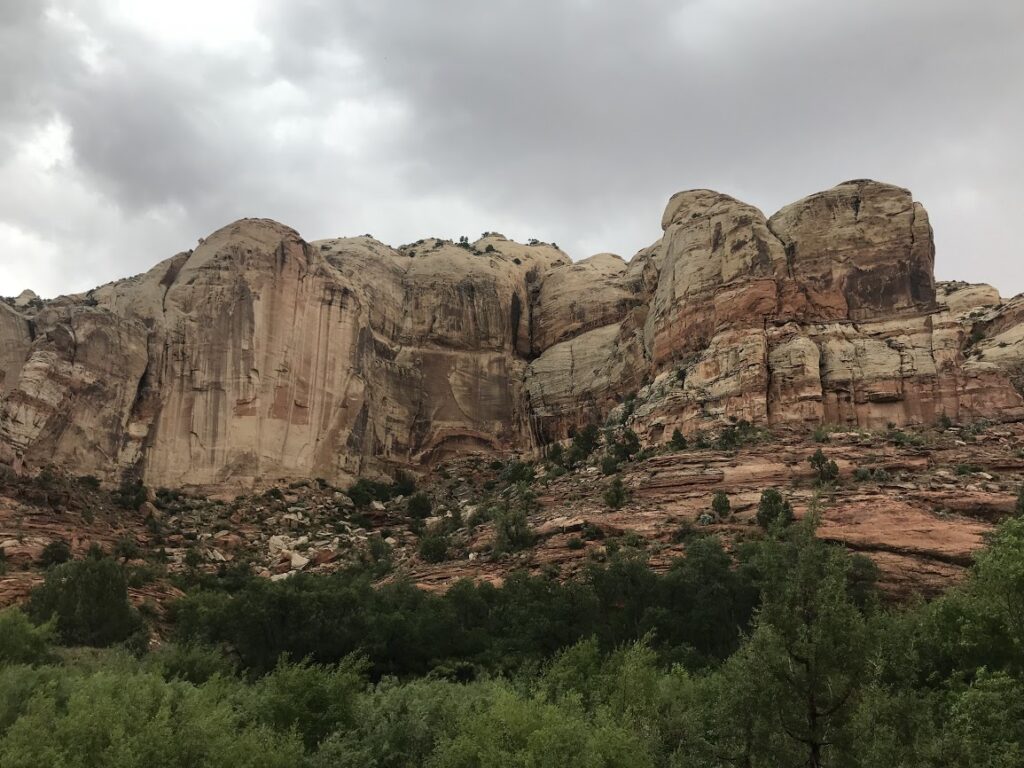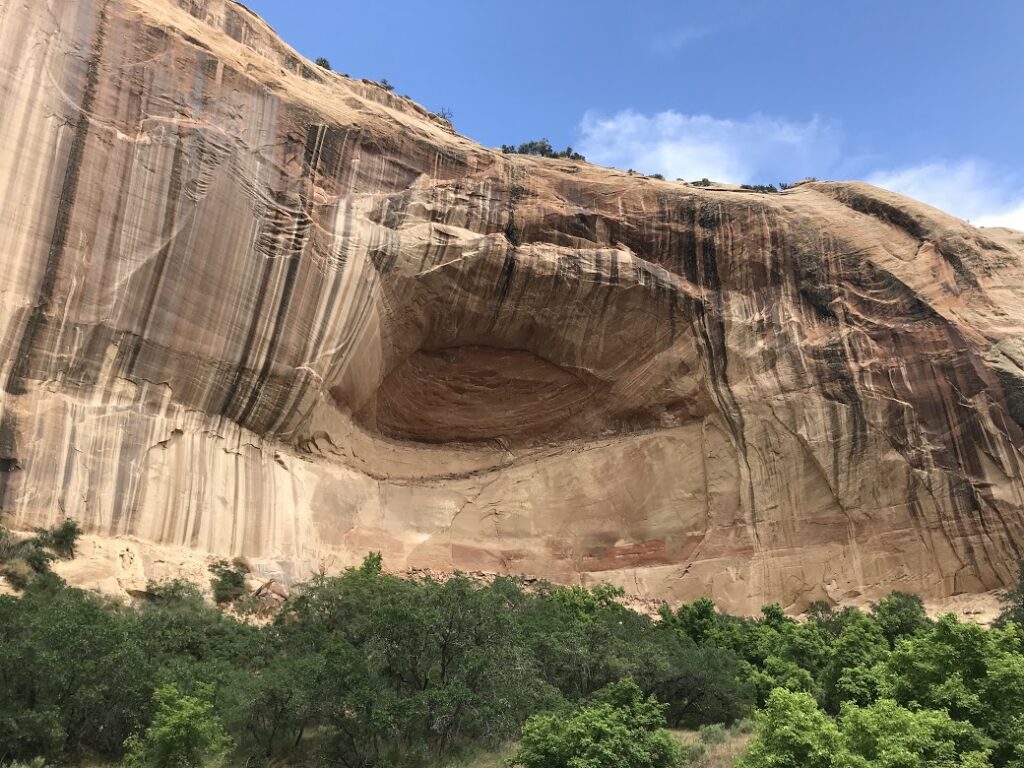 Soon we found ourselves wandering along rocks next to Calf Creek. Birds darted in and out of the rushes, and the wind swept through the reeds, making a peaceful rustling sound.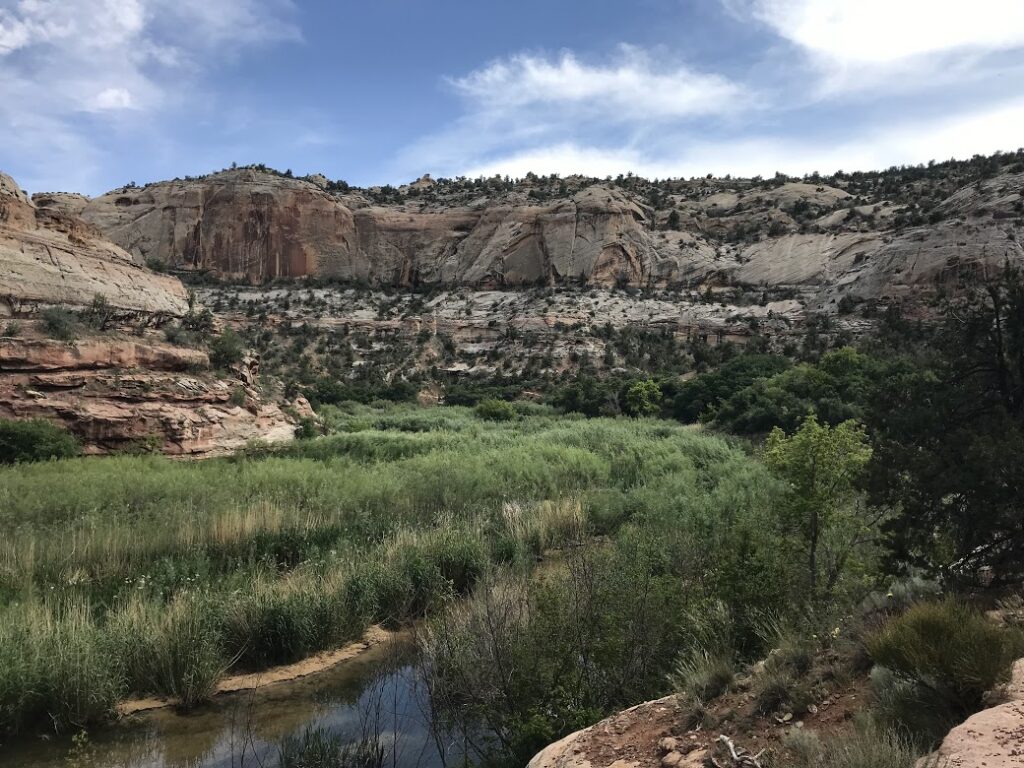 As we neared the falls, the trail turned back to sand, and we had to cross back and forth over the creek. The falls roared in the distance; we could feel we were getting closer.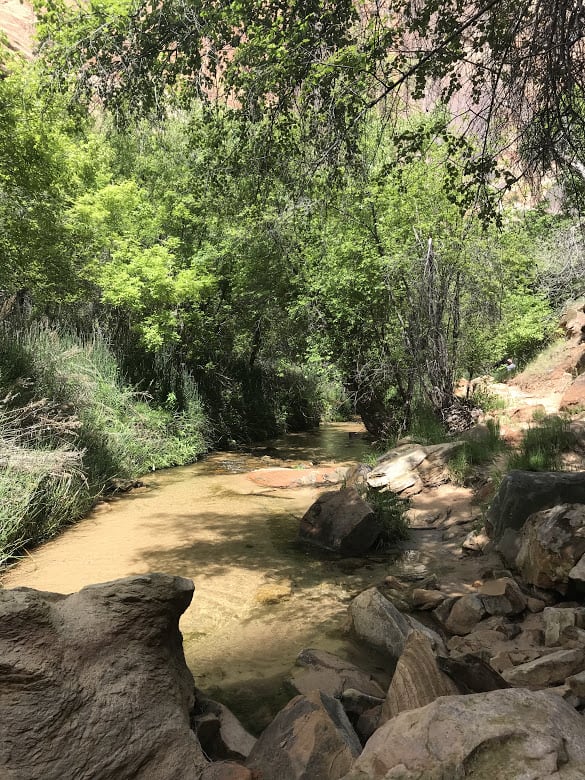 But nothing quite prepared us for finally arriving at the falls. Throughout this trip, we had been doing a lot of hiking around a lot of hot rocks; the wonder we took in was mostly in the forms of unique geological features, striking colors of limestone or sandstone, or in the impressive heights and depths of cliffs and canyons. This was something else entirely.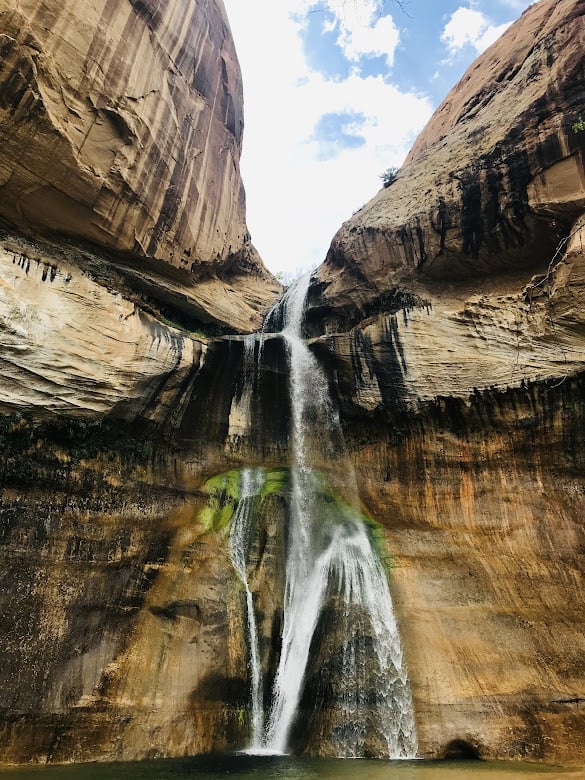 This was a waterfall to remember. Tucked into a section of rock with walls that soared like a cathedral, the water cascaded down 120 ft before crashing into a pool large enough to swim in. Vibrant green moss added a splash of color to the top of the falls, and made it look like an inspired artist had gotten involved. Long, vertical, black streaks in the rocks seemed to highlight the height of the falls The water collided with the rock halfway through its tiered descent, forming multiple flows. Everything was accentuated by the sound of the rushing water
Marvel at the wonders
Eager to soak up the view and rest our feet, we sat down with snacks to marvel at the gorgeous cascade. I decided I wanted to see the falls up close, which translated to me slipping on the moss covered rocks and falling on my ass in front of everyone, except Becca, so we couldn't even laugh about it. It is such a tragedy to fall and not have anyone you know see it and laugh about it with you.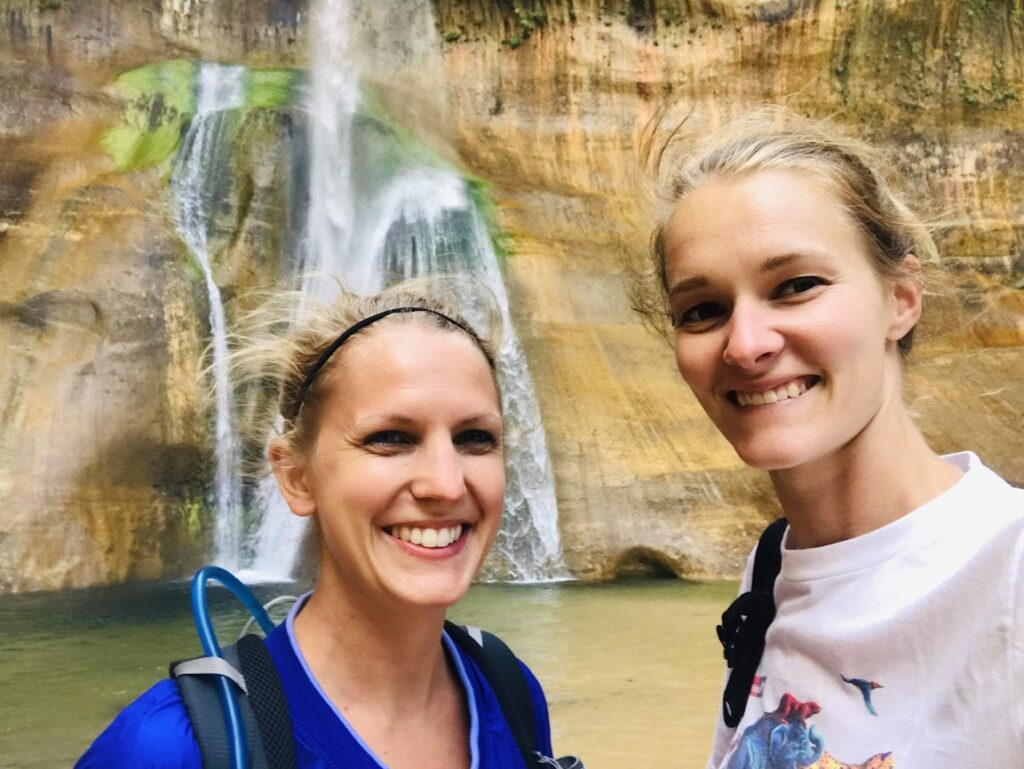 Our hike back was smooth. (I'm not sure if it's just me, but the return hike often seems to go faster.) We enjoyed the sweeping views and wildflowers, and relished the gifts we had been given: a chance to see a stunning waterfall that we would have otherwise missed, and the lesson in the importance of venturing outside the plan.
Up next, our experience in Capitol Reef! Or check out our day hiking Peek-a-Boo Loop in Bryce Canyon.