Every time we stay at El Monte Sagrado, we have a fantastic time. This hotel is AMAZING, starting with the decor: ornately carved wood, Native American rugs and art, Spanish-style furniture and incredible antler chandeliers. I was immediately struck by how fancy it felt. The service is impeccable, the food and drinks delicious, and the various rooms make each visit memorable. Read on for my review of El Monte Sagrado.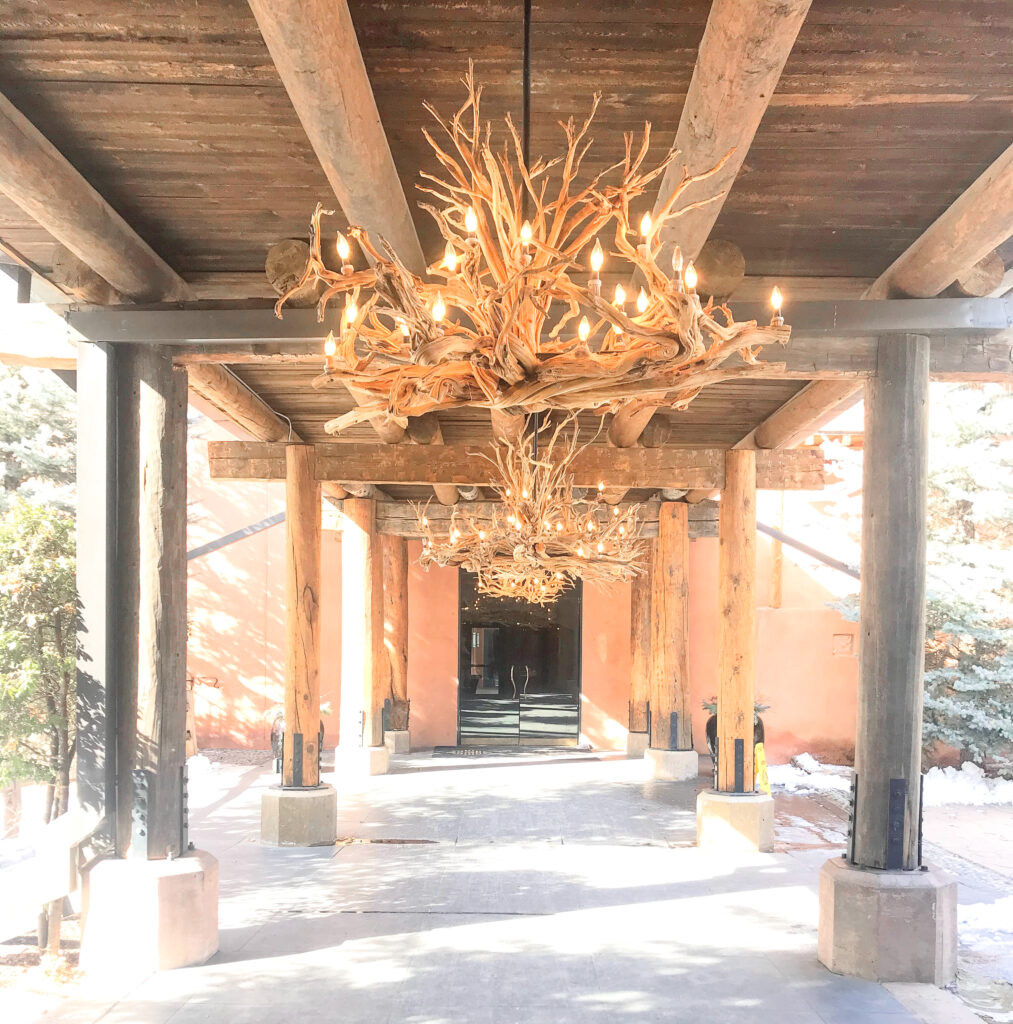 Rooms
What sets El Monte Sagrado apart is how guests can craft a unique stay by choosing from four types of rooms: Native American suites, Taos Mountain Rooms, Casitas, or Global and Premier suites.
Native American Suites
These one-bedroom, one-bath suites are a great option if you need a little office space to work that is separate from the bedroom and if you enjoy beautiful showers. Our room featured a kiva fireplace, a sitting room, a massive tiled shower, and a patio with a view of two ponds and a waterfall.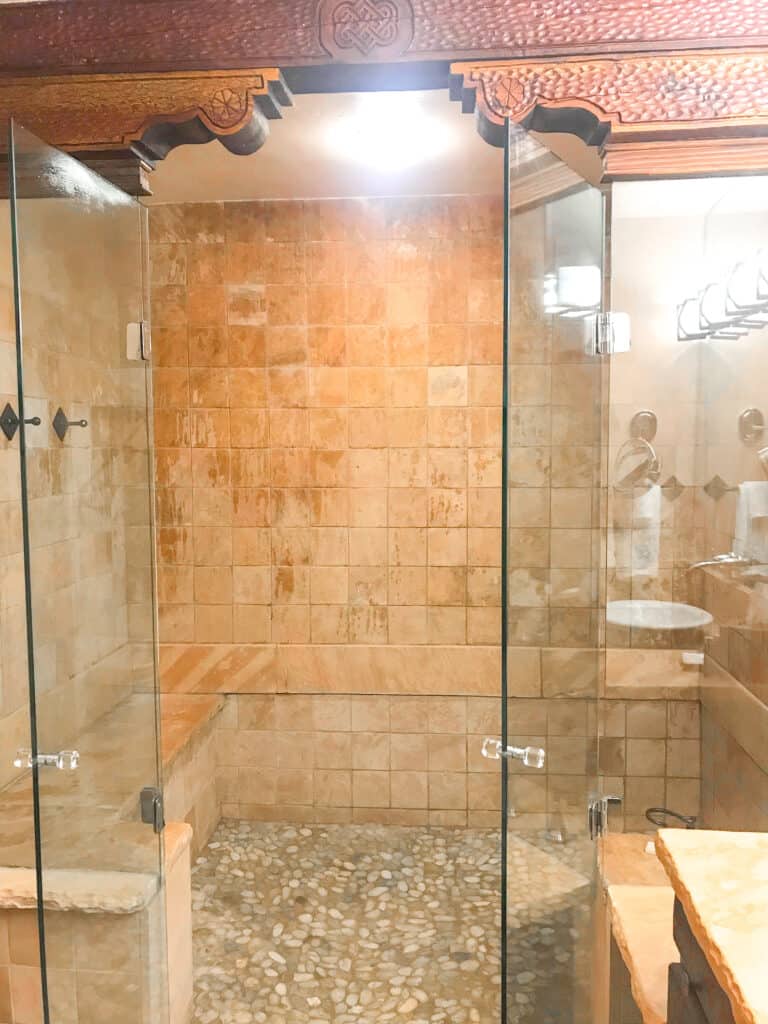 Mountain Rooms
If you are feeling cozy, I recommend the Mountain Rooms. Comfy, well-decorated, and giving off a lodge-feel, this is the perfect room for the winter when you want to soak in a tub and relax by the fire. I have often stayed in these rooms because they are the most affordable, and I love the spacious bathrooms and enormous tub.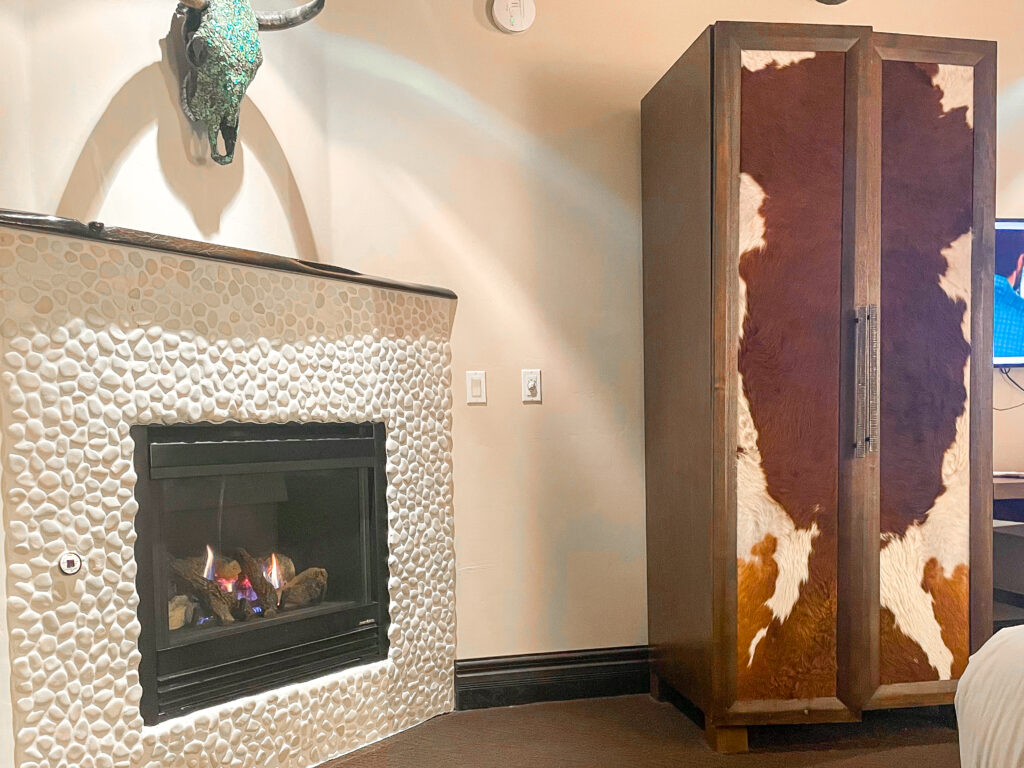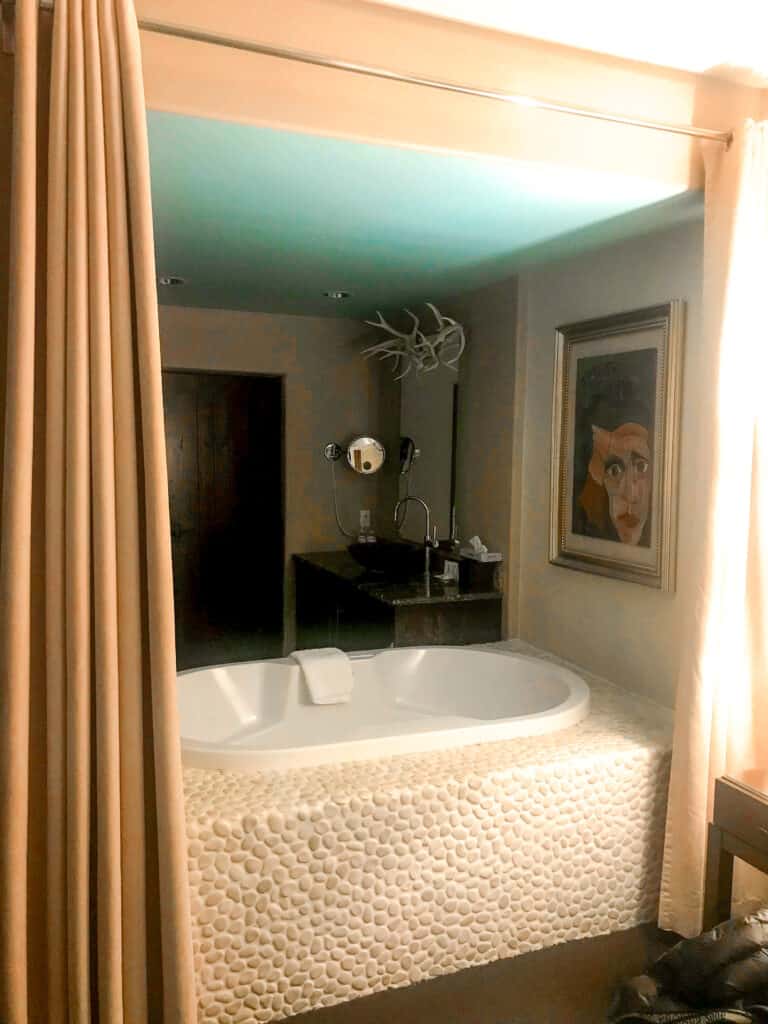 Casitas
The casitas are the only type of room I haven't stayed in yet, but they are next on my list. These studio rooms offer enclosed courtyards, which are more private than the Mountain Lodge rooms. Cheaper than the premier and global suites, these are a great option if you want to try something other than the Mountain rooms but don't want to splurge on the suites. 
The unique decor of the casitas makes them fun, and each one is different: the New Mexican casita is larger, The Painted Horse has a smaller shower, etc. Make sure to book a specific casita to ensure you get all your heart's desires. 
Themed Suites
This is where you can really kick it up a notch.
Choose from the following:
Global Suites: Japan, Spain, Texas. Each global suite is a 2 bedroom, 2 bath with a full living room, plus other amenities.
Global Hot Tub Suites: Argentina, Mexico, Marrakech, and Morocco. Same as the global suites, but obviously, with a hot tub.
Premiere Suites: Bali, Tibet, Egypt, and the Kama Sutra/Romance suite (if those walls could talk…). These rooms have king-sized beds, dining areas, stand-up showers, and private patios. I have only stayed in Egypt so far, and it was great.
With so many unique options, deciding where to stay each time we visit is hard!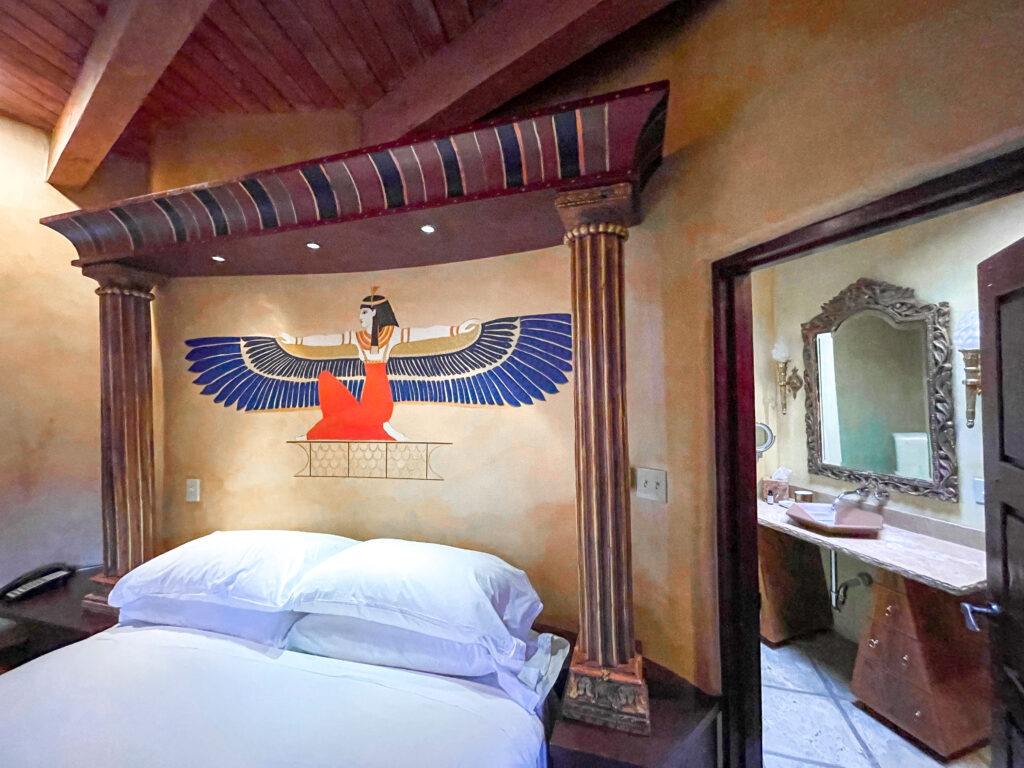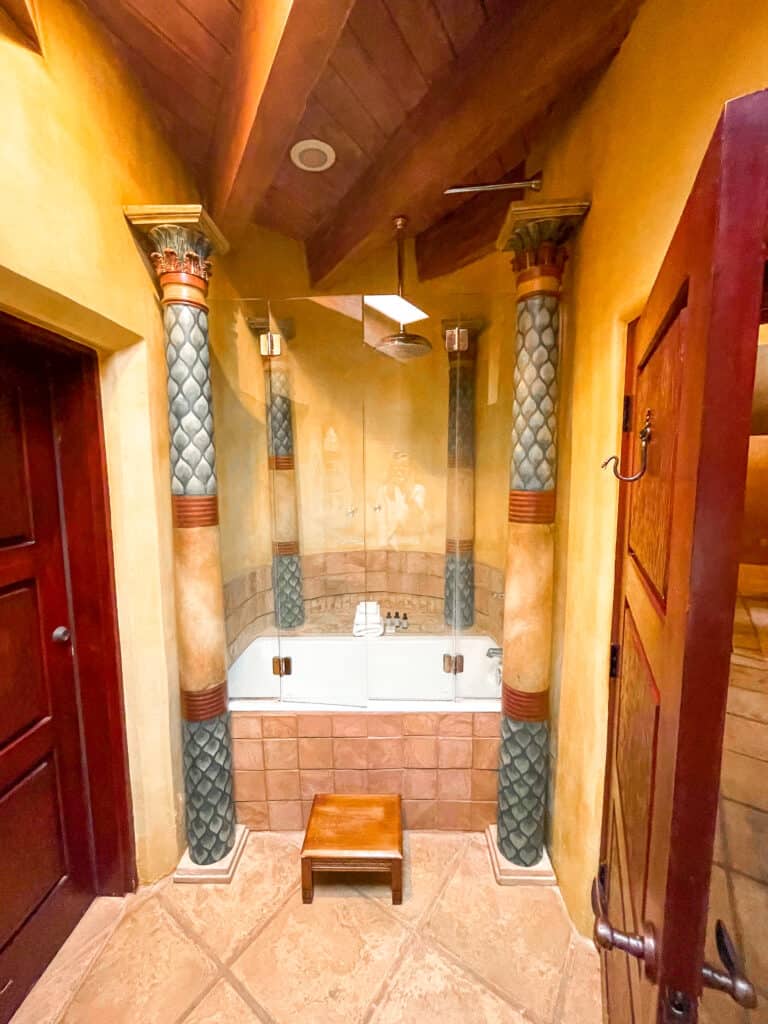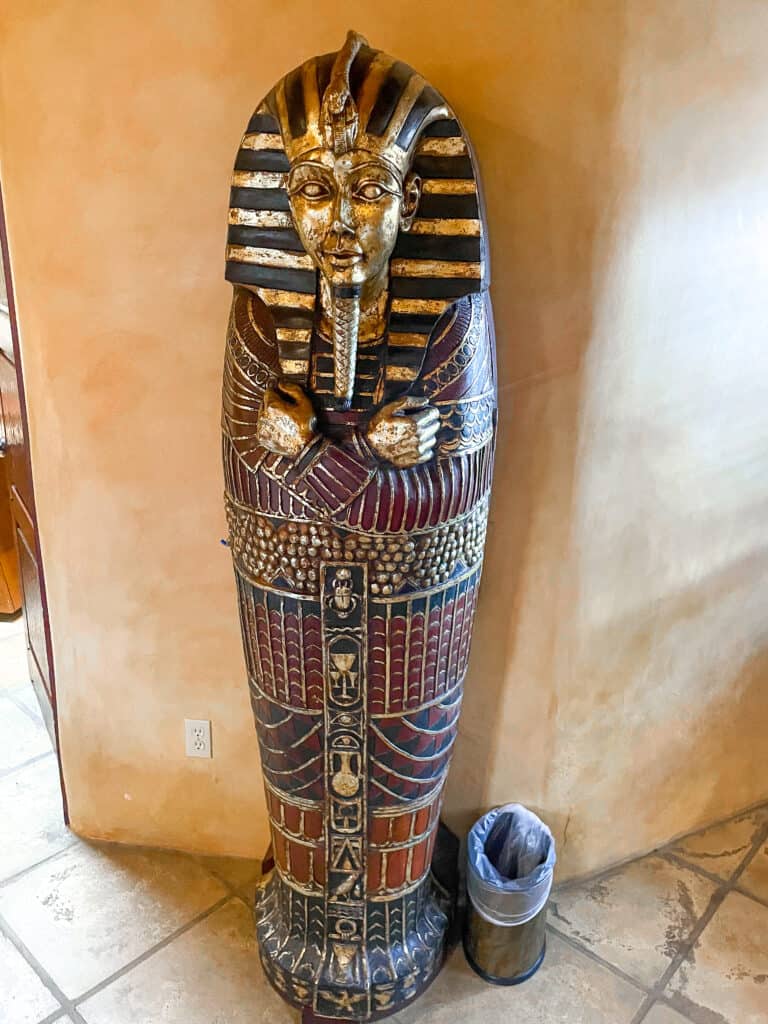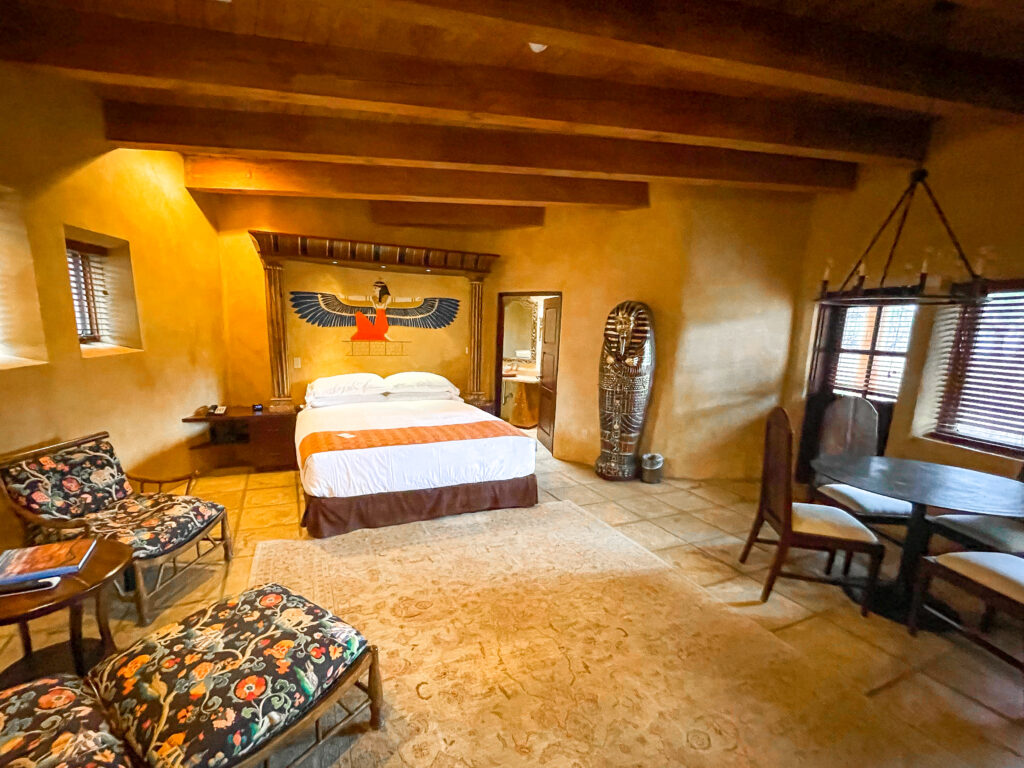 The only thing that can be a little off-putting to some is the decor can feel a little kitschy and outdated. I personally love the over-the-top decorations, even though I got creeped out by the mummy. How often do you get to stay in such bright-colored rooms with beautiful artwork?
The suites and casitas remind me of the Madonna Inn in So Cal. It's worth just checking out the websites of these two hotels since they offer photos and virtual tours of all the rooms. The Madonna Inn is much more extravagant, but that is the whole point.
Dining Options
Although pricey, I love the food and drink options at El Monte. Cocktails at the Anaconda Bar are always top-notch, and their rotating seasonal offerings are some of my favorites. Once, they served a Buffalo Flip, which I chose because it had a raw egg in it.
For Thanksgiving, I had a delicious pear martini, and this summer, they are serving Peach Mint Juleps and something called the Rum Ultimatum with a coconut curry foam, among others. 
They always serve drinks you wouldn't think would be good, but they taste delicious. Just be prepared to pay for your fancy garnish and hippy ingredients. 
The De La Tierra restaurant is yummy, and whether you are ordering late-night dessert, early-morning breakfast, or having dinner in their beautiful dining room, you will surely enjoy your meal.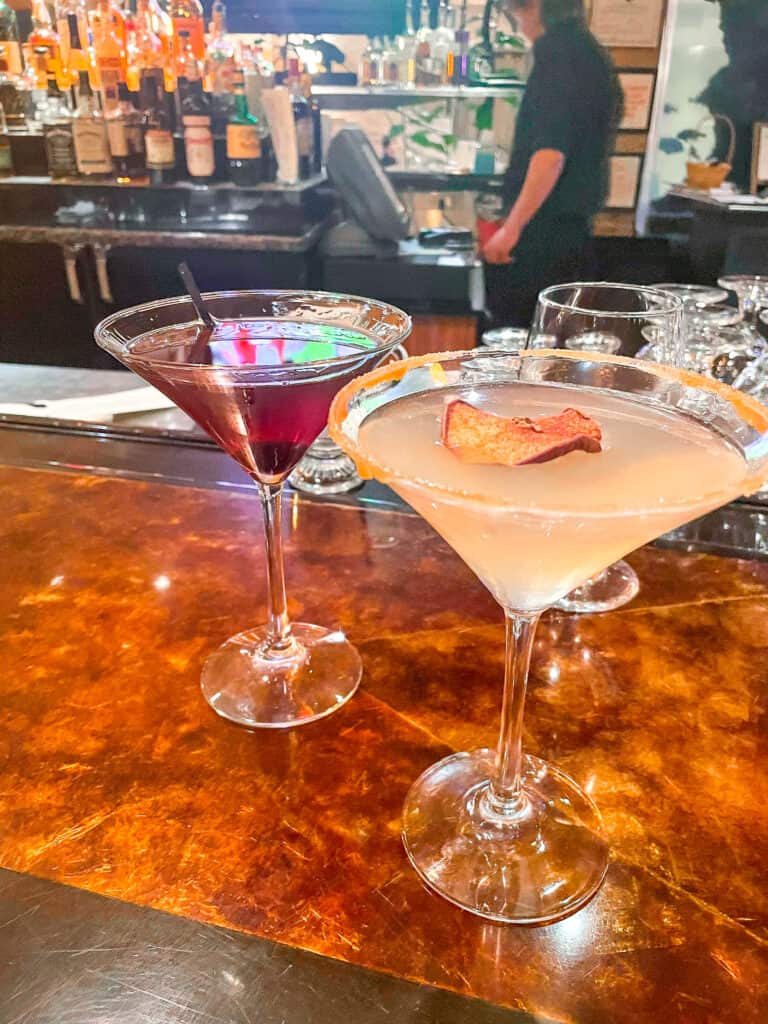 Amenities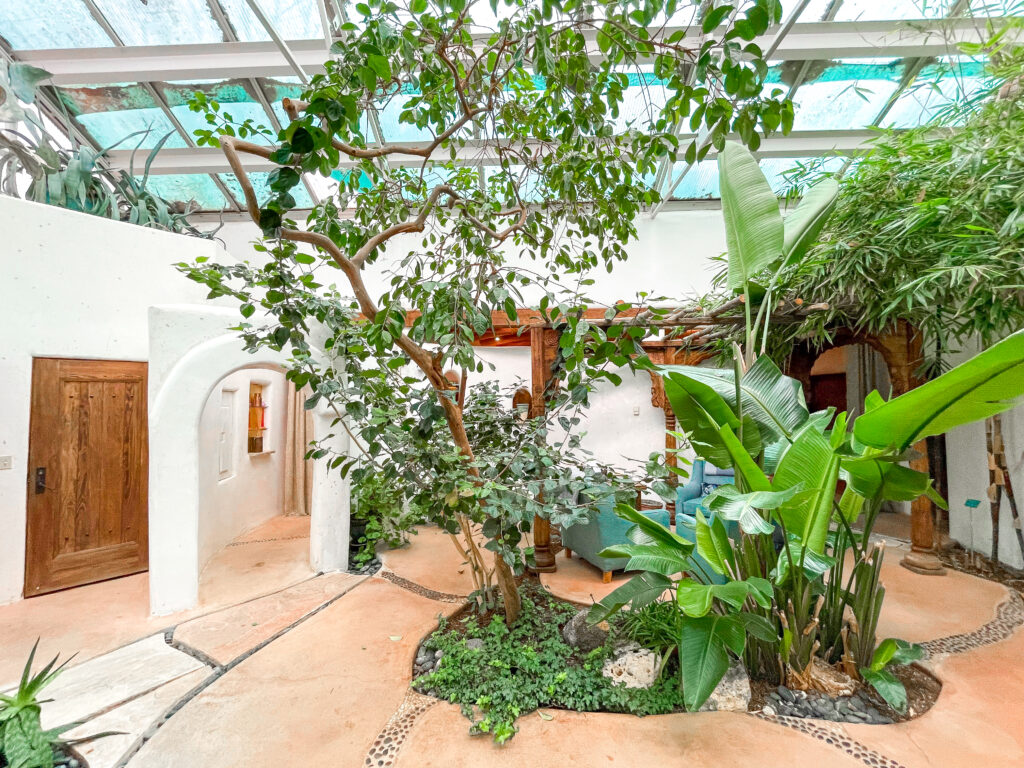 This salt-water pool and hot tub are set inside a greenhouse, making it feel like you are somewhere tropical.
The hotel gym is well-outfitted with free weights and cardio machines, making it a perfect place to sneak in a quick workout.
Grab a massage at the Living Spa.
Take the complimentary shuttle into the plaza
Bring your furry friend! Pets are welcome with a fee.
In Conclusion
El Monte is the perfect getaway with a central location close to the plaza and a short drive to the Ski Valley.
Looking for what to do in Taos? Check out my post with how to spend a weekend in Taos.