Looking for pristine waters, picturesque mountains, and fresh air? A gorgeous weekend in Lake Tahoe will check all these boxes for you and more. This desert-dwelling girl was desperate for a break from the heat and to get near some water, so off to South Lake Tahoe we went.
Lake Tahoe is the second deepest lake in the country, second only to Crater Lake, which means that you could fit the Empire State Building inside of it. That's deep!
The water at Lake Tahoe is so clean that water suppliers who draw from the lake don't even have to filter it. That's also what makes it so blue.
Where to Stay for A Weekend in Lake Tahoe
Harrah's is a good choice if you want a central location and you like to gamble. We had a spacious suite with two bathrooms, which was a complete game changer. I wish all hotel bathrooms came with a his and hers bathroom.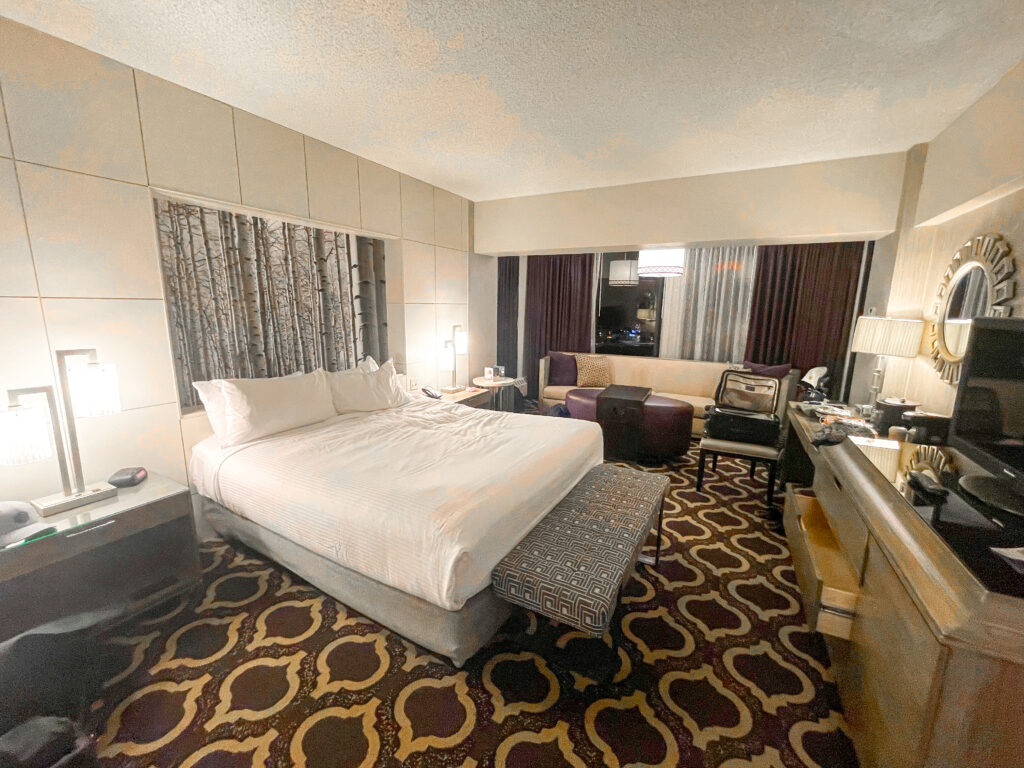 The next time I spend a weekend in Lake Tahoe, I am dying to get either a lakefront rental or a cute little cabin. If you want to splurge, the Edgewood looks INSANE.
Eat
Start your day at a fantastic breakfast diner with delicious chicken fried steak and pancakes. I went with the classic breakfast.
After a morning of golf or lake activities, the Boathouse Pier is a great little spot for drinks with a view and a late lunch/snacks. Get the fish tacos. Be prepared for direct sun in the afternoon and keep in mind that it is right by a public beach, so parking can be tricky.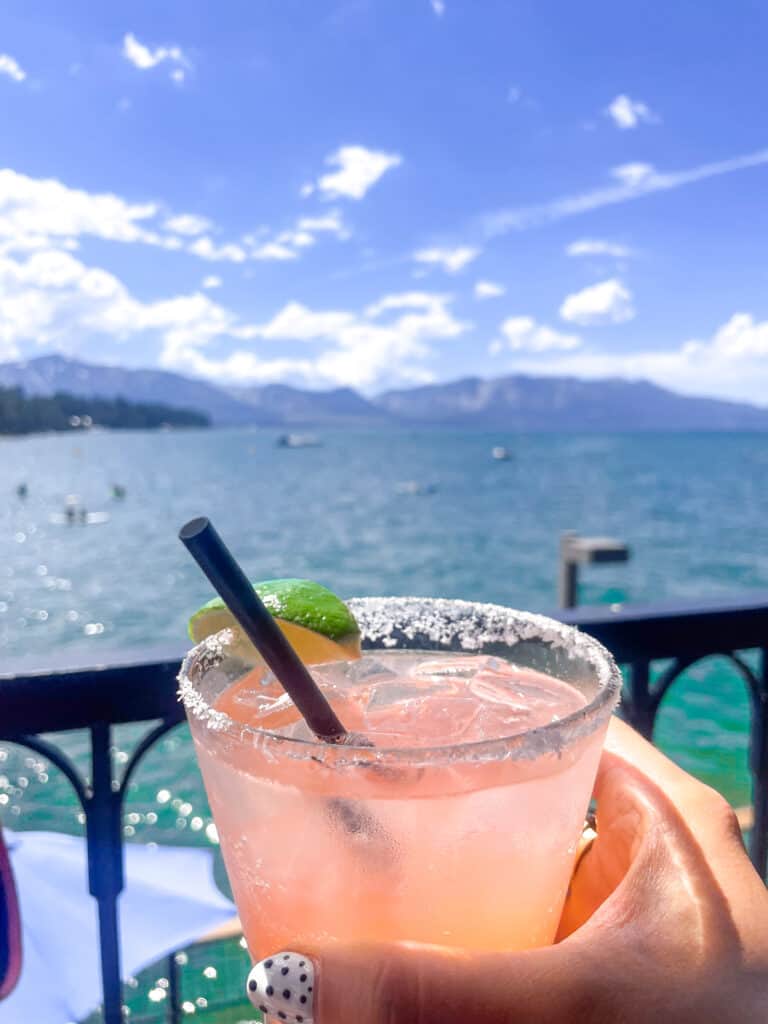 With "a forested outdoor eating/drinking space," Lakeside Social is the perfect place to sip a coffee or cocktail, listen to live music or enjoy being outside under the trees. I ordered a delicious maple iced latte.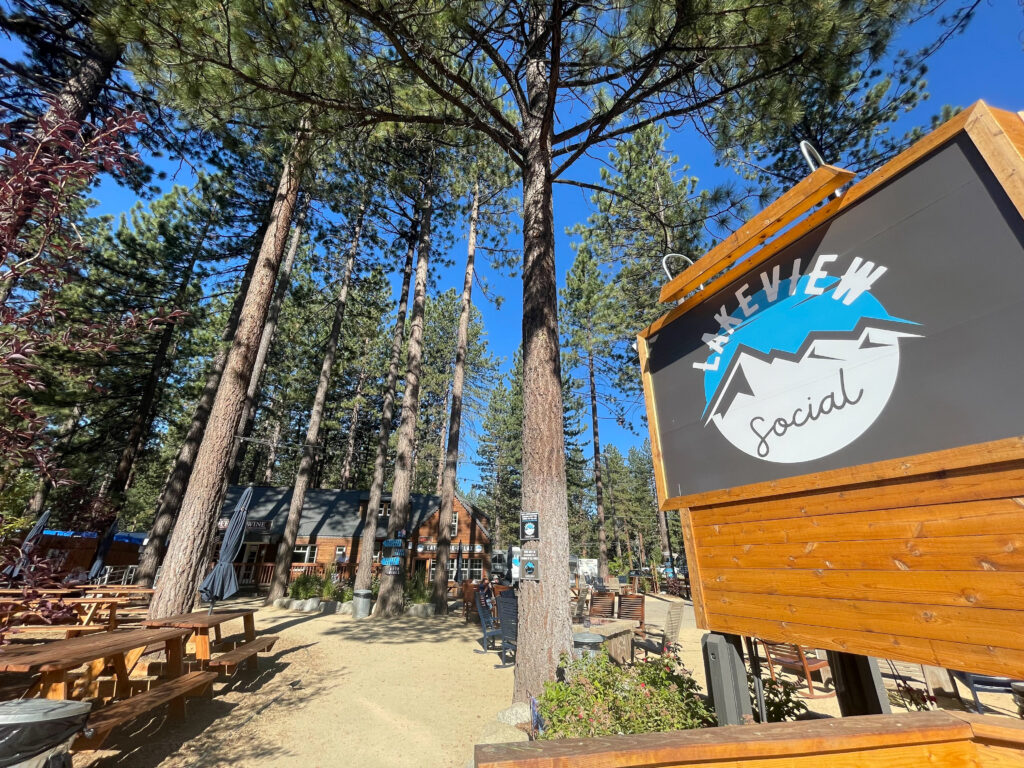 What to Do for A Weekend In Lake Tahoe
Golf.
There are so many incredible courses in Tahoe (like Edgewood), but we booked at the last minute. For this trip, we golfed at Tahoe Paradise, a quirky little non-regulation course.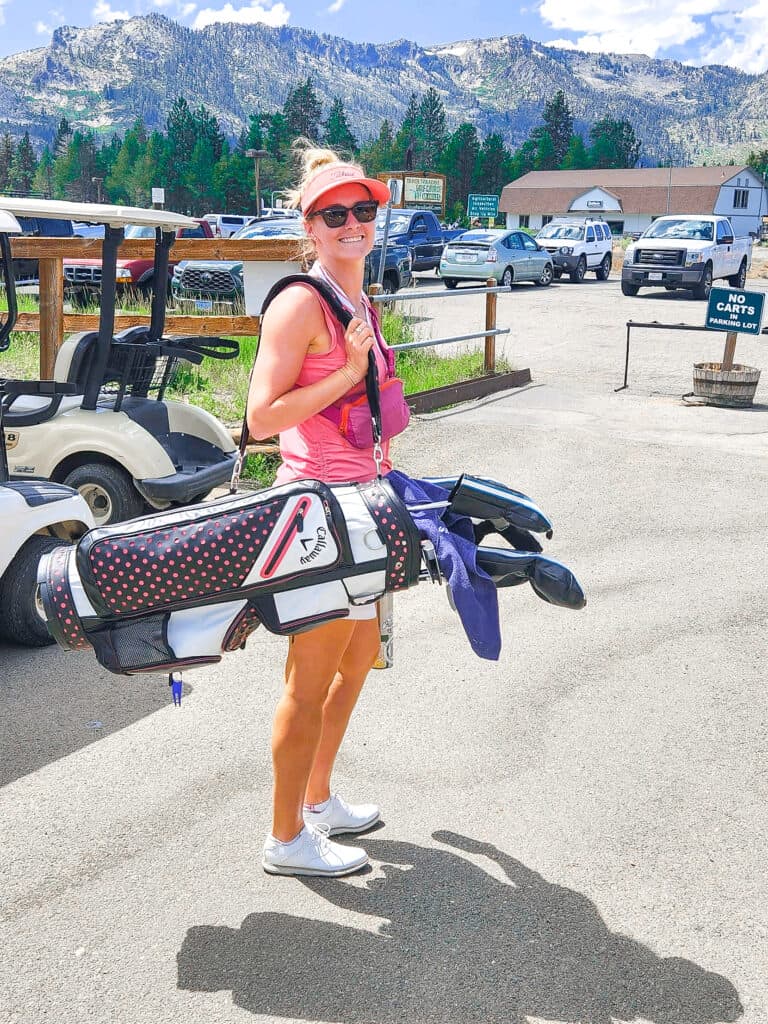 Take a ride on the MS Dixie.
This 3-hour dinner trip gets you on South Lake Tahoe's largest cruising vessel. After dinner, enjoy drinks on any of the outdoor decks and catch the sunset over Emerald Bay.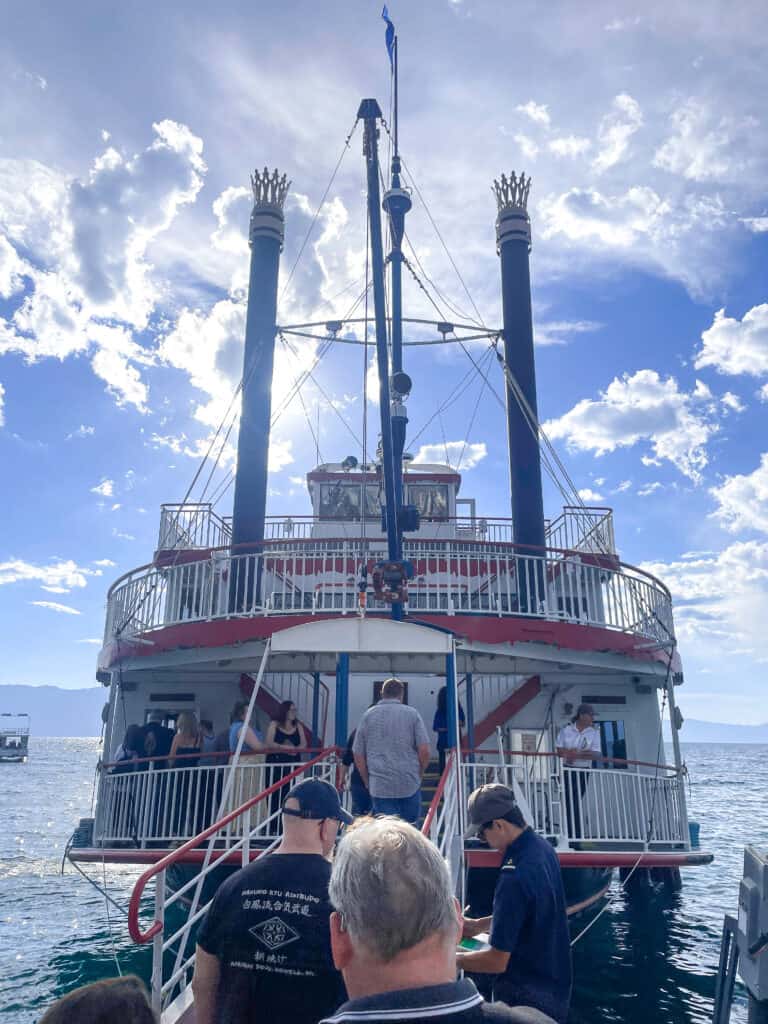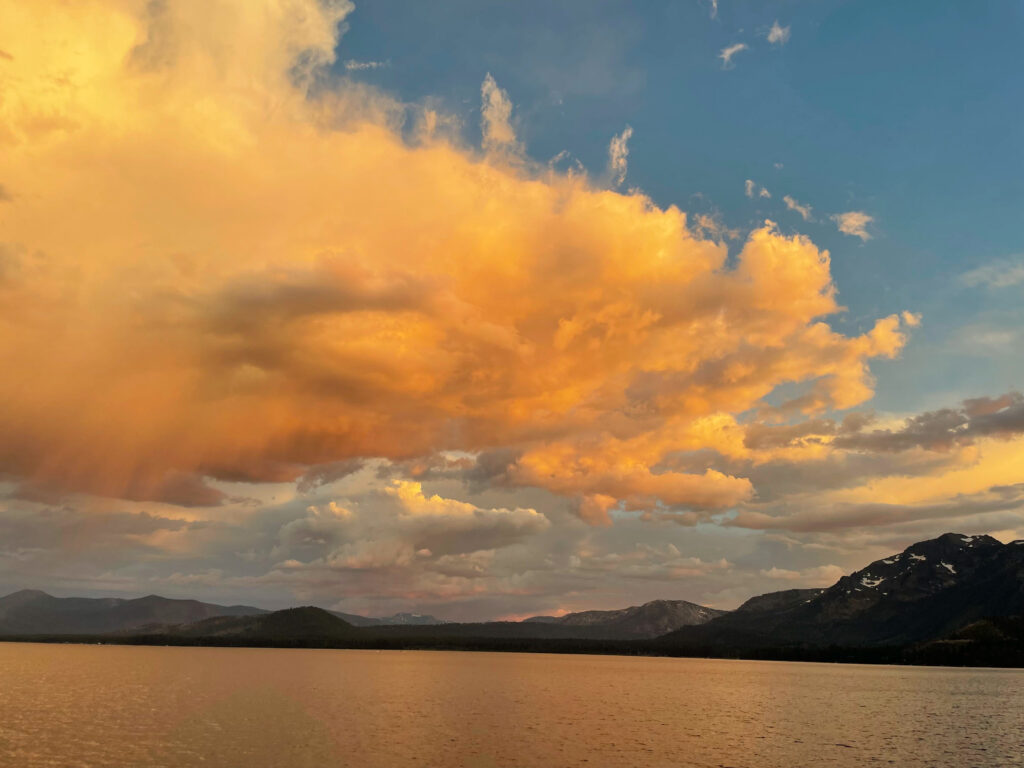 Shop and dine at Heavenly Village.
Grab some art, souvenirs, or t-shirts from one of the quaint local shops in Heavenly Village. We especially loved the 3D wood maps at On Tahoe Time.
Take advantage of the late hours and grab a snack at any of the restaurants in the village, or practice your putt-putt at the mini golf course.
Tour the Edgewood Resort.
We were blown away by the golf course, pro shop, and hotel and enjoyed walking the property.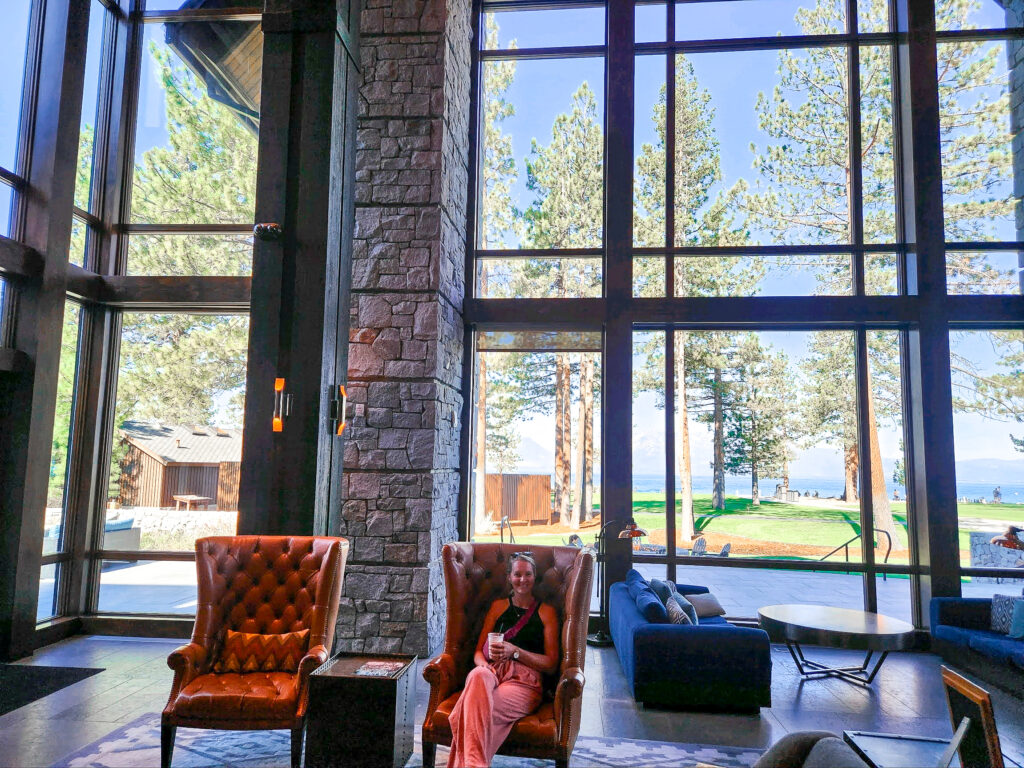 Here are all the things we didn't get to do this time that I would love to do next time for a weekend in Lake Tahoe.
Take a ride on the gondola at Heavenly Village.
Ride bikes/scooters along the lake.
Rent a kayak or paddleboard to get out on the water.
Play volleyball at Zephyr Cove.
Enjoy a scenic drive around the lake to take in the stunning views.
Tahoe is one of those places you could go back to over and over, in any season, and enjoy it. We have barely scratched the surface of what there is to do there. I am already excited to go back someday!

Like this post? Read my post about Lake Louise, another stunner of a lake.