I have lived in the woods and fallen in love with the quiet of the forest and strength of the trees, and even the desert has grown on me with her radiant sunsets and burning desire just to survive in harsh conditions, but this, the beach, this will always be home. I can feel the heartbeat of the earth when I put my ear to the sand, and dunking under the waves feels like a baptism each time. The rolling waves hold me up and for a moment I'm suspended somewhere between heaven and earth. This space, the salt, the smooth blueness; this is where everything is still and calm and right for a moment.

This is not a resort beach by any means, and it's not even on Santa Barbara's must visit list. In fact, the beach is eroding away every year, despite efforts to dredge the harbor and dump it back on shore. I have to wade through seaweed that clings to my legs when the waves recede, as if I am its last hope, and my feet will be covered in tar when I get home, which I will have to scrub off with an old sock and baby oil.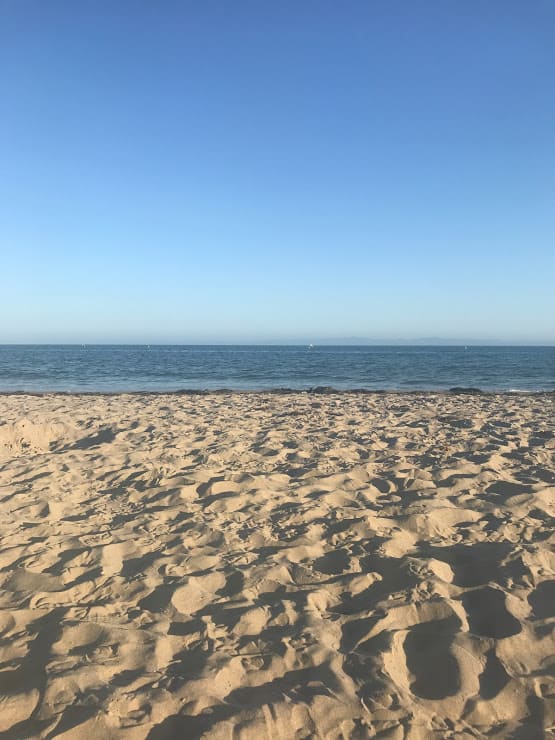 But despite all its imperfections, this is where I grew up. I passed the time making drip castles in wet sand, or tunnels in dry sand, digging until I hit water. This is where I learned to boogie board, kept a terrified eye out for sharks, or lightly toasted/fried myself sunbathing. In later years, I found great comfort digging my toes into the sand, looking for dolphins, or walking through the surf.
This place is where I have my finger on the pulse of the earth, and where I go to remember who I am.