After moving to New Mexico, I knew that one of the first stops on my list of things to do was a visit to Carlsbad Caverns. Here is all you need to know for an easy off-season winter day trip to Carlsbad Caverns.
Start the day with a cavern tour of the King's Palace
We started our visit to the Canyons with a 10am ranger guided tour of the King's Palace. Ready to greet us in the lobby was the most enthusiastic human I have ever met: Ranger Aubrey. Standing about 5'3" and sporting a fantastic safari hat and high-waisted khaki pants with a mile long zipper, Ranger Aubrey gave us an animated introduction to the cave before we made our way, single file, down the winding walkway to the trailhead.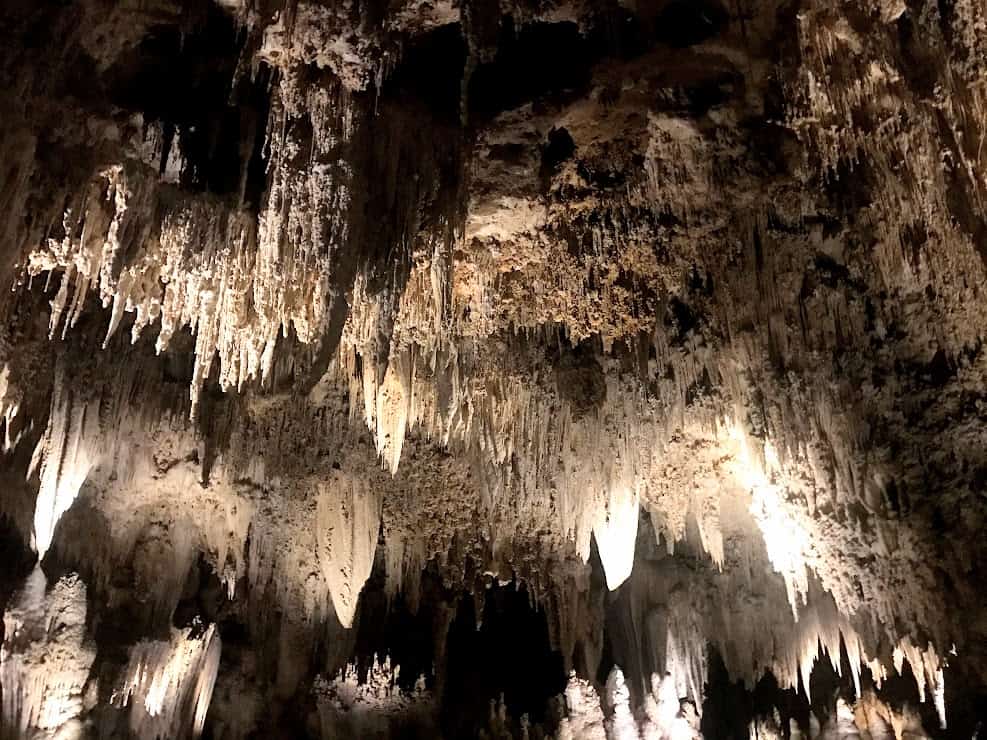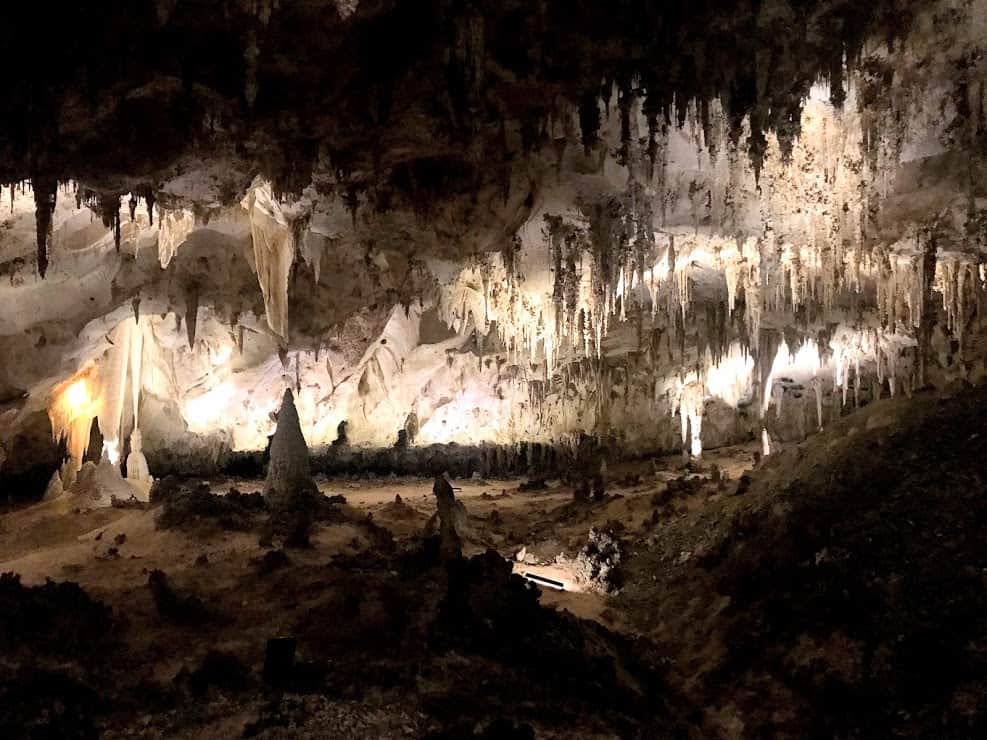 The King's Palace tour takes about an hour and a half and covers a distance of 1.25 miles. I think this tour could be done in 20-30 minutes, but we stopped in each of the four chambers while Ranger Aubrey told stories about the cave formations, legends, and history. She was obviously very passionate about caves and theatrics, as each story involved sweeping arm gestures, a crescendoing voice, and even scaring a guest or two. She was very much a highlight of the trip, but the best part of the tour was when she turned all the lights out and we had a chance to sit in the COMPLETE BLACKNESS for a minute, until she lit it again with the light of a single lighter. Crazy to think that darkness is the natural state of the cave, and all of that cave magic has been carrying on invisible to the human eye.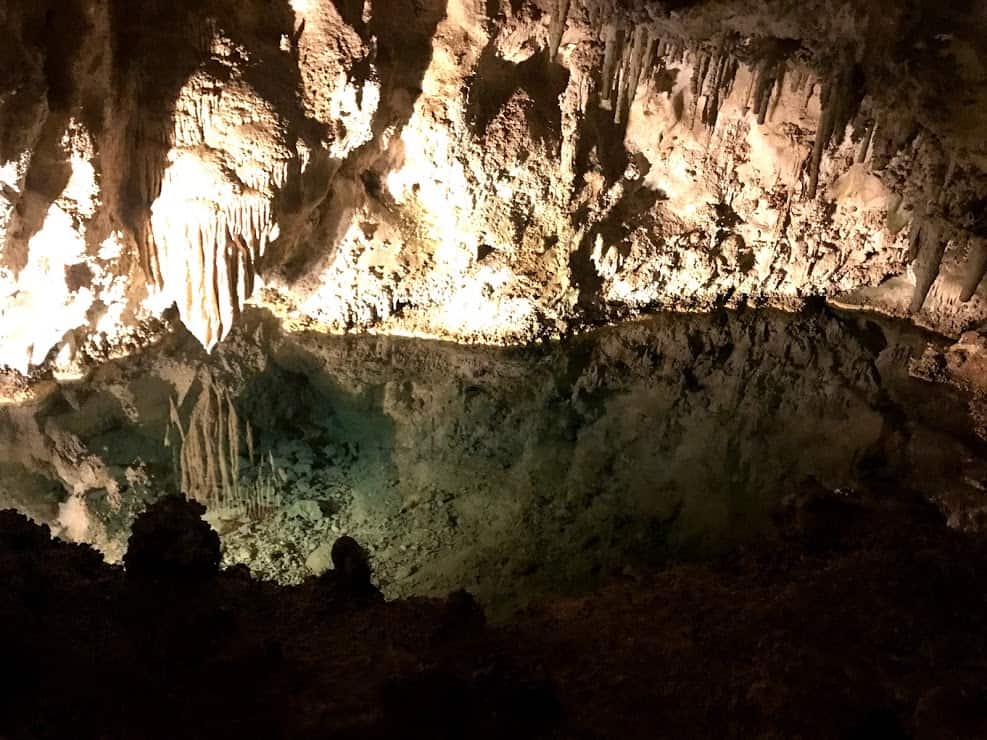 After our tour, we ate lunch at the deli in the cave, because it felt like the right thing to do (when else can you eat lunch 75 stories below ground?) but in hindsight, we wished we had hit up the restaurant upstairs. A hot plate of enchiladas sounded much more appetizing than the cold turkey sandwiches we had, but they still did the trick. 
Then we took the elevator 755 feet back up to the Visitor Center, where we did a quick skim of the exhibits and watched the National Park film in the theater. I always recommend this, as it is a great way to answer all the questions you may find yourself asking.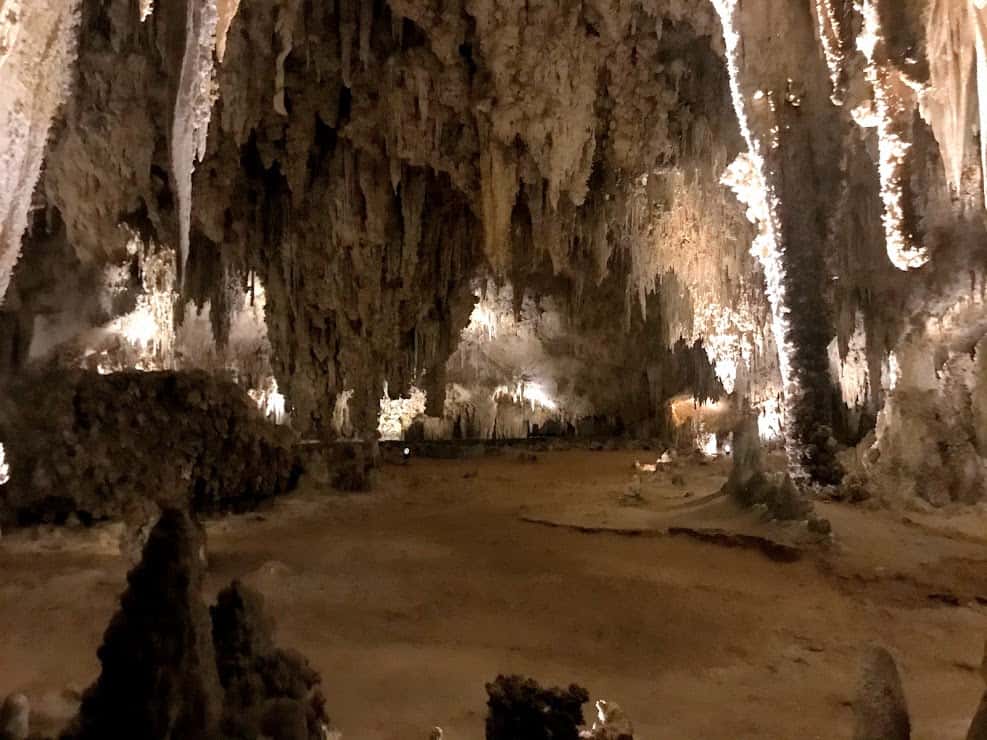 Hike down the Natural Entrance
Next was the hike down the Natural Entrance to the cave, which starts a short walk outside of the Visitor Center. This was my favorite part, and in hindsight, I would have definitely liked to have walked this trail as my first experience in the cave, but due to our morning tour, we did not have time and had to take the elevator down.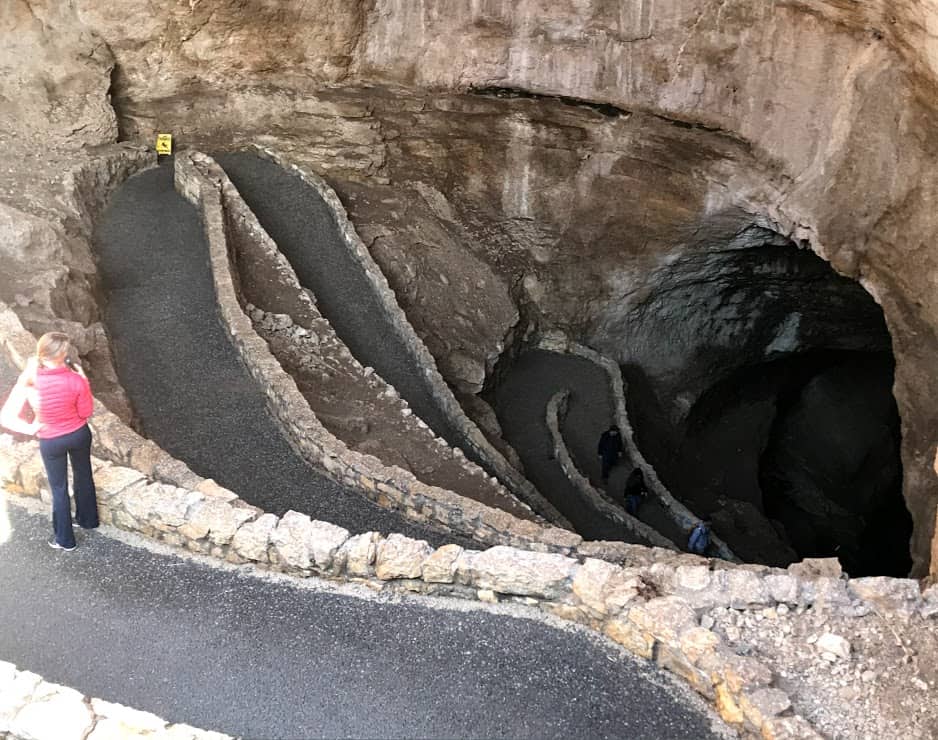 At the beginning of the Natural Entrance Trail, you wind your way down several paved switchbacks toward the gaping cave entrance, as the smell of bat guano and swallow dung assault your senses. The bats roost here April-October, and as we visited during February, there were none to be seen, but their presence was definitely felt. The trail twists and turns its way past massive boulders, stalactites, and stalagmites while the drip of water and tourists' voices echo all around you.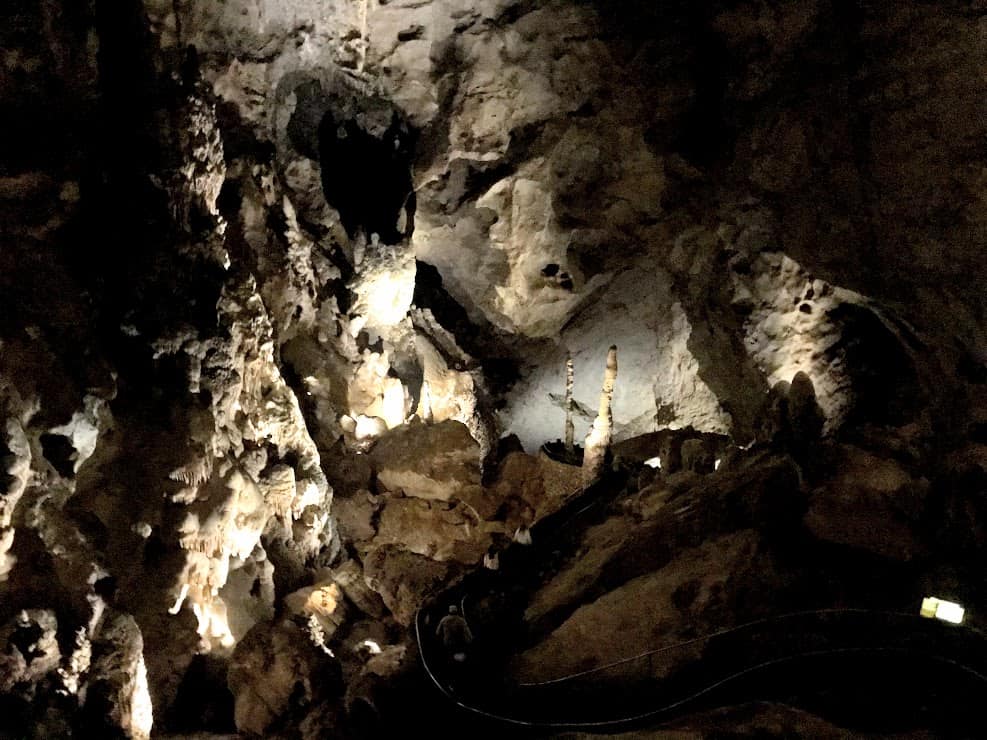 Visit the Big Room
The Natural Entrance trail spit us out at the Big Room, a huge limestone chamber that is almost 4,000 feet long, 625 feet wide, and about 250 feet tall. It is large enough to hold a jumbo jet! We completed the self guided tour and it was amazing. This room is HUGE! It was mind-boggling to think about how a space this big exists underground. The trail is 1.5 miles round trip, but plan to take your sweet time if you have the luxury, as there are so many structures to see, like the Bottomless Pit, Fairyland, and the Chandelier.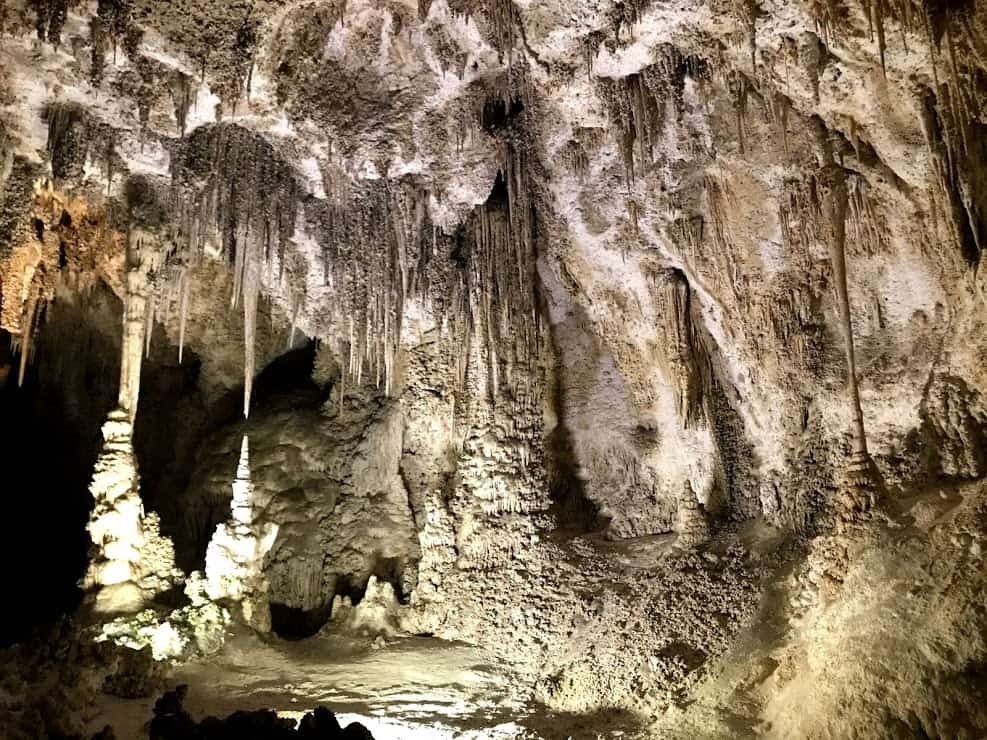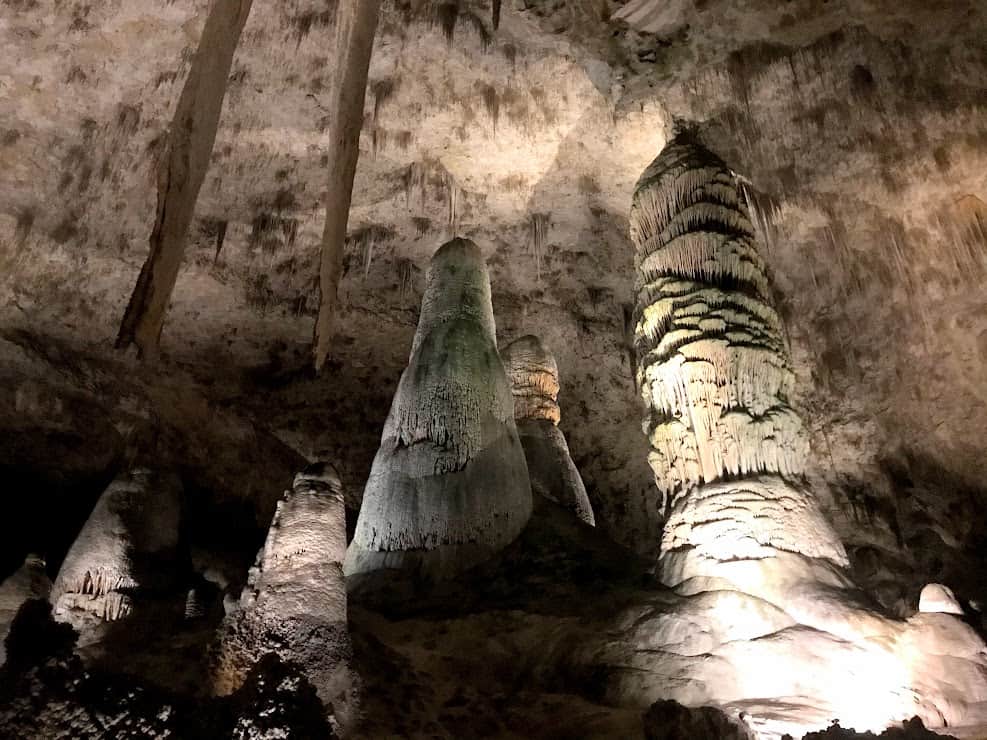 After completing the Big Room tour, we were reading to rejoin the surface world for snacks and a drink or two, so it was back to Carlsbad for some dinner.
Where to Stay:
We rented an Airbnb in Carlsbad, which is a 30-45 minute drive to the park entrance. This met all our needs, as it is close to the main street in Carlsbad and we had access to lots of restaurants. 
What to Pack
We brought money for food, a few snacks, a water bottle and a light jacket as the cave is 56 degrees year round.
Where to Eat
The Red Chimney Barbecue, a place I highly recommend. We had fantastic barbecue and ordered a million things off the menu, all of which were good.
The Trinity Hotel: great spot for breakfast the next day
Blue House Bakery and Cafe: we didn't make it here as it was closed on Sunday, but it has great reviews and I would like to try it when I go back to Carlsbad. 
Want more information?
Read additional travel guides here:
This one is especially kid friendly.
This one is written by a former park ranger and includes more information about the surrounding areas and the bat program.
And of course, the national park website is always helpful. Here is where you can sign up for other Ranger Guided Tours like Lower Cave and Slaughter Canyon.
I had an amazing time and plan to return to view the bats and take another ranger guided tour. Carlsbad Caverns is unlike anything I have ever seen before and I highly recommend it.